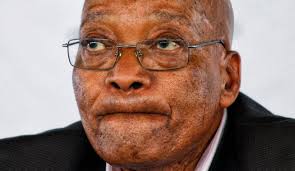 In a statement released on Thursday' Zuma said the government had fought the stubborn legacy of apartheid and colonialism.
"A lot of progress has been made in the extension of basic services to the people. Many more South Africans now have access to housing' water and electricity. We have also further expanded access to education and health care' while laying the foundation for greater growth through our massive infrastructure rollout'" he said.
Despite the progress' he said' the levels of poverty are still on the rise.
"StatsSA informs us that the population living below the poverty line increased to 55'5%. Coupled with extensive economic interventions to improve the socio-economic conditions of South Africans' the democratic government has provided a comprehensive safety net to vulnerable people. A total of 17 million people have benefited from social grants provided by government'" Zuma said.
"In the past days and weeks,  Government has worked hard to ensure that this critical service to our people is not interrupted and that there is certainty on the provision of all social grants. A landmark agreement was reached between the South African Post Office and the South African Social Security Agency to bring to life a new grants payment system."
But he admitted the economic conditions were tough and the country went into a technical recession before the GDP rebounded by 2.5% in the second quarter of the year and 2% in the third quarter.
He also conceded that unemployment was high for most of 2017' while business and consumer confidence remained depressed.
"For these reasons' I have directed the Minister of Finance' working with the Presidential Fiscal Committee to identify concrete measures to urgently address the challenges identified in the Medium Term Budget Policy Statement'" he said.
He added that government had a plan to deal with its expenditure and revenue shortfalls. It would undertake the following:
– identify and finalize proposals for about R25-billion cuts in expenditure in areas that will not negatively affect economic growth prospects and job creation;
-identify and finalize proposals for revenue-enhancing measures of about R15-billion' including' where appropriate' tax measures;
-develop a phased-implementation plan to enable the proposals for fee-free higher education for students from poor and working-class backgrounds to be implemented in a fiscally sustainable manner; and
-identify the package of economic stimulus measures that will be implemented to enable the economy to grow at a faster rate.
By:  Penwell Dlamini/DipatchLive