Nigerian governor who conferred honours on President Zuma is a narcissist, runs a bankrupt government, forced the state to celebrate his 55th birthday and is surrounded by acolytes who believe he made the sun stand still.
Rochas Okorocha, the Nigerian host of South Africa's President Jacob Zuma, had been celebrating his 55th birthday for nearly two weeks.
Okorocha is the governor of Nigeria's south-eastern Imo State, one of the five states in a region recently embroiled in demands for secession.
The state has been in a shambles for a long time, with the governor – like his colleagues in the 28 out of Nigeria's 36 states – unable to pay salaries in spite of billions of naira collected monthly from the Treasury in Abuja, the federal capital.
Two years to the end of his second four-year term, Okorocha runs his state like his duchy. There is no fear of a recall or of his losing the next election.
Schoolchildren, whose parents are still owed salaries for up to three months, lined the streets of Owerri to salute the governor on his birthday.
As for pensioners, whose long arrears are being paid in dreadful bits, they watched Okorocha's parade from the discomfort of their homes as their August/September cheques bounced again.
Mothers, whose stalls in a local market were demolished by the state government in defiance of a court order, together with the parents of 10-year-old Somtochukwu Ibeanusi – who was killed during the violent eviction – were expected to send glowing tributes to Okorocha.
A total of 27 pre-selected women, each representing a local government in the state, brought cakes to the governor.
State workers, who had been eating the life-size portraits of Okorocha since he would not pay them salaries, were offered yet more portraits and statues to eat to mark the governor's birthday.
The picture that looms the largest in Owerri, the state capital – impossible for Zuma to miss – is one the governor took with former US president Barack Obama in the White House.
And to crown the insult, rogue politicians in the ruling All Progressives Congress (APC) organised a party at the city's stadium, aired on live TV, to tell Nigerians how the governor had made the sun stand still in the past six years of his administration.
While the show was on, he complimented the fawning crowd from time to time with that trademark grin that tells the story of his suzerainty.
Okorocha took his folly to a whole new level when he invited Zuma.
With Zuma in town, chaperoned by his cousin, Nigeria's former president Olusegun Obasanjo, Okorocha was immensely pleased at the exhibition of star power.
But the outing, concealed from even the State House of Assembly and supervised by the governor's private army, meant something more to Zuma: it was a welcome escape from his woes at home.
As Zuma was boarding the plane to Nigeria, the Supreme Court of Appeal had ruled for the reinstatement of 783 charges of corruption and fraud against him – charges he has been trying to run from for the past eight years, despite his initial call that he wanted to have his day in court.
This was apart from charges that he used about R246m of state money to refurbish his sprawling homestead in Nkandla – funds which the courts ruled that he must return for the nonsecurity upgrades. On top of all this is the allegation that Zuma's bosom business friends, the Guptas, had used their influence with him to capture the state.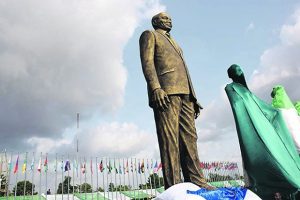 As Zuma was landing in Owerri and Okorocha was unveiling his statue, along with naming a road after him and awarding him a chieftancy title, there were calls for Zuma to resign because his government has been overwhelmed by corruption.
And in South Africa's North West province, a Zuma statue by regional Premier Supra Mahumapelo had also sparked off serious protests.
But neither Okorocha nor Zuma appeared to give a damn.
There is an elaborate spin that Zuma's visit to Nigeria is also to help strengthen cooperation between the Okorocha and Zuma foundations – but that is nonsense. Philanthropy could use better examples than two adults who rob Peter to pay Paul.
Isn't it amusing that since news of the Okorocha-Zuma project broke, not a few South Africans have been saying Okorocha is doing it to give Nigerians a pass for drugs in South Africa? That's nonsense.
Whatever Nigerians will do, good or bad – hopefully more good than bad – they will do without help from the Okorochas of this world. Okorocha and Zuma are on their own.
But this is not about the South African president. It is about his host, Okorocha, who thinks it is all right to turn a blind eye to Zuma's baggage and, worse still, insult the people of Imo by hosting his guest with public funds from which he also erected a Zuma statue.
In Okorocha's haste to acquire star power, he could not even make a good statue of Zuma. He was outconned.
Okorocha is killing Imo. It's okay if he wishes to cultivate Zuma's personal friendship. But he cannot pay 500 million naira (R19m) or more from the state's Treasury to do so.
Is Zuma a friend, really? In two years under his watch as president, 116 Nigerians have been killed in that country, most of them victims of premeditated homicides – this in a country where more than 18 000 cases of murder are reported annually.
A good number of them are Igbos and at least one, Daniel Timothy, is from Umunumo Okohia, in Isiala Mbano local government of Imo State.
As Okorocha unveiled Zuma's statue and named a road in Owerri after him, I wondered how the parents of Timothy would feel whenever they see that statue or travel on that road. What was Timothy's widow – and his surviving four children – thinking on hearing the news?
True, Nigerians have not been the only targets of the rising wave of xenophobia in South Africa. But in the last two years, no other country has recorded a higher number of casualties than Nigeria. And this has happened in spite of repeated promises by Zuma's government that it will ensure the safety of Nigerians.
Did Okorocha bring up the X-word with Zuma, or did he simply grin all the way in his peculiar Okorocha way?
The ruling APC obviously does not think that Okorocha is a problem. He is the party's mascot in the south east, a region where President Muhammadu Buhari is most unpopular.
With a governor such as Okorocha, right-thinking people in the south east must be wondering if the Imo State governor is the face of change that the ruling party prides itself on – unless it was meant to be a change for the worse.
By: Azu Ishiekwene/City Press
---