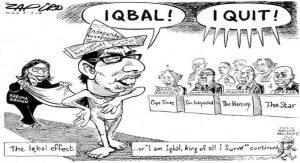 Are the journalists who have worked for the Cape Times so interesting to the newspaper's readers that they are worthy of making the headlines – not only in that rag but across the South African media? The answer is 'yes' when you have a paranoid boss like Iqbal Survéwho somehow managed to extract vast sums from the country's largest asset manager, thePublic Investment Corporation, to fund a sinking ship. The story becomes even more interesting when that boss starts doing creative things to shift assets between companies in a way that looks a lot like feathering his own nest at the expense of the pensioners whose money he borrowed in the first place. That's pretty much the layman's version of Ann Crotty's story about Iqbal Survé, the controversial chairman of the Independent Media group. You might recall that Survé claims to have served Nelson Mandela as a medical doctor – even though a medical specialist has never stepped forward to say that Survé was spotted in the exam halls or at lectures. A potential weakness in Crotty's coverage is that she worked for the Independent group and was keen to help staff acquire a stake in the company before Survé took charge – which gives her a potential conflict of interest in unpacking Survé's moves. It is this personal interest in the matter that Survé was hoping could be used as a smokescreen to hide his nefarious deeds. Survé put his business newsqueen bee Adri Senekal de Wet on the case. True to form, the thick-skinned and fiercely loyal De Wet put together a piece accusing Crotty of fake news and highlighting why Crotty might have a vendetta against Survé. Personal feelings aside, who better to keep an eye on Survé than one of the country's finest business journalists? Ann Crotty perhaps knew the books better than anyone before Survé whipped the carpet from under her feet. In this piece, another former Independent 'insider' unpicks De Wet's fake news rant. Pressly, a former Independent journalist working in Parliament, was involved in a labour dispute with the media group after it emerged he was interested in pursuing a career as a DA politician. Pressly, like Crotty, has shrugged off concerns of potential bias, making it his business to analyse goings-on at Independent. With more than R1bn siphoned out of PIC coffers to fund Survé's dreams, all scrutiny of Independent is undoubtedly in the public interest. Perhaps Pressly, too, will come in for treatment by De Wet's colourful pen? Watch this space! – Jackie Cameron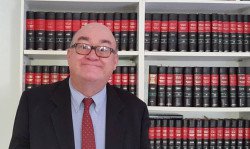 There has been a fascinating battle of wills between my old colleague at Business Report, Ann Crotty, and the new editor of Independent Business (which apparently is the new title for the editor of Business Report, an insert in Independent's daily newspapers like the Star, Cape Times and Mercury), Adri Senekal de Wet. Senekal de Wet accused the veteran journalist Crotty of "creating fake news", rather than breaking news in BusinessLIVE.
There has been a fascinating battle of wills between my old colleague at Business Report, Ann Crotty, and the new editor of Independent Business (which apparently is the new title for the editor of Business Report, an insert in Independent's daily newspapers like the Star, Cape Times and Mercury), Adri Senekal de Wet. Senekal de Wet accused the veteran journalist Crotty of "creating fake news", rather than breaking news in BusinessLIVE.
Senekal de Wet – who no one had heard of until she wrote a praise song about her boss Mohammed Iqbal Survé (which is always a good idea if one goes the route of sychophancy) and then parachuted in from nowhere to become editor. Former Independent Newspapers editor-in-chief Chris Whitfield described Senekal de Wet taking on Crotty in a journalistic battle as "a bit like Swaziland declaring war on the rest of the continent"
Ann Crotty is creating fake news, the handlanger (which in English means bottle washer or tool) charged. South Africa experienced fake news just recently "similar to this in the US elections recently (sic)" wrote Adri Senekal de Wet, the new Independent Business editor.
What had Crotty written? The story, carried in Financial Mail and the online service of Times Media Group, is all about the restructuring and hiving off of assets – arguably the only profitable ones – from Independent Newspapers to a new media entity owned by her boss, Mohammed Iqbal Survé. Whitfield points out that Senekal de Wet not only mauls the language but she doesn't repudiate a single fact in Crotty's original piece.
Why did Crotty do it? Well according to Jenny-come-lately Senekal de Wet, Crotty is just grumpy. "Crotty, also referred to as Ann Grumpy by some, is a disgruntled former Independent and Business Report employee … and wane-be (sic wannabe?) independent purchaser who wrote a bizarre, laughable and factually incorrect article that I, as executive editor of Independent Business could not ignore; since this is one of the various attempts to slander Independent Media and the Sekunjalo Group."
Senekal de Wet then goes on a branding tangent. She says in the same week that Crotty "published fake news about Independent and its relationship to Sekunjalo", TMG announced that readers had to pay for business news on its fledgling business live unit. Senekal de Wet takes a stab at her competitor: "Are TMB now expecting consumers to pay for fake news? Well the loyal readers of Business Report can rest assured: You can find factual and truthful news in Business Report and IOL (Independent on-line) for free!
Under a sub-heading "audacity" Jenny-come-lately says isn't it ironic that Crotty "does not declare that she was, not so long ago, leading a grouping of two people (Cape Messenger editor notes: the other was former Cape Times editor Alide Dasnois, but she did not name her in her piece) that approached the Public Investment Corporation to fund them to buy Independent Media from the Irish (Cape Messenger notes that the group was owned by a consortium led by Sir Tony O'Reilly).
Cape Messenger editor notes that whether or not Crotty (and Dasnois) approached the PIC is unconfirmed but the two were seeking to set up a workers' trust which they suggested would have a say on a new entity's board. It is presented by Senekal de Wet as some sort of heinous crime that journalists were involved in finding new purchasers at a time when it was perfectly clear the Irish owners wanted out.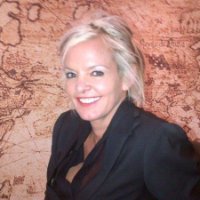 Senekal de Wet writes further: "When the PIC rejected her request she had the audacity to approach Sekunjalo (the fishing firm run by Mohammed Iqbal Survé) to be included in that consortium's proposal, on behalf of a trust that, by the way, didn't exist at the  time!". Of course it didn't exist, it was a proposal put to journalists – at a number of open meetings – by Dasnois and Crotty. Notably Crotty was emphatic that journalists who would be part of the trust would not derive financial benefit from the scheme.
Senekal de Wet suggests that Crotty should look closer to home "for why" (sic) she is "so grumpy". TMG "out of all media groups is  one that has lost a significant amount of circulation and is, under the current management, a pale shadow of its former self…"
Senekal de Wet, suggests that "maybe Ann must check if her own pension will be asset stripped by TMG". Cape Messenger notes that this again is a red herring. It is true as Senekal de Wet points out that some of TMG's pensioners found themselves stripped of all sorts of benefits, but Crotty is not a member of its pension fund – she has been a freelance journalist since she left Independent three years ago.
Fake News Which Would Make Even Trump Go Red
But facts don't have any bearing on what Senekal de Wet writes. She says simply of Crotty – who is esteemed in the journalistic corps for being a fearless fighter for the underdog and taking on business corruption in her stories – as misleading her audience by publishing fake news. Senekal de Wet charges: "Can you trust a disgruntled ex-employee that misleads her audience by publishing fake news that will shy even (sic) Donald Trump!"
"Why is it that Aunty Ann focuses her efforts in discrediting Independent Media at a time when TMG retrenched half of their staff, mostly black executives, whilst Independent Media invests in technology, innovation and world class multimedia solutions?"
"Ms Crotty, at Independent Media our mission, our vision and our value offering to our readers is based on rule one: Trust. No lies, no agendas, no fake. If you can't do it, don't fake it. Our country deserves better."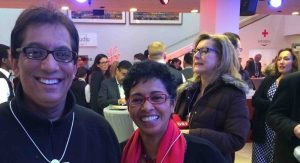 Readers who want to know what really is going on should read both Senekal de Wet's rant and Crotty's serious reportage on the goings-on at Independent.
Crotty's story was carried under the headline "Breaking the news. Is Iqbal stripping Independent's assets?" She notes that if Survé was stripping the profitable arms out of Independent Media, it could be detrimental to shareholders – including government pensioners.
Crotty reported that growing "in the shadows of the once formidable Independent Media" is an opaque company apparently controlled by Mohammed Iqbal Survé "that claims it is defying the generally accepted narrative of a struggling media industry.
Independent Media, which was bought by Survé's Sekunjalo at the end of 2013 from Sir Tony O'Reilly's consortium, was bought with substantial help (about R800 million interest free) from the Public Investment Corporation. The PIC, of course, manages the Government Employees' Pension Fund.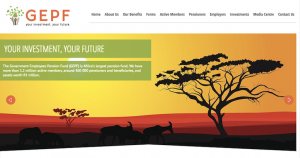 That was controversial in itself, but now Crotty says this mysterious new company Africa Media Group (AMG) "has swooped out of nowhere" to buy Independent Media's profitable community newspaper division and was also thought to have become the recent proud owner of other business units that were formerly part of the media company.
She reported that staff at the community newspapers were told last month – February – that their division had been sold to a company "with a long history" in the media – Africa Media Group. Crotty was unable to glean how much was paid for this division, but the staff were told that AMG's majority shareholder was Sekunjalo. Surve is chairman of both Independent Media and Sekunjalo. So one doesn't have to look for plots or make up "fake news". Significantly Senekal de Wet doesn't deny the existence of the new entity or that the community newspapers have been hived off. Rather significant one would say.
No doubt state pensioners or tomorrow's pensioners – who include public servants like teachers, doctors, police personnel and nurses – don't know a thing about the deal, but not even Crotty makes that point.
Independent Media is 55 percent owned by Sekunjalo Independent Media consortium (owned by Survé's Sekunjalo Investment Holdings). The PIC holds 25 percent and a Chinese consortium owns 20 percent. Crotty reported that the PIC did not respond to questions about whether it knew about the hiving off of the community newspapers. Crotty makes the point: "If Survé is stripping out the profitable arms of Independent, this would seem to be detrimental to the other shareholders, including the government employees, who remain saddled with the less-profitable parts of the business."
By Donwald Pressly/BizzNews