There is no shortage of coal, as Eskom claims. Instead, the coal is piling up at the mines, uncollected by the utility, Anna Marth Ott, CEO of Middelburg Chamber of Commerce and Industry, said yesterday.
Middelburg is positioned between three large Eskom power stations, and there are 170 coal mines within a 200 km radius of the town.
Speaking to The Witness yesterday, she said that Eskom had ceased taking delivery of the coal for reasons unknown to her, for the past month, and that its "wording" to the public about the coal shortage was incorrect.
"How can Eskom tell us there is no coal?" she asked.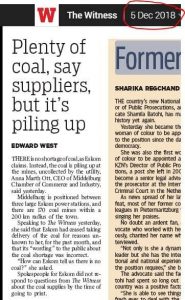 Spokespeople for Eskom did not respond to questions from The Witness about the coal supplies by the time of going to print.
So who is fooling who?
It seems like Eskom is deliberately executing loadshedding in order to claim bailout money from the ANC-regime. Not only that, they are also trying to convince NERSA to increase electrical tariffs.
All this so that their CEO's can continue living their lavish lifestyles on the taxpayer's bill. Take a look at the permanently appointed CEO of ESKOM Phakamani Hadebe's salary slip.
For those of you whom did not know Mr Hadebe receives a Net Amount of approximately R404,201.58 per month while his annual reimbursement totals up to R8,521,128. Then think of this the next time you sit in the dark during #LoadShedding.
Remember, these amounts excludes so called "performance bonuses", guaranteed to make the actual salary look like small change. Don't forget the lucrative pension fund a ESKOM CEO is apparently also entitled to…
Sources: Witness 5 December 2018
---