[WARNING: Some of the photos in this articles is graphic and not suitable for sensitive readers or children]
"THE ILLEGAL communist regime  of Jacob Zuma may radiate, yet in his absence to a response of the  11 farm murders in the first two weeks of February, it is seen as a silent approval for our people to be killed worse than animals. " So said the Boer-Afrikaner Volksraad, the HNP, AWB, Verkennersbeweging, and the VVK (Volksraad Verkiesing Kommissie) in a joint press release. The statement quoted Zuma where he sang the war cry: "We are going to Shoot them … they 'are going to run … You are a Boer … Shoot the Boer … the Cabinet will Shoot them …". Zuma's subjects are beginning to carry out his intentions. This is not only "a crime" it is slaughter.
" There is a one-way war against us," – the statement said. The statement said the Boer-Afrikaner Volksraad directly communicated to the Government demanding independence for the minority in their own homeland. "The international community has until May 31, 2017, to mediate the dispute. If not, our people will be called to urgent meetings, people must decide on a way forward. Meanwhile, people are urgently required to register with the VVK as a voter to help make a democratic decision and join the ranks of people organizations such as the AWB, HNP, and the Verkennersbeweging. Our future will be determined in 2017!"
WHITES BRUTALLY ASSAULTED AND MURDERED BY BLACK SAVAGES DURING THE MONTH OF FEBRUARY…
Another horrific farm attack in Nottingham Road, KwaZulu-Natal on February 17 that left one dead and another missing. Concerned neighbors went to the home of Roger (63) and Christine (56) Solik after they received no response to their telephone calls. When they got to the house, it was noted that the door was broken and the place ransacked, with blood all over the place. Their car was missing. The police were notified and a search operation began immediately. Later on that day, the body of Christine was found, in the Inzinga river, her hands were tied and her body was severely beaten. The couple's car was found abandoned near Taylors Halt. Her husband Roger's body also was found drifting in a river.  The police confirmed that no arrested have been made and a case of murder and house robbery has been opened. (Link)
The body of a 28-year old white female was found on February 20 2016 under the Gourits river bridge. Madelein Pienaar went missing and was widely advertised on the social sites. According to police they start to investigate when her red Toyota Yaris car reg. no CCC 11740 was found abandoned on the bridge. No further details were available as yet.
This elderly gentleman who resides at Gulu went to Gulu Mouth this afternoon to simply look at the sea. This is what happened to him. He was attacked by three black youths armed with bricks and knives. He fought back and stabbed one in the head. They stole his pick-up ,  his wallet – and all his keys. We suspect his left arm is broken (smashed by a brick) and he was also smashed on the head with a brick between 3-5 times. He has severe lacerations and is in terrible pain. Fortunately he was not stabbed in his upper body. He had to walk back to Aqualea, at Gulu all the way from the mouth in this condition. No-one stopped to help him.(Link) 
Scarcely a week after four whites were brutally murdered by black savages in Mpumalanga- or yet another white woman was brutally attacked by black thugs. Emily Schoeman was brutally attacked on a chicken farm where she worked. Schoeman works for a farmer and was on her way to the chicken pens to get eggs. She was bush-whacked when she entered the house and struck several times with a vase on the head by black thugs , She was threatened with a 9 mm pistol and forced to hand over the keys of the safe. The black terrorists then fled with money, her pick-up- and several bank cards. (Link)
Sue Howarth and her husband Robert Lynn survived a horrendous farm attack near Dullstroom over the weekend. They were tortured then shot by black savages and dropped off next to the R33 (Belfast-Stoffberg Road), where they were later discovered by passersby. They both sustained gunshot wounds to the head. Mr Lynn had a black bag tied around his neck whilst Mrs Howarth had a plastic bag shoved down her throat. Both victims had burn wounds. Mrs Howarth never regained consciousness since she was discovered groaning in pain next to the road. She had multiple skull fractures after the ordeal. Mr. Lynn is recovering in hospital. He still has a bullet lodged in his neck. The couple's vehicle was discovered abandoned in Middelburg in front of a tavern this morning. She subsequently died in hospital due to he r injuries. Mrs Howarth will be remembered as a 'straight shooter' and strong woman with a heart of gold who made an impression where ever she went. She was a well known face at sheepdog trials and had a passion for Border Collies.  (Link)
Marie Verwey, 80, apparently asked her home-care nurse to help her just before she was stabbed to death. Verwey was found murdered in the Villa Merwe guest house in Paradyskloof, Stellenbosch, on Thursday. Nicole Geldenhuys, 32, who was Verwey's home-care nurse and her boyfriend, Romeo Hendricks,   40, –  both coloreds-appeared in the Stellenbosch Magistrate's Court on Monday on charges of murder, housebreaking with intent to rob and robbery.  They were arrested at their home in Lovers Lane, an informal settlement in Paarl, on Saturday at about 04:00.  Prosecutor Licardo Davids said they would oppose bail.  Geldenhuys had confessed to police that they had planned the robbery, Davids told the court. When he heard this, Hendricks looked at Geldenhuys and told the court he knew nothing about the murder. (Link) 
Two white women and a teen-age boy were brutally assaulted by black thugs with a pick-head at Hartebeespoort near Pretoria. According to the victims the boy heard the dogs bark outside their home in Ifafi. He went to investigate as they expected guests. When he went outside the black thugs ambushed him and forced the 3 victims inside the house where jewelry and other possessions. (Link) 
A white Port Elizabeth woman has been shot and wounded in an armed robbery by black thugs in Deal Party. Police spokesperson, Captain Sandra Janse Van Rensburg, says the incident happened shortly after nine on Tuesday morning when the 41-year-old woman was walking to a drop safe to place an undisclosed amount of cash inside. She says two men, who had been waiting in the car on the premises, approached the woman and demanded the cash. Janse Van Rensburg says a shot was fired and the woman was wounded in the right leg. The thugs fled with the money in white VW Polo. (Link)
At about 9.30pm yesterday (20 February) West Suburbs Roodepoort Neighbourhood Watch(WSRNW) received a call from one of their members informing them of an armed robbery on Lichtenstein Street.  The threeblack thugs  stopped at the house in question in a black Mercedes-Benz. The safety gate was open and they kicked open the door. The white owner of the house got involved in a fight with one of the thugs and was shot three times – in his leg, side and arm. The thugs  then fled with only a TV and cellphones. WSRNW searched the area and secured the scene until the police arrived. The victim was taken to Netcare Milpark Hospital. (Link) 
Two elderly white farm people are still in shock after they were attacked by black thugs on their farm. Richard (72) and  Anita Wiggil  were brutally attacked by blacks on their farm outside Haenertsburg in Limpopo. They were continuously hit, kicked and bounded. They thought they were about to die. (64) (Link) On January 19, a farm attack in Richard Juggling, Haenetsburg, Tzaneen, Limpopo around 3:00 left both the farmer and his wife in a serious condition. Mr. and Mrs. Wiggle both aged 70 were victims when four black thugs broke into the main house by smashing a bedroom window. The first thing thethugs did was take away the cell phones and immediately assaulted the elderly couple and tied them up with cable ties and electric cords. The thugs  began searching the house, an employee by the name of Alex was also tied up and had his phone confiscated. The suspects made sure that they left no evidence and cleared their tracks before fleeing in the Wiggle's pickup van. The suspects threatened the couple and told them they would come back and kill them. The employee Alex managed to free himself and rushed to help the farmer and his wife. As all the cell phones were taken, they were not able to raise the alarm. The Wiggles and Alex walked approximately one kilometer to get help from a neighbor. The neighbor assisted and the police were alerted. Both the farmer and his wife sustained head and body injuries and were taken to hospital for treatment. (Link) 
A sixty year old white female has been left fighting for her life following a house robbery in Sylvania Place in the suburb of Umgeni Park, north of Durban. Marshall Security and emergency services were called to the scene after the home owner's son found his mother lying on the floor of her home, unresponsive and in a critical condition. Reports from the scene indicate that an unknown number of black thugs  forced entry into the home during the last 24 hours, violently assaulting the home owner and strangling her, before ransacking the house and fleeing in an unknown direction. Advanced life support paramedics worked fervently to stabilize the victim before she was rushed by Crisis Medical ambulance to a nearby hospital for further care. The scene was secured and handed over to the South African Police Services for further investigation and processing. (Link) 
Another white couple were brutally attacked ij their home in Boksburg. In a titanic struggle Johan Du Toit (64) fought off the black thugs,- but were repeatedly struck over the head with a blunt object- and stabbed with a knife. Him and his wife Marisca (48) was ambushed when they arrived at their home in Short street Boksburg on a smallholding. He managed to obtain his hunting rifle which scared off the thugs. He is in a stable condition in hospital. ( Link) 
Two Glenwood women endured a harrowing armed robbery when black thugs  burst into their home and dragged them by their throats on 17 February 2017. Blue Security operations manager Brian Jackson said the residents, one of them a 70-year old woman, were at home at a complex in Bulwer Road just before 7pm when a gang of armed thugs held them up. "Three thugs- , one of them armed with a firearm and wearing a reflector vest similar to those worn by car guards,-  walked into their lounge and held them up. Two of the thugs grabbed the women by their throats and started choking them," he said. "The armed thug, who seemed to be the gang leader called the orders and demanded that they hand over cash and other valuables. The gang then dragged the women by their throats through the house as they searched for valuables to steal." Jackson said a neighbor was walking past the home and got caug ht up in the assault. "The armed thug grabbed him and shoved him onto the ground before fleeing the scene with the rest of the gang. Residents gave chase along the freeway in the direction of the CBD, but lost the suspects as they fled towards Warwick junction. No injuries were reported," he said. Four cellphones, a laptop and cash was reported stolen. The SAPS Durban flying squad and the Umbilo police attended the scene of the crime. (Link)
And in another attack on whites a guest house owner nearly were decapitated in his house by black thugs . (Link) 
 Roelf Pretorius  (57) of Daggafontein near Springs was shot dead in cold blood by black thugs in his own car ramp at home. He still wanted to give the keys of his car to the  two black hi-jackers,- when one of the thugs decided to shoot him in cold blood there and then. This all happened while his three young children were watching in horror. Ironically enough were his son Roelf Jr (31)  in the East Rand  hospital a week ago after he was shot by the same thug as well. (Link) 
Three or four black thugs  attacked Hannes Harmse and his wife on their farm outside Derby on the Ventersdorp road on, February 14, 2017 around 07:15. The thugs wore balaclavas and after assaulting the couple fled with three firearms. Responding swiftly to the incident the police and farming community began searching for the suspects but they remain at large. The investigation continues. (Link)
An eight-year-old disabled boy was sitting outside with Santie – a 38-year-old female – at their home in Ermelo Road, Strubenvale, Springs. Around 10H00 two black thugs wearing blue overalls and balaclavas entered the yard and forced them inside the house. The thugs demanded money and Santie told them she had none. One of thethugs went to the kitchen and found a knife, he then stabbed the boy five times on his hand, chest and on the back of his body. Santie sustained some bruises on her hands. The thugs proceeded to the bedroom, ransacked the room, and fled with a laptop and a tablet. Santie and the young child were taken to hospital for treatment. The police are investigating the incident. (Link)
A Gang of black thugs threatened to rape a white woman and jabbed a gun against her 8-year old daughter's head. The family reside about 10 km from Hartebeespoort dam. She and the child had a night out with her brother in-law. Upon arrival at home- her brother-in-law went to his bedroom and sat on the bed talking on his cellphone. Suddenly a black thug stuck his claw through the window and held it against his head and ordered him to put his hands in the air.The rest of the thugs broke open the glass pane door- entered the house and bound the woman and the little id with shoelaces. They threatened to kill the family execution style.  On numerous occasions did the thugs push the barrel of a gun against the little kid's head and threaten to shoot her and her mom if they do not tell them where is the keys for the safe. They then start to plunder the house. Only when the woman's husband arrived and start calling their names did the thugs flee.(Link)
An Afrikaner man, Fritz van der Westhuizen – has died after he was brutally attacked by black terrorists on a Thabazimbi farm. (Link)
FOUR black African  thugs  were arrested  for the Modderbult farm murders. The Modderbult farm murders happened in Balfour where a white  family of four was brutally slaughtered. According to SAPS, the victims include an elderly man Gert Smuts (78), and his wife, Paulina Smuts (70). The couple, their son and daughter-in-law, Louis (47) and Belinda Smuts (42) were found murdered inside their house . While the police discovered two firearms and jewelry abandoned at the murder scene, they found that the vehicle of the victims, a Toyota Prado was missing. Thereafter, an intensive manhunt for the suspects commenced. Through the assistance of Tracker, the vehicle was spotted in Balfour. SAPS narrated that the occupants opened fire at the police when they approached the vehicle. "…The police retaliated wherein one of the suspects was sho t and wounded, one arrested and some managed to abscond the scene. Inside the vehicle, police found a 9mm pistol and a laptop," SAPS related. The manhunt for the remaining suspects continued and now, Hawks have arrested four foreign thugs linked to the Modderbult farm murders. As learnt, the foreign thugs include two Nigerian nationals and two Mozambicans. (Link)
The Letsitele community was rocked this morning on February 12 2017 at the news of another brutal farm attack on a couple in that area. The incident took place at approximately 03:00 this morning on the farm Gunyala 71 at the home of Ben and Martie Nel. Information available at the moment is that there were two black thugs who entered their home. It is unclear at this stage what exactly was the motive, or what has been stolen other than a VW Golf, navy blue in color with registration number CDC334L. Members of the Farm Watch and SAPS are still combing the scene. We have received confirmation that the female victim was sexually assaulted and that she is currently being treated at Letaba Hospital. We have also been informed that a massive search is currently underway for the suspects. (Link)
In another farm attack at a farm "Potlootspruit" near Lydenburg two black thugs were apprehended. Various stolen goods were found in their possession. (Link)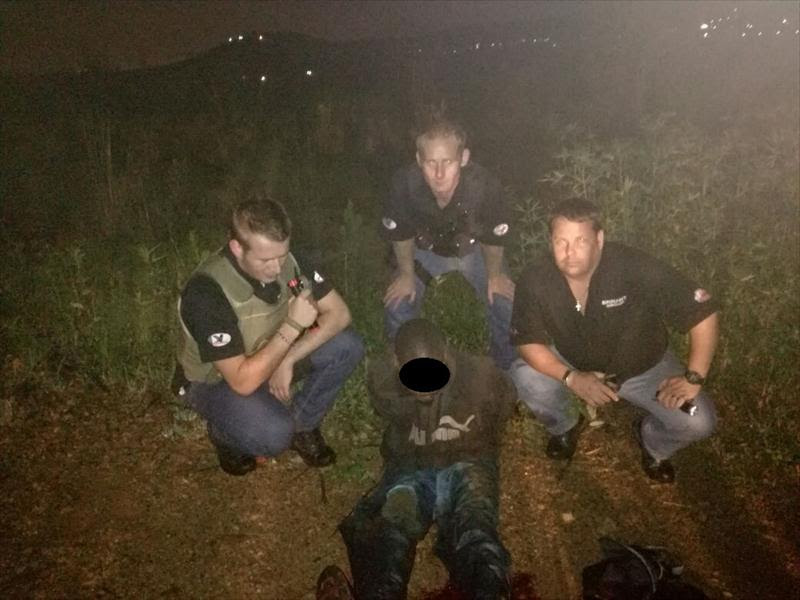 A trail of blood from a burglary scene resulted in the arrest of a man east of Pretoria on Monday night. Brinant security group spokesperson Martin Barnard said a black thug  and an accomplice had broken into a residence in Edelvalk Street in Monument Park around 22:00.  He said they broke a glass door to gain access into the house. "One of the cthugs somehow cut his Achilles tendon," said Barnard. He said the family who were in the house at the time, had locked themselves in the bathroom. "The thugs fled the house with a tablet and a phone."  The tablet was later recovered in the veld not far from the home. Barnard said officers responded to a community group Whatsapp message. He said a resident had typed "help" and the address. "The response found blood in the house and followed the trail to a thug lying in the veld not far from the scene," he said. Bar nard lauded the officers who responded though the the homeowner was not a client.  He said the thug was handed over to the Lyttelton police." Police spokesperson Captain Dave Miller confirmed the arrest and said a house breaking docket was opened at the station. "The suspect was taken to hospital for medical attention and is under heavy police guard," said Miller adding that the thug would appear in the Pretoria Magistrate's Court as soon as he was fit to. (Link) 
"I HAD to do it….had to do it…had to do it…"
WN
---