Discovery CEO Adrian Gore announced that we're getting a new bank in 2019. Not only will Discovery Bank be the world's first and only behavioural bank, but it will also be branchless and give Black clients 10% equity. Gore explained:
"The intention is that when black depositors join the bank, they will be given an equity. There will be no requirement for them to purchase shares at all."
This, apparently, does not sit well with South Africa's white citizens. The angry horde took to Twitter to voice their complaints, with some saying they refuse to switch while Discovery's existing white clients are threatening to leave.
Voor in die koor is Renaldo Gouws who said that "if you are a white individual then they still want your money, but you can't get share you are white. They don't hide the discrimination anymore." And then he made a video asking how is it possible to still discriminate against people based on their race 24 years into a democracy. I don't know, hey.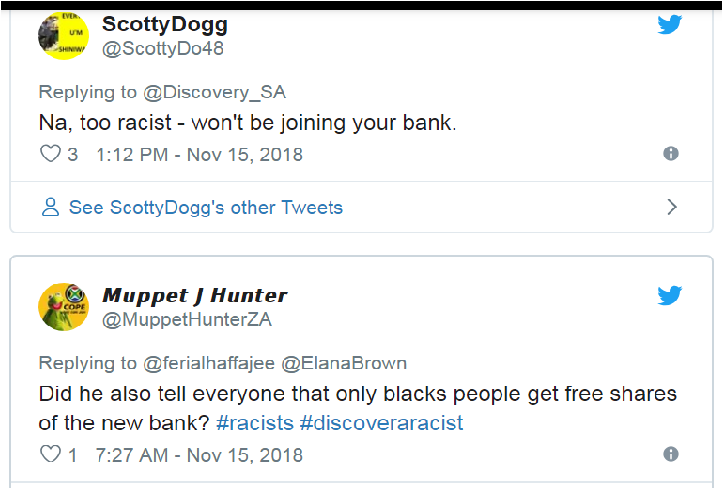 Dan Roodt also expressed his concern about white citizens not having a "slegs blankes" bank. He said: "Blykbaar gaan #DiscoveryBank teen blankes diskrimineer. As ons nie binnekort ons eie bank/versekeringsmpy [sic] kry nie, is ons kapot!"
Another Twitter user, Andre Bruton, said Discovery Bank is playing the race card while someone else added that "Discovery are racist against whites, deposit money in their new bank to get free shares but only if you're Black! It's time to boycott All Discovery products!" The user is known as 'No Victim Here.
---
Free
Insurance and MVV (Motor Vehicle Accident Insurance)
Quotations
and Funeral Plans Online …. Just send "Home" or "Auto" or "Life" or "Funeral" or "MVV" and your Full Name, Age and Cell Number to:
info@medsure.co.za
, or SMS / WhatsAPP the word with your
full name
,
age
and
email address
to:
062 30 30 314
, or just go to
www.MedSure.co.za
, enter the appropriate form and
we'll call you
.
---
De-Colonized Hein jumped in by saying he will be cancelling all his Discovery products. Sommer tomorrow, nogal. He urged other "non-racists to do the same."

Gore said in a press release though that he expected this kind of "political backlash." The company also said on Twitter that it is important for them to align to the sector transformation target and they are "doing this in a way that is broad-based by recognising some of our first black clients by letting them share in the growth of the bank."
In another tweet, the company said that they are sorry to see some of their customers go, but that those leaving should kindly note that the "Discovery Bank vision is to build a financially stronger South Africa and we want to build a modern, sustainable South African Bank." … Yeah right, just to end-up like the VBS Bank !!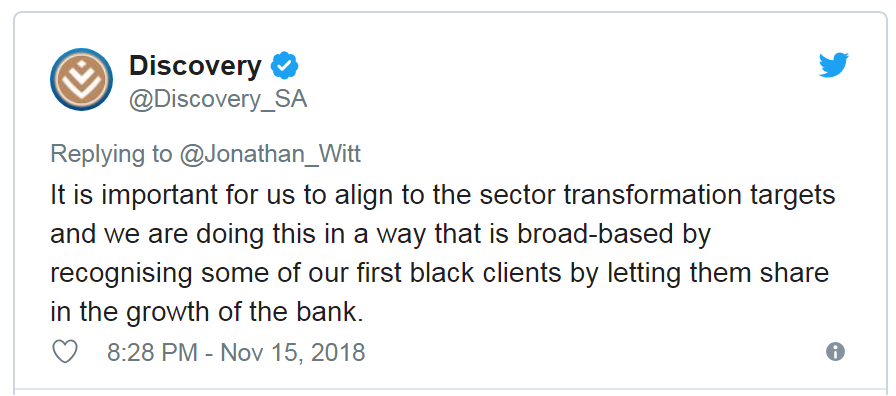 ---
Free signup to our Dating Service
…
just click
Dating Service
now !!
---
Would you like to advertise on this very popular website ?? Just drop me an e-mail at tersia@v.co.za, and I will tell you how !!
---