#ParasiticParastatals South Africans with pensions do need to be really concerned, because the ANC has a track record of of making money disappear, no matter where it comes from. There seems to be a black hole somewhere that is sucking up BILLIONS of Rands of not only taxpayer's money, but even borrowing Billions more,  and once the money is put in the black hole, it seems to be gone forever, creating the need for the government to look for hundreds of billions of Rands MORE, to keep debt laden State Owned Enterprises (SOEs) afloat.
With the recent news that COSATU, the ANC's trade union, made the proposal that pension funds in South Africa, especially the Government Employees Pension Fund (GEPF), managed by the Public Investment Commissioner (PIC) should be forced to provide R254 BILLION to Eskom on favourable terms, a call supported by Business Unity South Africa (Busa) – with Martin Kingston, deputy President of BUSA and  CEO of Rothschild SA, supporting Cosatu's call publicly, we should first revisit the Chinese loans that Cyril Ramaphosa made in 2018 and ask what have become of that money.
The massive Chinese loans of 2018 was shrouded in secrecy and no terms and conditions were disclosed , like what would be the interest rate asked by the Chinese. What would happen if SA defaulted?
It has only been 2 years down the line and it seems that the massive Chinese loans also disappeared into the black hole. There is no public information available of what that money was used for. The main bulk of the Chinese loans was a R370 Billion loan from China announced in September 2018 but there was also a separate R37 billion loan to Eskom and another R4 billion to Transnet.
South Africans whose pensions stand to be raided by the ANC government, have good  reason to be concerned that money taken from their pension funds, will never be repaid, and that the black hole awaits those funds, never to be heard of again.
Only the Solidarity trade union has announced that they will fight the pension grab plan, with all resources available while mainstream media and liberal business elites are supporting the Cosatu scheme.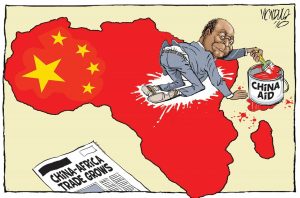 See also: China vows to take over Nigeria's main assets over unpaid Loans – SA perhaps next in line on China's list?
---