The company says AIG is not helping bring people together by including the controversial singer in its lineup.
MTN responded to calls on social media to pull out its sponsorship of Afrikaans music concert, Afrikaans is Groot (AIG), after its inclusion of controversial musician Steve Hofmeyr in this year's line-up.
The show is scheduled to take place from March 14 to 17 in Cape Town at the Grand West Casino, and in Pretoria at the Sun Arena at Time Square Casino in November and December later in the year.
However, their line-up caused an uproar on social media after Hofmeyr was included, with some tagging MTN on tweets that were seen to be racist.
Gauteng education MEC Panyaza Lesufi also took to social media to call on MTN to withdraw from the concert if it was serious about dealing with racism in the country. He used Hofmeyr's tweet in which he said black people were the architects of apartheid.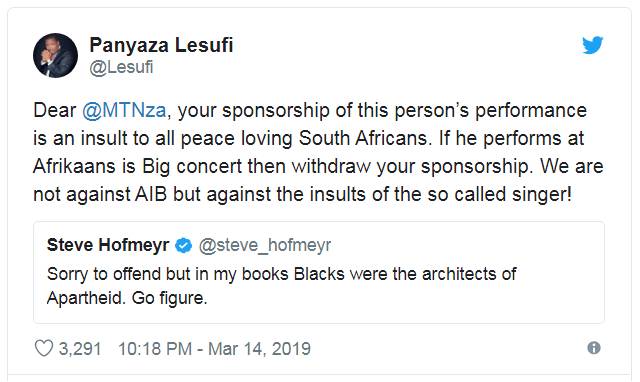 Now MTN announced that it pulled out from the show because of Hofmeyr's inclusion in the line-up after raising its concerns about it last month.
It said in a statement: "Afrikaans is Groot is a great platform to appeal to speakers of Afrikaans, from all walks of life. MTN believes in supporting and showcasing South Africa's musical talent and promoting music that exposes more South Africans to the many different genres that exist across our diverse nation. MTN's Maskandi sponsorship has proven to be a huge hit, exposing more South Africans to this form of traditional Zulu folk music that is now performed by men and women, attracting a following outside of just Kwa-Zulu Natal.
"The AIG music concert has its extensive line-up of well-known and developing Afrikaans musicians and offers world-class production which makes it a great platform from which to reward and grow our Afrikaans speaking base. South African local music is rich with talent but it is tough to break into the music industry and any platform that promotes access to music-loving audiences should be encouraged and preferably not undermined by the racist rants of one performer.
"MTN has been reviewing its bouquet of sponsorships and its association with AIG, which began in 2015. MTN raised its concerns with AIG last month and we have taken the decision to cut all ties with this event. Through its brand and network, MTN seeks to connect South Africans and bring people together and it's unfortunate that by persisting with Hofmeyr, AIG is no longer helping serve that objective."
-citizen
---
This news release does not necessarily reflect the opinion of SA-news.
---
Free Insurance and MVV (Motor Vehicle Accident Insurance) Quotations and Funeral Plans Online …. Just send "Home" or "Auto" or "Life" or "Funeral" or "MVV" and your Full Name, Age and Cell Number to: [email protected], or SMS / WhatsAPP the word with your full name, age and email address to: 062 30 30 314, or just go to www.MedSure.co.za , enter the appropriate form and we'll call you.
---
Free signup to our Dating Service …just click Dating Service now !!
---
Would you like to advertise on this very popular website ?? Just drop me an e-mail at [email protected], and I will tell you how !!
---