The police say they are hot on the heels of the suspects who are attacking and robbing people on bicycles between Strand and Gordon's Bay.
The main road that connects Strand and Gordon's Bay, two quaint towns in Cape Town, has become the subject of a string of violent attacks on people riding bicycles recently.
Robbery victims speak out about violence on road between Gordon's Bay and Strand.
The news of these attacks was brought to light by a well-renowned cyclist, Wimpie van der Merwe (photo below), who, a couple of weeks ago, wrote a post on Facebook about how he and his fellow cyclist, Elize van Rensburg, were attacked by suspects on the stretch between Gordon's Bay and Strand.
According to a report written by Cape Town ETC, the three suspects injured Elize and went through all of that trouble for a cellphone.
Another victim, Rosalie Coetzee, took to Facebook on Sunday, 18 November, to post an image of a man on a bicycle she identified as the suspect who held her daughter at knifepoint and demanded that she hand over her cellphone. According to Coetzee, this happened on Rooiels Crescent, a side street that connects to the main road that connects the two towns in question.
The latest robbery we know of was brought to light by Van der Merwe on Facebook on Tuesday morning. According to the cyclist, a man we know as Shaun Wayne was on his way to work on his bicycle when he was attacked by an unknown number of suspects.
Shaun was stabbed on the side of his head by the assailants who left him for dead. Luckily, they had not taken his bicycle and he was somehow able to ride to a medical doctor, where he was immediately treated and transferred to a hospital where he is recovering.
---
Free
Insurance and MVV (Motor Vehicle Accident Insurance)
Quotations
and Funeral Plans Online …. Just send "Home" or "Auto" or "Life" or "Funeral" or "MVV" and your Full Name, Age and Cell Number to:
info@medsure.co.za
, or SMS / WhatsAPP the word with your
full name
,
age
and
email address
to:
062 30 30 314
, or just go to
www.MedSure.co.za
, enter the appropriate form and
we'll call you
.
---
Strand police confirm attacks in Strand and Gordon's Bay are not connected
We spoke to Colonel Franklin Plaatjies from the Strand police station and he confirmed that they were currently investigating the case around Shaun's attack.
He also revealed that the attack did not happen on the same road that Elize and Van der Merwe were attacked on.
The suspects in Elize's robbery case had been arrested and are currently in police custody awaiting to appear in court next week. Therefore, according to Colonel Plaatjies, they can't be connected to the recent robbery on Shaun.
He also wanted to clarify that these attacks were not targeted on cyclists since Shaun was merely a worker from a restaurant in Gordon's Bay who rode his bike and unfortunately was targeted by robbers.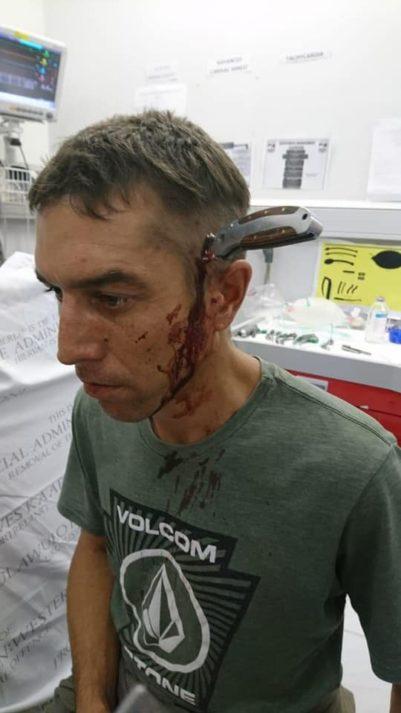 ---
Free signup to our Dating Service
…
just click
Dating Service
now !!
---
Would you like to advertise on this very popular website ?? Just drop me an e-mail at tersia@v.co.za, and I will tell you how !!
---