In South Africa slow justice leads to no justice: The farm murder trial of 7 accused did not start since 2017, due to delaying tactics by the accused, assisted by the Legal Aid Board, seven black farm murderers in a farm murder case and an attempted farm murder case, in the Kleinfontein area of North West, are playing the system and dragging the case out endlessly with the help of the Legal Aid Board.
The accused are in custody for attempted murder by shooting and wounding farmer Hennie Eksteen on 29 June 2017 on his farm, and murdering farmer Dries Botha, who was overpowered outside his house when he went to activate an alarm system at his sheep kraal and shed on Tuesday 4th July 2017 at about 20:00. He succumbed to his wounds in hospital a few days later.
It is suspected that five shots were fired at Dries Botha and he sustained three shot wounds in the upper body and a shot wound in the arm, while his wife was inside the house. She locked herself in the bathroom and called their neighbours for help after she heard her husband screaming outside. Botha fought back prompting his attackers to flee the scene, without stealing anything. Both incidents happened in the same area.
The cases were previously postponed several times after the Legal Aid Board had to appoint new lawyers, for the account of taxpayers of course, after the accused began to point fingers at each other. Two of the accused escaped out of the Hartbeestpoort police cells in December 2018, but they were later re-arrested. Eventually the magistrate postponed the cases to 4th, 17th and 20th February this year for trial, but on the 4th February only one attorney from the Legal Aid Board showed up.
The case was then postponed to 17th February, but then Adv. Naas de Jager, representing 4 of the accused, announced that he was withdrawing, because one of the accused, Caiphus Shilenge, keeps changing his story the whole time. The magistrate in the matter postponed the case again pending the appearance of the head of the Legal Aid Board in North West, appearing in front of the Court to explain the situation.
It is uncertain when the matter will now be tried as the Legal Aid Board head in the province must appear before Court before anything can be decided.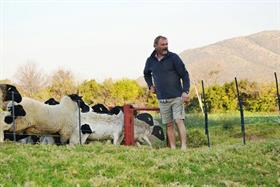 See also: WANTED: Farm Murderer Suspected of Killing Hendrick Peter Peterson From Ellisras, Tshepo Justice Rasodi Skips Bail of Only R1,000!
---