The Everything For Free syndrome and demand culture of the black South African population took its normal heavy toll after a modern housing complex in Soweto was completed back in 2011. Today, nothing is left, the complexes have been physically destroyed, carried away stone by stone, brick by brick, plank by plank, until only ruins are left today.
There were altogether 460 complexes that could have housed 4 families each! That is 1,840 family homes! The reason that nobody ever moved into the houses is that the people who would have benefited were not willing to pay rent of a mere R750 per month, for a brand new and state maintained apartment with running water and electricity! The units came complete with built-in cupboards, stoves and bathrooms, but only partial walls remain today.
One wonders where they live today? Maybe invaded some land illegally? It should also be noted that the racist black nationalist ANC regime do not build houses for whites, even if they stay in squatter camps. The building work started in 2009 when the Dube hostel was upgraded and additional units added as part of the Hostel Eradication Programme, a partnership between the City and the Gauteng provincial government. Some R1,4-billion has been allocated to the whole programme, which would have yielded over 9,000 affordable rental units. The Dube project consumed R231-million of this budget.
The programme had been adopted to socially integrate imported residents of the hostels into the broader community, through the provision of affordable rental units. The work was commissioned by the Gauteng Provincial Government. The houses were guarded at first but in 2014 the local community started to strip the houses and everything that could be taken was carried away, including bath tubs, ceilings, roofs, doors, windows and electrical wiring.
The local community now wants the housing complex to be be razed and removed because murderers sometimes dump bodies there. Goats were nibbling away at grasses in the ruins during newspaper Rapport's visit there just before Christmas.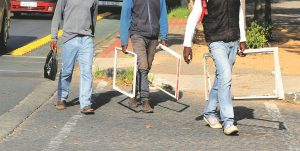 ANALYSIS: This example of R230 million of taxpayer money down the drain is just one example of a daily occurrences of looting and burning carried out by the black population because they want this or they want that, always for free of course. Damage of billions is caused to vital infrastructure.
They have burnt down clinics, schools, police vehicles etc. in thousands of incidents over many years. This fact is well known. The Fees Must Fall activists also caused damage to universities of at least a billion more or less. The question that must be asked is where does this demand culture come from?
The answer is clearly to find when you consider that especially white communists like Karl Marx and Lenin have taught their fellow comrades in the ANC and Cosatu for decades. This caused a demand culture where the State must provide everything free of charge to be embedded in the African mind and culture, with SACP in the background. Today black students and opinion formers would much rather read Marx than the Bible. The EFF with its radicalism and stated policies of Everything For Free has inflamed the situation badly.