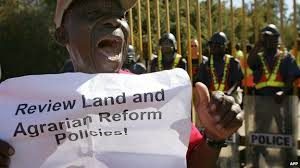 EDINBURGH — Zimbabwe lies in tatters, thanks largely to policies like land expropriation – yet the ANC leadership has committed to taking similar steps in the belief that the outcome will be different in South Africa.1 The ANC has resolved to grab land, without compensation, in a way that does not damage the economy or food security. But, that's an impossible task, as seasoned journalist and media company boss Stephen Mulholland explains here. He cuts through the political message to explain why ANC plans to take land from productive farmers and hand it over to the traditionally disadvantaged beggar belief and urges clear thinking on the nuances of how the agricultural sector feeds into economic growth. Above all, Mulholland's comment is a warning to new ANC president Cyril Ramaphosa that land expropriation without compensation will inevitably sentence South Africa to the Zimbabwean plight. – Jackie Cameron
"Conference resolved that the ANC should, as a matter of policy, pursue expropriation of land without compensation. This should be pursued without destabilising the agricultural sector, without endangering food security in our country and without undermining economic growth and job creation."
Thus spoke the ANC at its recent Conference, an event referred to by members as if it were some sort of holy occasion such as an Eid Al-Fitr,  celebrated at the end of Ramadan, a Papal gathering in St Peter's Square or a Bar Mitzvah at the Wailing Wall.
Sadly it was a statement of total contradiction, an impossibility unachievable by any government, let alone our corrupt and incompetent ANC which would have difficulty running a bath, never mind a country.
It defies imagination that, with the ruin of Zimbabwe, a nation with no currency, a declining economy, daily job annihilation, health and education in tatters now staring us in the face, we choose to go down the same path to destruction along which the demented, thieving, dictatorial Robert Mugabe took his once thriving nation.
He drove away a few thousand white farmers, world-renowned for their agronomic expertise, their products sought after all over the world
In 2015 the Washington Post sent a journalist to Zimbabwe. He reported: "When the Mugabe government started redistributing farmland in 2000, the biggest tracts went to supporters of the ruling party, even if the recipients didn't know how to work them. White farmers, many of whom said they were ready to participate in a more orderly process of land reform, received no compensation when their property was seized."
Today those white farmers are prospering in Australia, Canada, New Zealand, the UK, the USA and other countries happy to employ their skills and experience.
"If white settlers just took the land from us without paying for it," Mugabe said, "we can, in a similar way, just take it from them without paying for it."
Ramaphosa et al might also consider the Chinese experience. Recently China's agriculture Minister Han Changfu said the country's grain production capacity has reached new highs, with annual output exceeding 600 million tons for the last four years.
He added that science and technology is playing a crucial role in transforming Chinese agriculture, with the adoption of high-tech machinery seeing a move away from manual labour.
According to Han Changfu, the level of agriculture mechanization has been greatly improved with the comprehensive mechanization level of the main crops being well over 65 percent. In wheat production, an overall mechanization has been basically achieved. In corn and rice production, the mechanization level is over 75 percent."
Meanwhile, the income of Chinese farmers has grown by nearly 50 percent over the last 5 years, with 7 million people having returned to the countryside to start new businesses. As more start-ups choose to settle down in rural areas, authorities say this could be a key growth point in the future. Han noted that this is mainly due to supply-side structural reform.
"We're developing market-oriented agriculture, deepening the reforms and optimizing the agricultural structure. Produce processing, agricultural tourism and e-commerce are thriving, Agricultural industries are integrated. In 2016, the trading volume of produce e-commerce reached 220 billion yuan, and revenue from agricultural tourism was 570 billion yuan. We are seeing a more ecological, high-quality and safer agricultural production and supply," said Han.
Presumably, our future president could score some brownie points with his fellow party leaders by consulting the Chinese who, after all, remain communists. He should send our agriculture minister, Senzeni Zokwana, himself a communist, whatever that means today, to Peking for some instructions on how to grow an agronomy.
Ramaphosa needs to learn that you cannot have your cake and eat it. You cannot seize land from productive farmers, give it to neophytes and expect the nation to continue to be able to feed itself.
You might feel good and virtuous about righting ancient wrongs but you will be simultaneously sentencing your people to a Zimbabwean plight
By Stephen Mulholland/BizNews