The French Government issued a warning about a potential attack and warned people to avoid the Les Halles district of the city
Police swarmed a church in central Paris today amid fears of a potential attack after reports gunfire had been heard and hostages were taken.
Parts of the city were shut down while the French government issued a warning telling people to avoid the Les Halles district of the city.
Officers have since confirmed it was a 'false alarm' and there is no indication of any danger to the public.
Police were called to the area at around 4.30pm (3.30pm BST) after people reported hearing explosions and hid in a church on St. Denis, according to local media.
Early reports suggested that there was a hostage situation in Saint Leu church in the Chatelet and heavy gunfire but the claims could not be confirmed.
Police said the operation was over and "no indication of danger" at about 4.50pm (3.50pm BST).
France remains on high alert following a number of attacks and potential threats in recent months.
It comes just a week after a car packed with gas cylinders was found parked outside a synagogue in Marseilles where dozens of worshippers were attending a service.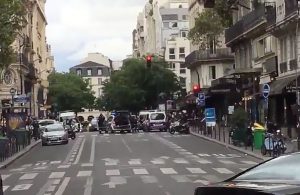 A week prior to that, a Peugeot laden with seven cylinders was left outside the Notre Dame Cathedral in Paris in what French authorities say was an ISIS-inspired terror plot.
Three women have been arrested in connection with that incident.
There were seven gas canisters inside the Peugeot, and well as three containers full of petrol, which might have been used to set the car on fire.
The Peugeot had no number plate, but forensics experts managed to find DNA belonging to the suspects.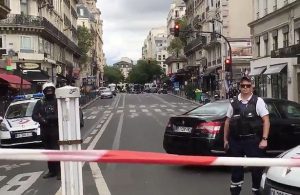 The car's discovery triggered a terrorism investigation and revived fears about further attacks in a country where Islamist militants have killed more than 230 people since January 2015.
In May, Patrick Calvar, the head of France's DGSI internal security agency, said he was confident ISIS would "reach the stage of car bombs".
Christian leaders are being warned to increase security and avoid wearing dog collars in public.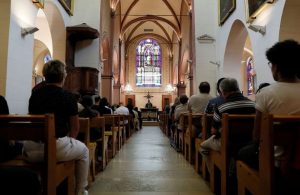 New counter-terrorism advice has been urgently issued to vicars and churches across the UK over fears an attack on British religious institutions is now likely.
The new measures follow the murder of a priest by two ISIS terrorists in France in July, amid fears, the same could now happen in the UK.
The Counter Terrorism Advice for Churches urges religious leaders to prepare for incidents and to be on alert for attackers, who are likely to be armed with knives.
Mirror