The small bankrupt municipality in the Free-State which is still under administration has still managed to pay a municipal manager R2,9 million a year for 2 years, making him the best paid government official in South Africa! However his position was defunct as a Bankruptcy Administrator had been appointed, it seems, only to plunder the public coffers even more, as this "Administrator", Moses Moremi was the one who signed the 99 Year lease to give the Gupta's a rent free farm for the Estina Dairy scam!
It has just been revealed that Mojalefa Matlole, who just resigned as municipal manager of the Mafube municipality, the bankrupt municipality which serves Frankfort, Villiers, Tweeling and Cornelia in the Free-State, was earning a massive salary package of R2, 9 Million per year, which made him the highest paid government official in South Africa and that includes premiers, national cabinet ministers and even the vice President.
Matlole had been in the post for 2 years an din this time. Jacques Jansen van Vuuren of the Mafube business forum, says the forum has been asking Matlole for the 2 years to show his appointment letter, but he has consistently refused. Van Vuuren says he suspects pressure from the business forum and the Municipal Workers Union is what led to Matlole's resignation. Van Vuuren told Netwerk24 that Matlole was the most arrogant municipal official he ever met.
This massive salary paid to the municipal manager was on top of the salary paid to the Bankruptcy Administrator of the municipality, because the municipality has been bankrupt and under administration since 2017. The administrator is supposed to manage a municipality which was placed under administration and the position of municipal manager becomes unnecessary, however Matlole kept feasting at the municipal trough until he unexpectedness resigned, after the questions arose about his appointment, and he was replaced by Mokhele Notsi. Notsi and Matlole did not sit around one fire.
Moses Moremi, who was appointed on 1 January this year as the bankruptcy administrator of Mafube municipality was also the man who signed a 99 year rent free agreement to give a farm to the Estina dairy company belonging to the Guptas to operate the Vrede dairy farm, a project which never got off the ground but which cost the taxpayers hundreds of millions of Rands and led to the State Capture scandal. It has since been revealed that money given to Estina by the Free State government was looted by the Guptas and used for instance to pay for a wedding.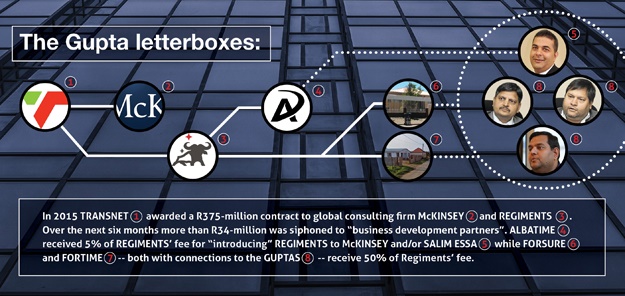 See also: SA wants Guptas to pay for their part in the state-capture saga, but whether Emirates will extradite them is another matter
---