A group of Sri Lankan civil society members and organisations, have in a petition to be submitted to the South African High Commission in Colombo, expressed outrage over the failure of the South African authorities to apprehend and detain President Omar al-Bashir of Sudan during his recent visit to South Africa for an African Union (AU) summit.
This is in a context where President al-Bashir is wanted by the International Criminal Court (ICC) to face trial on charges of war crimes, crimes against humanity and genocide. Not only was President al-Bashir permitted to participate in a highly publicised conference, he was also permitted to leave South Africa in direct violation of an interim order issued on Sunday June 14, by a High Court in Pretoria. "This direct violation of the court's order rendered unenforceable the same court's welcome ruling the following day that the failure of the authorities to arrest al-Bashir was unconstitutional, and that al-Bashir be arrested and detained pending surrender to the ICC," the petition stated.
Pursuant to Security Council resolution 1593 (2005) which referred the situation in Darfur to the ICC Prosecutor, the ICC has issued two warrants for the arrest of President al-Bashir, one in 2009 for war crimes and crimes against humanity, and another in 2010 for genocide. President al-Bashir has continued to act with impunity despite these warrants.
"His visit to South Africa presented a real opportunity to bring an international fugitive to justice. As a state party to the Rome Statute of the ICC, South Africa was under a binding legal obligation to arrest President al-Bashir and surrender him to the ICC. Moreover, as the High Court in Pretoria affirmed, South Africa was also under a constitutional obligation – on account of its domestic incorporation of the Rome Statute – to enforce its provisions and arrest al-Bashir pending a formal request by the ICC to surrender him. The court dismissed the South African government's claim that President al-Bashir was entitled to immunity in terms of domestic and international law. The ruling by the High Court demonstrates the critical role national courts play in supporting the ICC and upholding the international rule of law," the petition added.
The signatories to the petition noted that given the involvement of the government of South Africa in the design of truth and reconciliation processes in Sri Lanka, they wish to reiterate the centrality of the rule of law and victims' right to justice in any efforts aimed at truth-seeking and reconciliation. The petition was signed by 48 rights activists and civil society members and 12 civil society organisations, including the Centre for Human Rights and Development (CHRD), Centre for Policy Alternatives (CPA), National Fisheries Solidarity Movement (NAFSO), Rights Now – Collective for Democracy, South Asian Centre for Legal Studies and the Women's Action Network (WAN).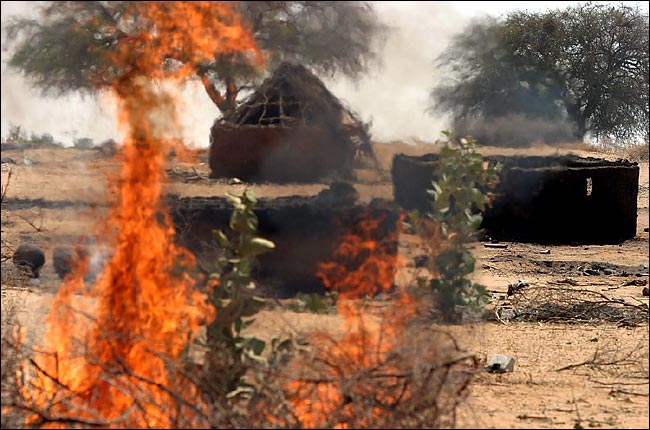 Janjaweed militiamen burn down the homes of ethnic minorities to ensure that they will never return.
Omar al-Bashir came to power in a coup in 1989, intensifying an ongoing war with the South that led to over two million deaths and the displacement of more than four million people. He also led a brutal jihad in the Nuba Mountains in the early 1990's that largely emptied the area of its population and led to the deaths of as many as half a million people. In Darfur, years of abuses by government security forces and government armed militias increase in the early 2000's, setting the stage for genocide.
Former Marine Brian Steidle was in Sudan's Darfur region in September 2004 as one of three U.S. military observers for the African Union. In his position as an unarmed military observer in Darfur, Steidle found himself becoming a witness to the destruction of civilians. Mr. Steidle did not have much in the way of equipment with him as an AU monitor, but he had a camera, and he took hundreds and hundreds of photographs.
When Mr. Steidle returned to the United States from Darfur in early 2005, he began to speak out using his photographs:
A Bashir Watch organisation has called on ICC to strenghten its language against those who do not uphold the agreed treaties:
The Bashir Watch Coalition,  a group of human rights organizations dedicated to accountability for the world's worst crimes, calls upon States Parties to take steps to increase cooperation with the International Criminal Court ("ICC"), implement the pending arrest warrants and protect victims' rights as enshrined in the Rome Statute at the 12th Assembly of States Parties ("ASP"). This ASP, with its thematic focus on victims, provides States Parties with an opportunity to refocus and recommit to seeking justice for victims at a pivotal moment in the Court's history.
The Coalition is disappointed by certain African States Parties' continued pressure to amend the Rome Statute to protect sitting heads of state from prosecution for the world's most egregious crimes. This political maneuver undermines justice, marginalizes victims, and allows perpetrators to enjoy continued impunity. The Coalition strongly urges all States Parties to work towards the fulfillment of the Court's mandate, rather than for any one individual's personal benefit.
The ICC has issued two separate arrest warrants for Sudanese President Omar al-Bashir for the crimes of genocide, war crimes and crimes against humanity in war-torn Darfur, Sudan. President Bashir stands accused of orchestrating systematic murder, rape, pillaging, looting, and ethnic extermination in the region.
More than 300,000 Darfurians have lost their lives since 2003, and over three million have been displaced as a result of President Bashir's actions. Additionally, the failure of the international community to arrest Bashir has enabled him to carrout atrocities in the Blue Nile and South Kordofan states of Sudan, and more innocent civilians have lost their lives.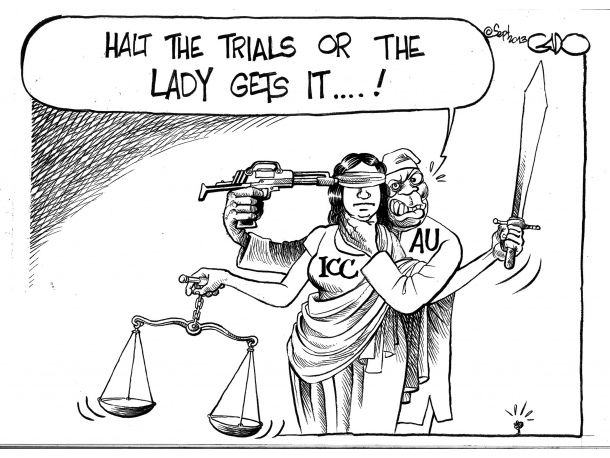 Despite this widespread devastation and the ICC arrest warrants, certain States Parties have allowed President Bashir to enter onto their territory without fulfilling their international legal obligations to turn Bashir over to the Court in The Hague. As a consequence of these States' failure to cooperate with the ICC, millions of victims in Darfur, Blue Nile and South Kordofan are suffering and still waiting for justice.
The world can't wait any longer. To prevent further atrocities and injustices, we call on States Parties to ensure meaningful cooperation with the ICC by all States Parties by including language in resolutions condemning those States that ignore their legal obligations under the Rome Statute;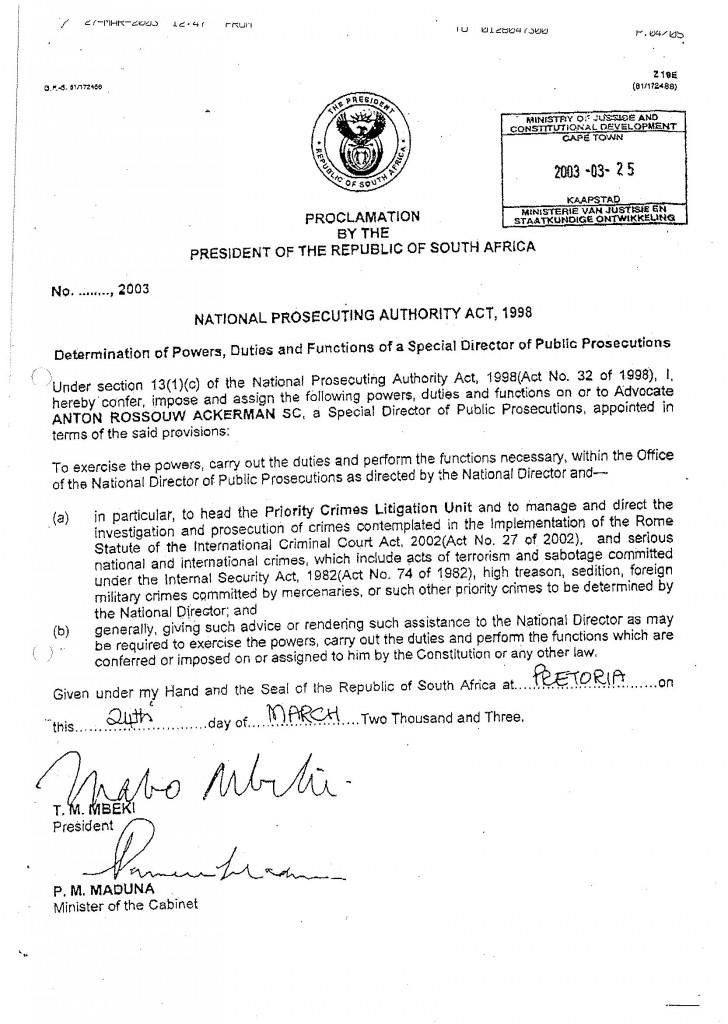 A copy of South Africa's implementation of the Rome Statute sign by Thabo Mbeki