There has been outrage in South Africa over old photos that were shared by several people including Andile and an eNCA news journalist, stirring anti-#BlackMonday feelings. The pictures depicted a couple wearing the old South African flag and a marcher burning the new South African flag.
Photographer James Oatway pointed out he had taken the pic of the couple back in 2010.
Well, known radio personality Jeremy Mansfield summed up the feelings of many South Africans when he wrote: "So the tweet goes out under #BlackMonday and #Farmmurder depicting two people wearing old SA flag t-shirts and a guy burning our democratic flag. The pics go global. The person who tweeted them later admitted they were NOT taken at any Black Monday gathering. That person just happens to be an encaTV news "journalist" Nickolaus Bauer!!! #loseallcredibility #tryreportingnotfakingitup."
Mansfield said: "An absolute disgrace. Trash your own reputation… fine. Trash your company's reputation… that's between you and them. Trash the reputation of countless real journalists who have worked to build this industry through integrity… you start raising the ire of a lot of people who could determine your future in it. Trash your country's reputation… not in my name!"
And it's at moments like that in South Africa, that those pointing fingers at racists cross the line and engage in racist behaviour themselves.
It was only on Tuesday afternoon that Bauer's posts were finally removed and that eNCA tweeted: "Reporter Nickolaus Bauer yesterday incorrectly used an old photo in a Black Monday tweet. It's been removed. eNCA is now dealing with the matter internally."
And while Bauer's post was unfortunate and distracted from what was mostly an incredible day of solidarity and unity against crime in SA (watch the very moving video from Piet Retief/Mkhondo below), it doesn't excuse nor should it distract from those handful of people who did brandish apartheid-era flags and made racist comments, as seen on live footage.
It is sad that there were a minority of racists in the crowd who gave all a bad name. It is sad that journalists like Bauer focussed only on the negative.
It is beyond sad that this gave Police Minister Fikile Mbalula and the ANC government the excuse they wanted to accuse #BlackMonday participants of being racists, rather than addressing the tragedy of escalating crime and murder in South Africa. (Mbalula retweeted old photos himself.)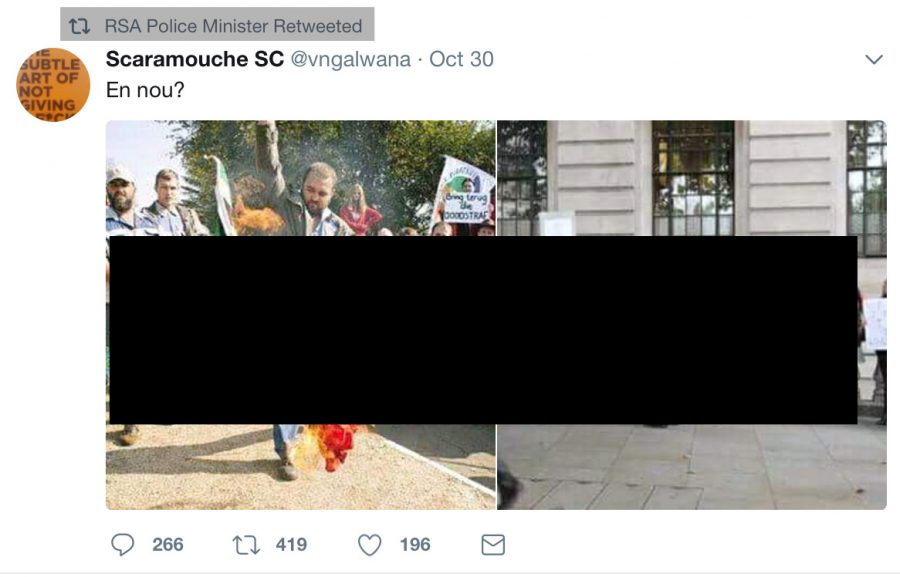 And so, hopefully, with the racism from all sides exposed for what it is – the good people in South Africa, of which there were thousands on Monday, can ensure that a narrow-minded minority on all sides cannot sabotage their next campaign…
South Africa needs its people to be united and stand together to say enough is enough… to stand in solidarity for the farmers, the farmworkers, the families, the friends, the grannies, the children… the 52 people a day who are murdered under our beautiful skies from townships to townhouses, farms to far-away rural villages. #EnoughIsEnough
Most South Africans were united on #BlackMonday
The SA Police Minister retweeted old photos and allowed himself to be distracted by the racists:
The old apartheid flag belongs in the dustbins of history. There were racists in yesterday's marches #DebateReply
The protests we saw yesterday betrays the reconciliatory hand of our people. RSA remains a class divided country with the majority poor.
  By:  SA People