Sudanese President Omar al-Bashir must be arrested before he leaves South Africa after the African Union summit in Johannesburg, two organisations said on Friday.
The High Court in Pretoria on Sunday granted an interim order preventing Sudan's President Omar al-Bashir from leaving South Africa, pending an urgent application for his arrest.
The International Criminal Court has two warrants out for his arrest, for crimes against humanity and genocide in Darfur.
The Southern African Litigation Centre brought the urgent application to the High Court in Pretoria on Sunday to compel South African authorities to arrest Sudanese President Omar al-Bashir.
"We just want to ensure that he is arrested before he leaves South Africa. As far as we understand, he is still here.," SALC lawyer Caroline James said earlier on Sunday.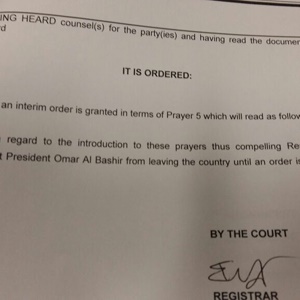 Al-Bashir arrived in South Africa on Saturday night to attend the African Union summit in Sandton.
The Democratic Alliance and the Southern Africa Litigation Centre (SALC) want to secure a warrant of arrest for Bashir.
The DA and the SALC pointed out that South Africa was a signatory on the Rome Statute, which was established by the International Criminal Court (ICC), and so was duty bound to arrest Bashir if he set foot in the country.
No arrest would mean violation of Constitution – SALC
"The effect of the domestic legislation is that South Africa is under an obligation under South African law to arrest any individual sought by the ICC," SALC's executive director Kaajal Ramjathan-Keogh said.
"This means that, should South African authorities fail to arrest President Bashir in South Africa, they would be acting in violation of South African law and the Constitution."
DA MP Stevens Mokgalapa said the party would write to police commissioner Riah Phiyega to urge her to display the political will to uphold domestic and international law.
South Africa needed to send a message that it took allegations of crimes against humanity and war crimes seriously, he said.
"If South Africa is indeed serious about upholding human rights as a cornerstone of our foreign policy, Mr Bashir will be arrested and finally face the charges against him for the atrocities he mandated and oversaw against his own people."
National police spokesperson Solomon Makgale was not immediately available for comment.
The ICC issued a warrant for Bashir's arrest in 2009. He is wanted for his alleged role in war crimes, genocide, and crimes against humanity in Darfur.