Due to the to the default on forwarding payments by municipalities, Eskom is moving further into the red every month at a staggering rate of almost R1 BILLION every month! However, apart from SOWETO where users refuse to pay, most users do pay, but their payments get intercepted by corrupt Municipalities where the money is taken and fraudulently spent on luxuries and personal expenses of councilors.
According to the latest record, the debt burden from municipalities is more than R24 BILLION at Eskom, the large majority of it from SOWETO, which is a clear reason why the entity went bankrupt. The interest due on that must be phenomenal, if that is one could expect it to ever be paid. Instead the banksters get rich on interest by lending Eskom money.
But economic advisers say Eskom is partly responsible for the situation, because if it had applied proper credit control, at most one month's electricity bill would have been outstanding for each municipality.
Experts also say that a municipality's power should be cut off at 45 days, however it is only the consumer that will suffer as the corrupt councilors stealing the money do not care.
While one might think that residents of towns and cities will quickly get rid of a city council and government responsible for turning the power off due to default, in reality we have seen a few protests and property damage where municipal buildings get burned down.
The logical responsible answer is to let ESKOM collect payments from its user directly and cut out the criminal middleman.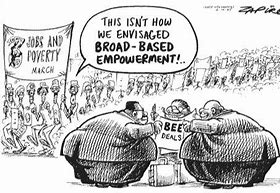 See also:Where Does All The Money Go? South Africa Borrowed R411 BILLION From China in 2018, Yet Now in 2020, Our Pension Funds Are Targets To Bailout R254 Billion of Eskom's Self Inflicted Debt?