Hoërskool Driehoek situated in  Vanderbijlpark  is currently evacuating learners and parents are urged to fetch their children in front of the school.
The school confirmed that emergency services and fire brigade are on the scene to pay attention to the problem.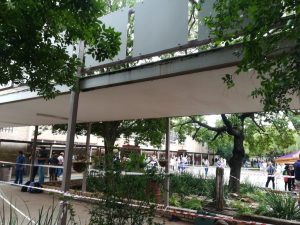 Emergency services reported that there was an incident at the school where a structure or bridge had partially collapsed.
AfriForum Vanderbijlpark does not recommend motorists and other people who are not involved with the school or the incident, to go there. According to the organization, it interferes with the emergency services' work and everyone is committed in working together.
Netcare 911 spokesperson Shawn Herbst said many learners were injured and their injuries ranged from mild to moderate while at least five were in critical condition. According to Herbst, four learners were killed. "Rescue teams and paramedics are on the scene."
Meanwhile ER24 also verified the incident and said at least four learners were killed and at least 20 injured.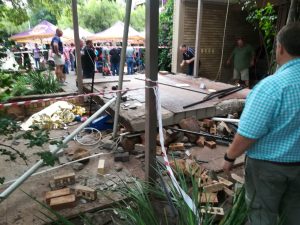 Gauteng Education MEC Panyaza Lesufi said a school walkway collapsed. "Unfortunately, three children died at the scene and many were trapped in the debris." Lesufi was already on his way to school.
The reason for the walkway's collapse was not immediately known, but all relevant authorities were on the scene to investigate.
Afore the accident, teachers and pupils anticipated an exciting day on Friday, with visitors expected and an inter-school trip for a sports team. Instead, Hoërskool Driehoek was struck by tragedy.
A walkway connecting two buildings at the Vanderbijlpark high school collapsed.
A teacher described the incident as tragic.
"The incident happened just after assembly … It was a very exciting morning as we were hosting an athletics meeting for primary schools in the area and our athletics team was meant to travel to Potchesfstroom," said the teacher, who asked not to be named.
"I am shattered. All these kids are like our own," the teacher said.
The trip was cancelled and instead community members gathered at the school, united in prayer.
SA- news team
---