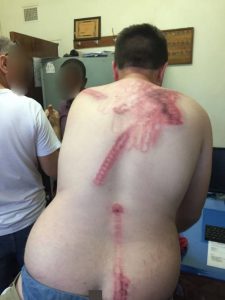 'n Tienerseun van Lephalale (Ellisras) moes Donderdagaand in die hospitaal deurbring na hy glo by 'n kettingwinkel van 'n plaaslike winkelsentrum erg deur 'n veiligheidsbeampte aangerand is.
Die seun se pa, wie se naam nie genoem mag word nie om die 16-jarige seun se identiteit te beskerm, het Vrydag bevestig dat die seun daarvan beskuldig is dat hy Maandag 'n geheue-stokkie by die kettingwinkel gesteel het.
"My seun het Donderdag omstreeks 10:00 in die parkeergebied van die winkelsentrum geloop toe 'n vrou wat in die kettingwinkel werk hom gesien het.  Sy het 'n sekuriteitswag wat by die sentrum werk, geroep en hulle het my seun in die winkel ingesleep, die deur gesluit en hom in 'n kamertjie toegesluit," het die pa gese.
Die sekuriteitswag het die seun glo herhaaldelik "pimpel en pers" met sy knuppel en die plathand geslaan.  Die pa het foto's van die besering geneem en aan die media verskaf.
"My seun het op  'n stadium die knuppel uit die wag se hande gegryp en in die hoek gegooi.  Die wag het hom gedwing om op die vloer te gaan le en gedreig om hom te skiet as hy beweeg.  My seun was so bang hy het nie gekyk of die man 'n vuurwapen by hom gehad het nie".
'n Werker by die winkel het intussen die Polisie ontbied, waarna die Polisie die seun in hegtenis geneem, geboei en agter in 'n vangwa gesit het.  Die Polisie het sy ouers omstreeks 10:20 in kennis gestel dat hy in hegtenis geneem is op aanklag van diefstal.  Toe hulle verneem van die beweerde aanranding, het hulle daarop aangedring om hom na 'n hospitaal te neem, waar hy opgeneem is vir waarneming.
"As alles goed gaan sal hy waarskynlik Vrydag ontslaan word.  On wag nog net vir uitslae of sy niere reg funksioneer.
Die ouers het het klag van aanranding met die doel om ernstig te beseer teen die veiligheidswag gemaak en het reeds 'n saaknommer.
Niemand is nog in verband met die voorval in hegtenis geneem nie. Die ouers oorweeg ook om siviele sake teen sekere partye te doen.
'n  Saak van diefstal is teen die seun aanhangig gemaak.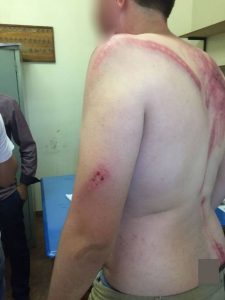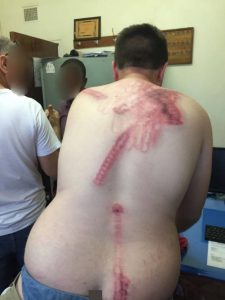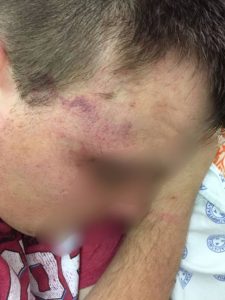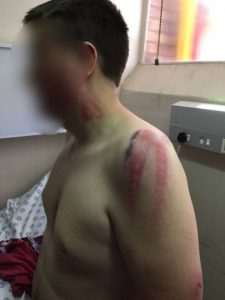 Deur:  Phillip Bruwer/Maroela