The South African Police Service is currently recruiting former police officers for services again. Are the employment conditions for all members or are there double standards in favor of the so-called previously disadvantaged members?
National Police Spokesperson of the SAPS, Col. Athlenda Mathe explains the following, they welcome applications from former members with the rank of constable, sergeant or attorney officer. "Only those who meet the requirements will be considered."
According to her, successful applicants will be employed in the same rank as they previously occupied and only the minimum salary scale for that grade will be reimbursed.
The SAPS announced this process on Sunday with advertisements in three Sunday newspapers, but information is also available on the service's website, www.saps.org.za, under the heading "Careers".
Of the long-term list of requirements that applicants must comply with, they are:
A South African citizen must be.
At least two official languages must be authoritative, of which English must be one.
At least one code must have a B driver's license.
No tattoo will be visible when wearing a uniform.
Applicant must have o previous convictions against them.
Former SAPS members who left the service for retirement (whether on retirement or early retirement) who were unfairly dismissed or suspended, or left SAPS pending the outcome of a disciplinary investigation, will not be considered for reinstatement in the service.
Mathe says applicants should remember they will be subjected to a thorough investigation that will include a psychological evaluation, fingerprints, checking references and medical tests.
Yet, whites are still being discriminated against and we wonder if whites are included in this recruitment process.
A few days ago, social media concluded that whites were not allowed to join the police force.
This conclusion was made after an incident had taken place in Durban where a young white woman passed her assessment at the SAPS Training Department. She applied for a post at the SAPS but was asked to go because she had a small tattoo on her foot that was clearly covered when wearing shoes. (Requirements clearly indicate NOT visible TATTOOS).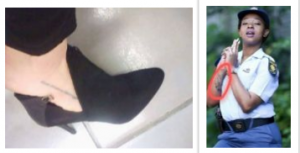 On the other hand, a newly recruited constable has a clearly visible tattoo on her wrist. This constable was fit for the service, yet her tattoo is 4 times the size of the White young lady's tattoo. Dubbelstandards in favor of whom?
Elizaan De Koker
---