#FollowTheMoney: How much money have Banksters earned out of the plunder and ransacking of State Owned Enterprises, like Eskom, at the hands of the gangster ANC? Well, you were taught, or rather brainwashed, to think that crony capitalism and champagne socialism were at two opposite ends of the political spectrum? Four things however you can be sure both have in common, is greed, spending other people's money, lust for power and hording all the assets and wealth into the hands of the few elites. This was proven this week when Corporate elitists in South Africa, under leadership of the Rothschild company in SA, agreed with COSATU (a powerful Trade Union which forms the triumvirate of power in SA, with the ANC & The South African Communist Party), that the ANC government can plunder pensions of ordinary people, including the Government Employee's Pension Fund (GEPF), to bail out Eskom's debt! Welcome to the dialectic…
In an astonishing development, Business Unity South Africa (BUSA), a group of rich and privileged globalist businessmen, has welcomed COSATU's plan to steal funds from private pensions and the GEPF – OTHER PEOPLE's MONEY – to bail out Eskom's self inflicted debt of R450 Billion, which was deliberately created through mind numbing corruption & incompetence and accompanied by astronomical pillaging of the state coffers. The Banksters earn huge commissions and interest on all of these "transactions" which have appeared more like state funded money laundering than legitimate business dealings.
The COSATU plan is for pension schemes to take over half of Eskom's corruption fueled debt of R450 BILLION so that Eskom can be left with only R200 BILLION, which they reckon will be more manageable interest payments.
"We welcome Cosatu's constructive approach ", said Martin Kingston, deputy President of BUSA & Chairman of Rothschild & Company in South Africa.
If you did not know it yet, and still have your head in the Mainstream Media echo-chamber, the name Rothschild is synonymous with rich international liberal globalists, driving the Liberal World Order, to form a Supremacist Global Government, and the question needs to be asked immediately, if it is such a good idea, why don't the richest people in the world, the Rothschild's, take over Eskom debt themselves? Is it still such a good idea now? Why must they support an approach to use pension funds, which ordinary people need to retire on and sustain themselves when they grow old?
The callous nature of the rich and privileged like the Rothschild's and their employees and cronies, to support the theft of the money of ordinary people is sickening and shows perfectly what the nature of the globalist elites are. You can be very sure, that if the world money power did not want the ANC in power, doing what they are doing, they would not be there…
YOUR pension will now pay for SOWETO's unpaid, already consumed electricity…
With banks and other financiers increasingly unwilling to finance Eskom, there is a willingness – evidently also by rich globalist elitists – to support money being used that belongs to development financing bodies (taxpayers) and the Public Investment Corporation (that manages the GEPF) to bail out the embattled Eskom. In other words OTHER PEOPLE's MONEY, WHICH IS MEANT FOR THEM TO RETIRE WITH!
Rothschild's Chairman Kingston says "the pool of capital is shrinking fast" which actually means "the unfair burden on taxpayers has reached  dangerous levels. But evidently not the pool of capital belonging to pension funds according to Kingston. "Under the circumstances we are satisfied, more than satisfied, to work with COSATU to solve Eskom's debt problems" Rothschild's Kingston added.
The truth however is that Eskom's debt problems were deliberate and self inflicted, and secondly, the only reason the pool of capital is drying up, is because they, the world money power, has sucked it all up!
The Million Dollar Question, is to whom does Eskom owe this R450 Billion? Why can they not write it off for the poor previously disadvantaged souls? Do they really think ANC won't plunder the pensions for themselves? Or is that what they want? Follow The Money…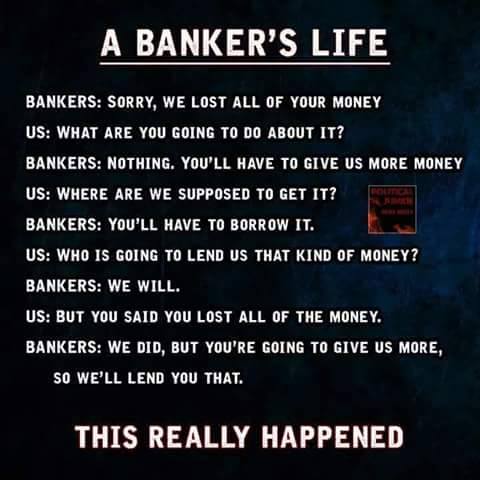 See also: NWO's Ramaphosa wants single currency for Africa. Has the Euro disaster not taught them anything?
---