Almost 75% of people in Zimbabwe are living below the poverty line so the incident did not go down well with people who saw the video online.
This is Chatunga Bellarmine Mugabe's watch
Robert Mugabe's son has posted a video on Snapchat apparently showing himself pouring champagne on a $60,000 watch.
Chatunga Bellarmine Mugabe splashed the alcohol on the timepiece while partying in a nightclub in Sandton, South Africa, with his brother Robert Jr. Stolen puppy returned by thieves who regretted what they had done
The video apparently showed him pouring Armand de Brignac Ace Of Spades gold champagne, which costs £200, on his watch.
It is believed Chatunga had claimed earlier on Snapchat he was able to afford the timepiece because his 'daddy runs the whole country', News 24 reported.
A Twitter user called Mugabe's sons 'spoiled and rotten brats'.
Another person added: 'Mugabe's son bragging about wearing $60 000 jewellery yet majority suffering?'
He apparently poured champagne on the watch
He apparently poured champagne on the watch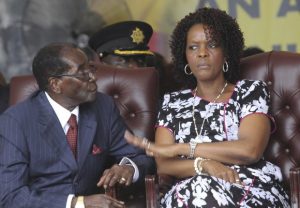 Zimbabwe President Robert Mugabe left, and his wife Grace attend his birthday celebrations in Masvingo, Zimbabwe, earlier this year
Chatunga has a reputation for partying in South Africa along with his brother Robert Jr, who both live there.
Their mother Grace Mugabe allegedly assaulted model Gabriella Engels, 20, earlier this year when she went out looking for her sons after they had gone missing on a night out.
She eventually used her diplomatic immunity to avoid facing charges.
Despite the incident Mrs Mugabe is likely to be the next leader of Zimbabwe after her husband Robert, 93, recently dismissed deputy Emmerson Mnangagwa.
By: Jimmy Nsubuga/Metro.co.uk