Redistribution of Wealth is an altruistic term created by Socialists to lure liberals from their cash, and this system has been turbocharged in SA. Unfortunately, they money very rarely filters down to those that need it, as the corrupt leaders and elites invariably intercept and steal the money. In yet another example of this two decade long plunder, it has been revealed that an amount of R2,2 Billion is simply missing, and unaccounted for, that was allocated by the National Department of Co-operative Governance, headed by Minister Dr Nkosazana Dlamini Zuma, to a Community Works Program which was operated by private contractors and tenderpreneurs.
This is the program redistributing wealth, (employing) a total of 250,000 people from communities on a part time basis to clean the streets. You most likely have seen those people, sometimes old gogo's ( grandmothers), standing or lying around with their green reflective vests, occasionally popping a piece of rubbish into a blue bag. This is the #TheAfricanWay when it comes to job creation. Just an excuse to take taxpayer's hard earned money and give it away for nothing. Socialism 101.
They pay 250,000 people, part time, to clean up after their own kind, who simply throw rubbish out of taxis and sometimes next to existing rubbish bins, not in it. It does not seem logical? Paying so many people to pick up rubbish just so that others can throw more rubbish on the ground. But that is socialism, it is all about creating ways to give away other people's money. One worker fills the wheelbarrow, the next empties it, and then it is filled with the same sand by the first worker again…
Now the Auditor General has found in its latest report that R2,2 BILLION allocated to this program is simply gone, and can't be accounted for. Despite this latest Auditor General finding, of funds going missing, a massive R13 BILLION is now earmarked for this commie sounding "Community Works Program" for the next 3 years.
The Department responsible for overseeing municipalities – Department for Co-operative Governance and Traditional Affairs (Cogta), managed by Minister Dr Nkosazana Dlamini Zuma, is totally dysfunctional and just another place where looting is happening on a grand scale. According to Rapport, this is made clear by the Auditor General (AG) in his annual report, where, besides finding that R2,2 Billion is unaccounted for, the Auditor General states that no finding can be made about the Department's financial year report because, like last year, the AG can't find any proof for claims made in the Annual Report. The AG has found that some of the payments made by the Department to contractors in the Public Works Programme was to non existing ghost participants, and in some cases to people who are already deceased!
Despite all this ineptitude, corrupt officials of the Department gave themselves bonuses of R 4 Million!
So if you are wondering why South Africa is so dirty, despite government paying 250,000 people to be part time street sweepers and cleaners from a Community Works Program, just remember TheAfricanWay…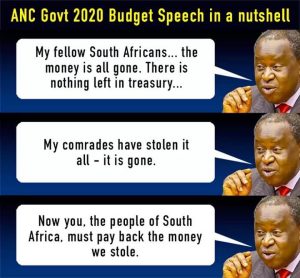 See also: #TheBlackFigLeaf To Excuse Corruption, Hide Black Incompetence & Plunder SOE's! How Nontsasa Memela Used "Transformation" To Plunder SAA!
---