Singapore has a visa for foreign students which expires after their studies are completed. After this, there is an option for working in Singapore through the application of a post-study work visa. Many students who have come here think that this is a big deal for them now that Singapore has become a global business hub. It is easy to gain experience in your career by getting exposure to international working standards.
Some countries like India, the USA, and some others have partnered with the Lion City to make sure that students from these regions have an easy time getting work opportunities and internships both in Singapore and back home for better exposure.
If you are planning to study in Singapore or have been studying here, it is worth knowing how to get the appropriate post-study visa in Singapore.
Professional Courses
You have probably just graduated with a bachelor's or master's degree in professional courses. This opens an opportunity for you to apply for a job in Singapore where you can get hired as an intern or directly as an employee. In this case, you will need an employment pass. According to experts at Visa Express Singapore, it is easy to get one if you already have a job offer from a company in Singapore. You will also need an application fee and probably an agency fee as well.
The daring students might be planning to have a Singapore startup after researching and realizing that this is one of the best environments in the world. In this case, you will need an Entrepass. The eligibility is to have a registered business. At this point, it is crucial to use business registration agencies because they will make the work easier for you. You will also be required to have the minimum startup capital to qualify. This might change from time to time and it is crucial to check the updated figure.
Skilled and Semi-Skilled Students
Those who have just completed certificate and diploma courses in various technical courses are categorized into this. Singapore has various work permits for them to continue working in the state. S-pass is very popular and it is easy to apply for just like the others as long you have the right qualifications.
Another option is to have a work permit for foreign workers. Students who have had experience in construction and factories can apply for this if they wish to work in Singapore. It can be a great opportunity to fund your next level of education. If the company allows, you can work part-time as you continue with your studies.
Conclusion
With the right education, it is easy to climb the ranks and grow your career in Singapore. Apart from the numerous work opportunities, Singapore is known to have a unique work culture that is recognized globally, and this is a great opportunity for any student.
But as you can see, no one can work in Singapore without the right work visa. That is why it is important to consult with the right agency to get the advice and necessary help when applying for the right permit.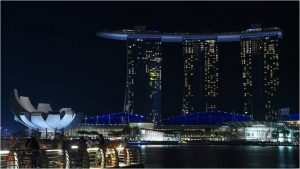 ---