Were he part of the welfare driven brown slop of multiculturalism, he would most certainly have given half a dozen state employees work to do, or in 3rd world communist countries like South Africa, he would probably have died from bedsores and infection long ago and drained the resources of any family.
However the deep seated Boer instinct of being responsible for your own circumstances, and the Afrikaner ethic that work is noble and discipline a secret to prosperity, which was no doubt inherited from European roots, did not allow him to wallow around feeling sorry for himself. It was not even a question nor a conscious decision, it is a way of life and is the epitome of Individualism which for many Afrikaners is a matter of when, not if..
Dries Oncke, who lost three of his limbs in a train accident, wouldn't be anywhere else. His wife, Annatjie, is a domestic and nanny. "This is the only place around here where the Afrikaner can be free," he says, watching his 2-year-old grandson, Shayden, play in the dirt.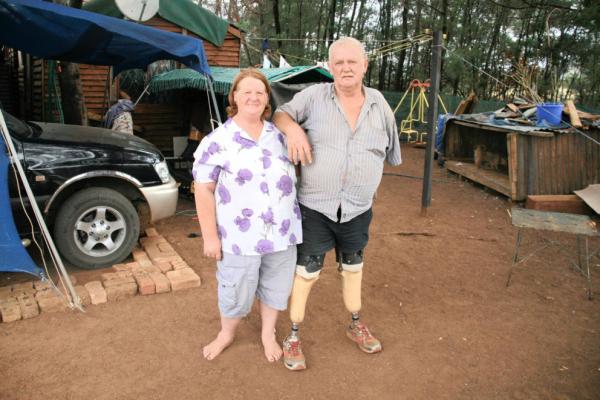 Dannie de Beer, who helped his father "pioneer" the Afrikaner settlement set against the rural, mountainous edges of the Magaliesberg, to function this way, 22 years ago, beams as he watches a group of weathered-looking white men pass bricks to each other as they build Kleinfontein's newest home. If the bricklaying team stick to their schedule, this one will be finished before Christmas.
"You see," says De Beer, grinning proudly, "those are Afrikaner hands building this house. One resident builds a house. Suddenly a team of 15 Afrikaans guys have work, their wives can find work in the house cooking, cleaning or doing something similar. With the money they make, they can put their kids in our own school. The money pays for the teacher."
This "domino effect" is what De Beer, a short, squat-built man, suggests makes this exclusively white community work.
"Every Afrikaner who is one with the idea of a homeland for the Afrikaner is absolutely valuable to Kleinfontein," the 47-year-old says. "Everything you see here is not built by whites, but by Afrikaners."
The controversial, fenced settlement, home to 1,200 Afrikaners, is a "self-contained" and "self-sustaining community". This is the only way the Afrikaners can continue to cling to life in the new South Africa.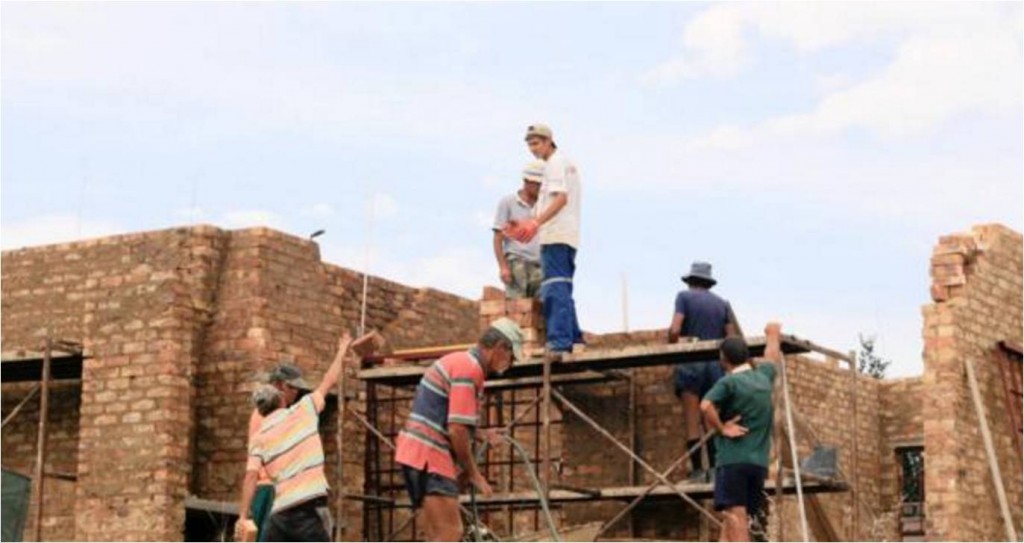 "For the Afrikaner to survive, we cannot consider ourselves above manual labour, above the jobs previously reserved for other races. That's pretty much been the Afrikaner's downfall," offers De Beer, as he stands on a rocky outcrop overlooking the 800-hectare triangle-shaped settlement, which includes its own Afrikaans school, bank and old-age home.
"We don't have a flag that represents us or our language in Parliament anymore. We struggle to keep Afrikaans schools afloat, Afrikaans universities are closing one by one. We're becoming aliens in the country we were born in."
Near the access-controlled entrance, a fenced memorial immortalising Hendrik Verwoerd greets visitors. "The desire of Afrikaners to determine their own fate – that was the concept of Verwoerd," De Beers says, admiringly, and quickly adds: "I'm looking forward to putting the statues of other heroes of Afrikaner culture right next to this one, such as Paul Kruger and Piet Retief. If I had the guts, I'd call (Julius) Malema and tell him to give me all the Afrikaner statues no one wants anymore.
"At school I learnt all about the Boer War, and the origin of the French Huguenots. Today, you learn about the era of Nelson Mandela, apartheid and so called democracy. My history, where I come from, is the Malans, Verwoerds and Steyns."
The flag of choice in Kleinfontein is the Vierkleur, or the Free State flag – neither have been raised today. "The new South African flag is an inclusive flag that doesn't really take care of the Afrikaner," De Beer says.
"We like to make our own rules here. We have natural reservoirs – we pump our own water. We send our own bills in Afrikaans. We get electricity from Eskom but we distribute it. We basically do everything ourselves."
But De Beer, on this guided tour of the self-styled Afrikaner homeland, seems increasingly wary of media and public scrutiny.
"The first thing you see are white people so your assumption immediately is that this is about race. That makes a lot of people biased towards Kleinfontein.
"You won't see any sign saying 'no blacks' or 'whites only'. Kleinfontein is about preserving Afrikaner culture. The focus is the ethnic minority, the cultural group, the Afrikaner, rather than a bunch of whites living together.
"We are bound by our language, our religion and the fact we want to govern ourselves, rather than what we don't want. It's a desire to be among Afrikaners, help Afrikaners and also an absolute admission that apartheid is not the legacy of the Afrikaner.
"It was an unworkable policy then, it is now and you'll see a lot of resistance against the concept of apartheid in Kleinfontein, because it nearly meant the demise of the Afrikaner people."
He describes Kleinfontein as one of only two places in South Africa, the other its sister town of Orania, "where the Afrikaner has a future", protected from the vagaries of the outside world.
Their connection runs deep – every year Kleinfontein and Orania play rugby tournaments. He points out the upmarket home of a senior Orania official who lives in the "wealthy" part of Kleinfontein, where homes can fetch R2 million.
Here, the only black residents are the herds of black wildebeest that the locals fawn over. As in Orania, black people – and Afrikaans speaking coloureds – are not allowed to rent or buy land in Kleinfontein, though Andrew Shabalala, a property mogul, unsuccessfully tried in 2013. "We are very strict and stern in church, for example, compared to other cultures."
To live in Kleinfontein, the scene of a historic Anglo-Boer War battle, your Afrikaner pedigree is scrutinised by a selection committee: new entrants must speak Afrikaans, be Protestant Christians and trace their ancestry to the Voortrekkers.
"You have to pretty much convince the committee that you fit in and that you can make a contribution. There's no desire to replicate what happened in apartheid, where the Afrikaner sat in a corner and bossed other cultures around.
"Your labour force will exceed your numbers and then the majority rules. The best we can possibly achieve is this."
Similar Afrikaner settlements, protected by Section 235 of the constitution that provides for self-determination, asre on their way. Last month, the Front Nasionaal, a right-wing political party, handed a memorandum to the City of  Pretoria calling for the creation of an independent, self-governing Afrikaner area within Pretoria. However the involvement of a Political Party, with a far right name, in that project almost certainly scuppers its chances.
Predictably Pretoria mayor Kgosientso Ramokgopa, who has visited Kleinfontein, has previously remarked that it is a "remnant of the past".
For now, Kleinfontein is still classified as an informal settlement but the chairman of the controlling body, Jan Groenewald, hopes it will be proclaimed as a town soon. Outside his home a small signboard tacked to the ground declares: "Ons is hier om te bly" (We're here to stay).
"We have an excellent relationship with the local authority and while they don't really support this type of development, they acknowledge we have this constitutional right," he says.
His neighbour, an aviation entrepreneur, who only wants to be known as Loretta, explains she lives in the enclave with her husband, a farmer, because crime is "virtually non-existent". "It's got nothing to do with racism, oh no," she smiles, "it's beautiful and peaceful."
While the average age of residents hovers in the 60s, there is "renewal", De Beers claims. "Orania is expanding tremendously – but our entire property is owned by a co-operative. We're changing the legal status to a share-block scheme.
"That still means you don't get a title deed, which puts a lot of people off and limits the ability of young people to buy. We started a stokvel. It is like a community bank or the old Building Societies before the large globalist corporates cleaned them out, where we pool our money, save it and give loans to young people to buy property."
Kleinfontein's labour pool is mainly drawn from poorer residents, who live in caravans and wooden shacks – some are being relocated into "RDP" brick homes within Kleinfontein.
De Beer shows how he has fitted the entire settlement with high-speed broadband.
"Technology is a First World concept and the Afrikaner, being of European descent, would more appreciate the Western kind of living," he claims.
On Wednesday, Kleinfontein will close its stores and mark the Day of the Covenant as the rest of the country celebrates the Day of Reconciliation. "That day is very important to us," says De Beer.
"Why must we force our view and public holidays on to 50 million other people? In the same way, we don't want their ideas, values and public holidays forced on us."
Kleinfontein's residents are Afrikaner first, then South African. "Afrikaans-speaking South Africans adopt other cultures, intermarry and then disappear.
"Fifty years from now the fate of the Afrikaner will rest on Orania and Kleinfontein.
"We're a cultural entity that deserves protection as much as the last rhino and leopard does.
"We're fighting for our survival. The new South Africa most definitely does not have place for us," insists De Beer.
Saturday Star
Kleinfontein (Afrikaans for Small Fountain) is a settlement near Pretoria, South Africa that was founded by Afrikaners who want to preserve their culture.
The criteria to live in Kleinfontein are based on cultural, language, traditional and religious beliefs and are people who associate themselves with the Voortrekker history, the Blood River Covenant and other "historical facts relating to our struggle for independence for the Afrikaner people".
As of 2012, it was one of South Africa's few remaining whites-only settlements. The settlement has been recognised as a cultural community by the Gauteng Legislature.
The land which would become Kleinfontein came to the attention of Afrikaner activists in 1988 during a celebration of the 150th anniversary of the Great Trek on a farm east of Pretoria. The farm drew their attention as a location of the Bittereinders and site of the Battle of Diamond Hill, as well as holding a historic Boer War cemetery and memorial. When the farm was put up for sale in 1992, a group of 50 Afrikaners purchased the property, and began to recruit shareholders to develop it.
In 1994, sufficient shareholders were recruited to service the loan and Kleinfontein could begin to provide services. The first two permanent houses were completed in 1996, and the first two families became permanent residents of Kleinfontein. In the ensuing years, Radio Pretoria erected its broadcasting tower on Kleinfontein, sports fields were built, a homegrown school was established and a savings and credit cooperative had emerged. A community hall, care center and retirement homes followed as well as a shopping center with an ATM. The entrance to the town displays a bust of Henrik Verwoerd; the community obtained the bust from a neighbouring town which no longer wanted it.
Kleinfontein's area has grown from the original 500 hectares to the current 860 hectares, and stretches just off the N4 highway beyond the Boschkop road. As of November 2013, the Gauteng legislature recognized Kleinfontein as a cultural community. The City of Pretoria still refused to declare it a separate development or a formal township, although there is an ongoing process for Kleinfontein to become a separate recognized entity within the City of Pretoria. Following the legislature's investigation into Kleinfontein, there were 450 shareholders and 1,000 residents, living in around 300 homes. Article 185 of the South African Constitution allows citizens of a similar cultural, linguistic, or religious group to associate with each other.
The town is located roughly half-way between Pretoria and Bronkhorstspruit. It lies just south of the N4, just west of the R515, a few kilometers south of Rayton, on the Magaliesberg mountain range at the historical terrain where the Battle of Diamond Hill (Afrikaans: die slag van Donkerhoek) took place during the Second Boer War.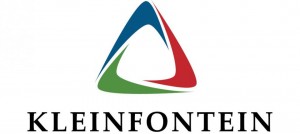 ---
See Also: Orania visit exposes SA Media anti white racism, prejudice and proliferation of Afrikaner Genocide fueled by African Self Doubt
---