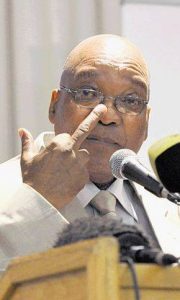 Good day Mr President!
Firstly, I know you're a fucktard, so lets cut the pleasantries and get down to business!
This Country is my Country – one that my forefathers built with pride and dignity – something every moral fibre in your being is devoid of!
In 1994, I voted for change, the change that Madiba envisaged for each and every South African – South Africans of every race and creed, not just for you and your thieving clan of half-breeds. I still, funnily enough, believe in transformation, equality and a better life for all!

You, on the other hand, are a low life rapist conman, whose vision for this once beautiful country is a huge fat "For Sale" sign!
Our forefathers that so diligently built this land into an international force to be reckoned with has had to watch our countries legacy been sold at your will – to your thieving Gupta buddies – for whatever price blew your fake traditional skirt up!!!!
You are a disgrace and deserve to be tried for treason and executed – slowly by castration if I had a say!
Be that as it may, your continued blind eye as our "Commander in Thief" to the ongoing farm murders and innocent child killings is now enough!
I don't care anymore what you intend to do, I care less what you think, because we as South Africans, black and white, are past the point of no return – but know that when the farmers. labourers and Citizens decided to take up arms, it will not only be against "white Genocide" (as it is being labelled), but against a Government led by a thieving rapist – one that had turned its back on all its people!! THIS HAS NOTHING TO DO WITH RACE!!!! A life is a life – regardless of colour!!! The number of children – of all cultures – that are raped and murdered on your watch is sickening and astounding! The "black on black" (another label from your sick regime) violence & killing that takes place daily seems to be orchestrated for your amusement!!! The continued violence on all races of our Senior Citizens is just as sick, almost as sick as having to look at your lying face every time I'm forced to look at a picture of you in the media!
I said in 1995, that you would never be my President! More now than ever, you are trash, a waste of a human being, that actually possesses the power to change the world, but your limited intellect has and will always be your achilles heel!
I stand for my land, Even if that means we as South Africans have to take up arms to get rid of your thieving lying rapist existence!!!
As a born and bred South African, a non-racist South African, I am ready to take up the fight against you and your 40 Gupta Thieves – and fight for My Country!
I STAND FOR MY LAND!!!!!!
Count me in!