Courtney Sampson says officials separated voters according to their registration status and not their race.
Speaking after a press briefing at the Western Cape provincial results operation centre (PROC) provincial electoral officer Courtney Sampson said he was told by electoral officers at the scene that the incident in which voters were apparently separated into two different lines according to race was not racist at all.
During this morning's national voting day excitement, many took to social media to share their voting day experiences, good and bad.
Among one of the more prominent incidents was various videos coming from a voting station in Wellington in the Western Cape where voters were allegedly separated into lines according to race.
Voters at the scene alleged that white voters were even being given preference over black voters so that they could vote first.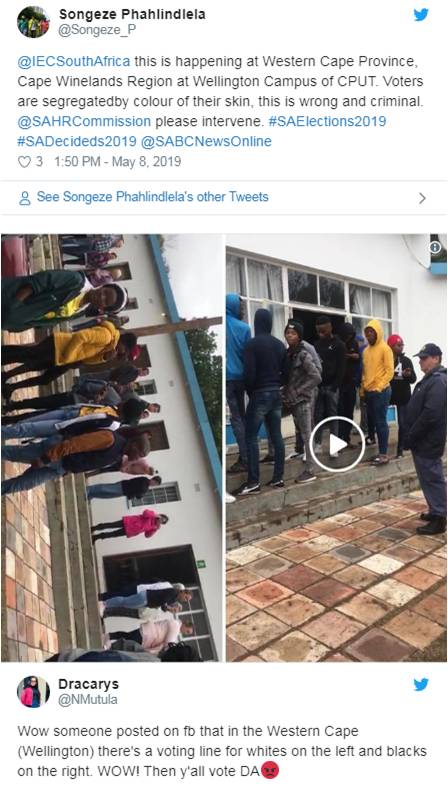 When asked about the incident, Sampson initially stated that the IEC was going to follow up on it as it had just come to his attention.
He later went on to say that he had been updated with information that the lines were separated according to those who had registered to vote in the area and those who were not registered and had to fill in the necessary paperwork prior to being allowed to vote at that station.
Apparently, that just happened to break people up into a line of white people and another made up apparently entirely of black people.
"Because of this practical arrangement, the students were asked to stand to one side because of the fact that they were now applying and filling in their forms while the other people didn't have to do that. So instead of clogging up the whole system, they were kept aside," explained Sampson before adding that this explanation did indeed make sense to him.
-citizen
---
This news release does not necessarily reflect the opinion of SA-news.
---
Would you like to advertise on this very popular website ?? Just drop me an e-mail at [email protected], and I will tell you how !!
---
Free signup to our Dating Service …just click Dating Service now !!
---
Free Insurance and MVV (Motor Vehicle Accident Insurance) Quotations and Funeral Plans Online …. Just send "Home" or "Auto" or "Life" or "Funeral" or "MVV" and your Full Name, Age and Cell Number to: [email protected], or SMS / WhatsAPP the word with your full name, age and email address to: 082 738 5586, or just go to www.MedSure.co.za , enter the appropriate form and we'll call you.
---