NASPERS (Network24, News24) asked us to remove this post below. What is it that Netwerk24 wants to hide from poor people from SA, who cannot afford subscriptions to NASPERS or Medical Funds? Do NASPERS want poor people to be under the wrong impression that state hospitals are absolutely good, and when they arrive in an emergency, are they left for dead by negligence, which is not only deliberate, but also often racist? As many people are now discovering, mass media have long forgotten what real journalism is, and they rather just repeat the excuses of the authorities, rather than pointing out the reasons for the misery.
A certain Mr. Barnie Louw, who signed his communications as "Ombudsman: Netwerk24 and Media24", told us via an email address from Die Burger that Netwerk24's content is behind a pay wall and that it apparently is unfair to their thousands of subscribers that it can be read for free.
Read the article below and judge for yourself…
Does NASPERS really want to take ownership of such fateful stories of our people's misery and sadness? Are NASPERS only interested in profit and just tell the truth to just a few thousand while the masses are left uninformed about such life or death matters? No wonder there is a Boycott Naspers movement.
Every time you share a NASPERS link (Network24, News24, Media24, etc.), you are unknowingly becoming a NASPERS sales agent, not just by distributing their globalist propaganda, but more importantly, when your friends click on that link, they are often taken to the NASPERS subscription sales page, to earn money for NASPERS! Please think twice before sharing NASPERS links on social media!
Over and above the fact that we operate as a News Aggregator, this is why we refuse to share links to Naspers platforms, so we repeat the report below. (Google itself if you want to read the original article and want to be taken to Netwerk24's subscription page…).
We asked Mr Barnie Louw if NASPERS has any responsibility to inform the community about such things, and he sent us a link to the Investor Relations page for NASPERS! Speak volumes! Wonder how many other people were asked not to use NASPERS 'reports and if any of them were not whites? I myself was there when NASPERS in 1993 gave its loyalty to the black majority (mass market), but failed to tell the white people, to whom they owe their existence, then they try to prescribe to politicians about hypocrisy? I wonder what the demographic percentages of their subscribers are now…?
The few rands that Netwerk24 makes from subscription fees are a drop in the ocean compared to the Billions earned by NASPERS when they sold their soul to the communist devil in China, for Tencent shares (I was also there in London), and it clearly shows that NASPERS and Netwerk24 only work for themselves and the money power, and ordinary people are just "cannon fodder" to use as tokens when white debt, quotas and other "Liberal World Order" propaganda require it.
You can also listen and read  about what a Traitor to the people NASPERS really is!
Seems like the recent DSTV debacle wasn't enough for this soft communist organization whose ideal consumer does NOT include the white people… as their advertising agencies have told NASPERS in the 1980s, white people save their money, are too fussy, prefering quality above quantity, including with their children. And how will you make more profit if your target market no longer wants to breed more consumers? The mixed races like to spend more of their money on low quality, branded goods that have to be purchased repeatedly, and breed more, creating more consumers for the mutlinationals… the more mouths, the more profit. No, the masses do not need money, you the taxpayer pays, as an obedient captured taxpayer.
And if the people and herd do not breed enough obedient consumers soon enough? Open your borders and allow more consumers to buy all the materialistic goods for their "new" lives. This is precisely why Europe is being flooded with 3rd world migrants. This is the introduction of the Kalergi Plan. The whites who allegedly already have everything in life, or who can survive without spending much, and thus offer little profit opportunities, must be eliminated so that new sales can be made and new revenue channels can be developed… what does it matter if a school is burned down, a new school being built to replace it is new profits and new corruption opportunities. The white taxpayer, indoctrinated with his white guilt, gets (false) moral higher ground by sustaining the formerly less advantaged.
And if you're not productive enough to pay taxes, or take out a NASPERS subscription or medical aid? Well then in a communist community you are worth nothing for the collective, and can die …
Selling Kith, Kin and Country for Coin. THIS is NASPERS.
In 1994, they increased their market tenfold by betraying the white people in SA. Ten years later they did it again in China. It's time to throw the snake between us OUT!
Don
(PS: NASPERS is not the only one who wants to take ownership of farm murders and murders on our people, Caxton Press (Pretoria News, Middelburg Observer etc.) is also very keen to make a profit from our people's destiny.)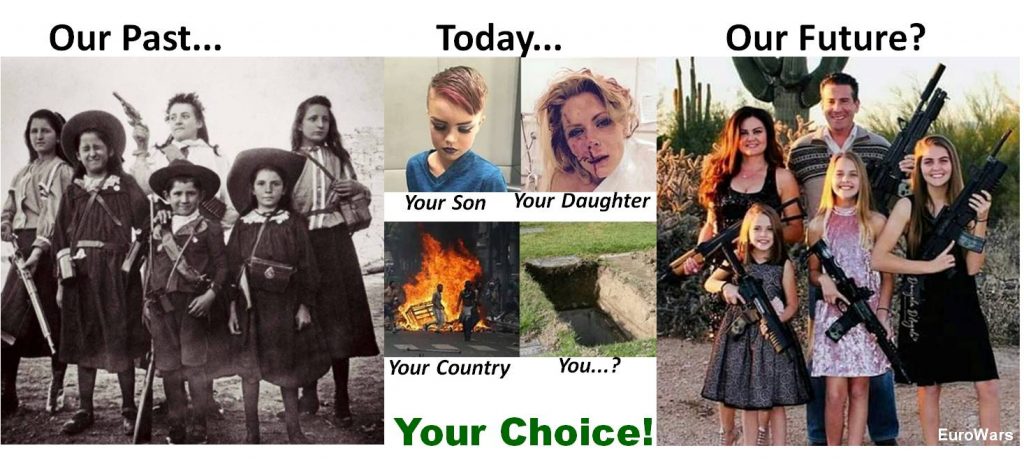 The Netwerk24 article:
Volgens die berig van Netwerk24, is Mary-Ann Blanché (86) wat vier dae in die Koster-hospitaal in Noordwes gewag het dat x-straalplate van haar gebreekte been geneem moet word, Dinsdag oorlede.
Mary-Ann Blanché se geskokte en hartseer dogter, Toetie Landsberg, het Dinsdagmiddag gesê sy het nog vroeër die oggend met haar ma gesels. Dis onseker wat presies haar skielike dood laatoggend veroorsaak het, maar volgens Landsberg het haar ma se toestand vinnig agteruit gegaan sedert sy op 1 Julie in die Koster-hospitaal opgeneem is.
Blanché se familie het ER24 op 4 Julie R6 000 betaal om haar per ambulans na die Potchefstroomse provinsiale hospitaal te laat neem toe dit blyk die Koster-hospitaal is van plan om haar eers op 9 Julie vir x-straalplate te neem.
Sy het blykbaar in die tyd in die Koster-hospitaal ook longontsteking opgedoen.
Blanché is daar opgeneem nadat sy in die Koster-ouetehuis geval en haar regterbeen beseer het. Moira Beukman, 'n vriendin van die familie, sê Blanché se regterbeen was dubbeld die dikte van haar linkerbeen geswel, maar dat sy nogtans vir die vier dae op haar regterkant neergelê is. "Kos is vir haar gebring, maar sy kon nie self eet nie. Haar doek is nie gereeld geruil nie en sy is met koue water gewas. Sy het later diarree ontwikkel en deurmekaar geword."
Landsberg sê dit was "hartverskeurend" om haar ma so te sien.
"Sy was heeltemal hees. My ma was tot vóór haar opname in Koster betreklik gesond en helder van verstand."
Tebogo Lekgethwane, woordvoerder vir Noordwes se gesondheidsdepartement, het Dinsdag bevestig Blanché is op 1 Julie in die Koster-hospitaal opgeneem, maar dat die hospitaal eers van plan was om op 9 Julie x-straalplate van haar been te laat neem. Dis glo omdat daar 'n groot agterstand is van pasiënte van wie x-straalplate geneem moet word. Die hospitaal in Koster het boonop nie 'n werkende x-straalmasjien nie en pasiënte moet daarom na die Job Shimankana Tabane- provinsiale hospitaal in Rustenburg vir x-strale geneem word.
Mary-Ann Blanché nadat sy die Koster-hospitaal opgeneem is. Op die foto kan duidelik gesien word hoe dik haar regterbeen geswel is, maar sy is nogtans op haar regterkant neergelê – glo vir die volle vier dae wat sy daar was.
So is Mary-Ann Blanché se been gespalk en in traksie geplaas nadat sy op 4 Julie na die Potchefstroomse provinsiale hospitaal geneem is.
Volgens Lekgethwane word Blanché se familie se klagtes oor die x-straalplate ondersoek, maar hulle het glo nie vroeër oor kos of ander kwessies gekla nie en was dankbaar oor verpleegpersoneel se sorg.
"Blanché het bloeddruk- en anti-inflammatoriese medisyne gekry."
Landsberg sê x-strale is kort ná haar ma se aankoms op 4 Julie by die Potchefstroomse hospitaal geneem.
"Sy het 'n slegte splinterfraktuur in haar femur bo haar knie gehad en moes geopereer word, maar hulle kon dit nie dadelik doen nie omdat sy longontsteking gehad het. Een van haar tone was ook gebreek. Die plan was om haar vroeg volgende week te opereer," sê sy.
"Personeel by die Potch-hospitaal het baie mooi na haar gekyk. Haar been was in traksie en sy het sterk pynmedikasie en antibiotika gekry. Sy was met tye helder."
Landsberg het Dinsdagmiddag net geweet haar ma het blykbaar 'n hartaanval gehad, maar meer besonderhede was nog nie bekend nie.
"Sy kon dalk ook 'n bloedklont ontwikkel het weens die beseerde been."
In Mary-Ann Blanché se vorderingsverslag by die Koster-hospitaal het gestaan sy het geëet, maar volgens 'n vriendin van die familie wat haar gereeld daar besoek het, kon sy nie self eet nie. Sy het later diarree ontwikkel en deurmekaar geword.
Die kos wat in die Koster-hospitaal vir Mary-Ann Blanché gebring is, het glo net so bly staan omdat sy nie self kon eet nie en nie gevoer is nie.
-Netwerk24
---