Some very youthful looking Umkhonto we Sizwe Military "Veterans" burnt the old Dutch flag instead of the apartheid flag at the Marrianhill Toll Plaza in Durban in protest over the recent Black Monday protests against the killing of farmers.
MKMVA provincial chairperson Themba Mavundla said racist people who allegedly hoisted the old flag during the Black Monday pickets should be charged with treason, (although it was proven the pics were old ones being recirculated by evildoers trying to stir up anti-white sentiments). Falling for this ploy, Mavundla warned white farmers not to provoke them beyond this point.
Prior to the burning of the flag, which was actually an old Dutch flag, the veterans, who were dressed in their traditional camouflage attire sang revolutionary songs.
Some of them danced on top of the old Dutch flag, shouting, "We are burning apartheid."…
Mavundla was flanked by NEC member Carl Niehaus and as the members of the MKMVA sang the national anthem, Nkosi Sikelela iAfrika, Die Stem was not sung by the members who had come out.
The MKMVA blocked the toll plaza located on the N3 in Durban, a vital link between the harbour, the rest of the province and a link road between the city and Johannesburg.
Traffic along the N3 came to a complete standstill as the veterans barred cars from going through the toll gate. Eventually, private cars were allowed to go through but trucks were barred and waited for about three hours before being let through.
The picket did not at any stage degenerate to chaos as law enforcement South African Police Service, metro police and the Road Traffic Inspectorate kept a close eye.
For more than three hours the veterans danced and stamped on the apartheid flag while they wait for Premier Willies Mchunu to arrive and sign a memorandum. Mchunu did not show up, instead he sent Director-General of the provincial government, Dr Nonhlanhla Mkhize.
The picket, which started earlier on Friday morning affected traffic to and from Durban. The picket has since ended and normality is expected to return to the area.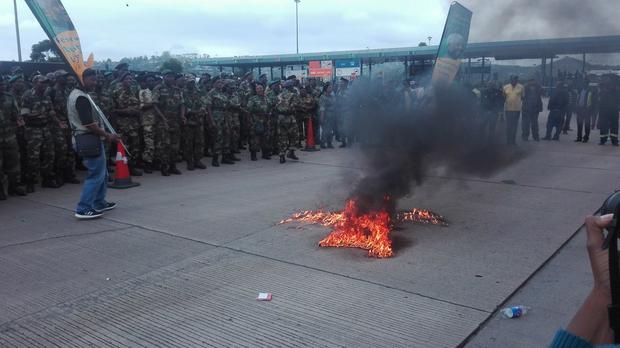 ---