Posted on
3 Comments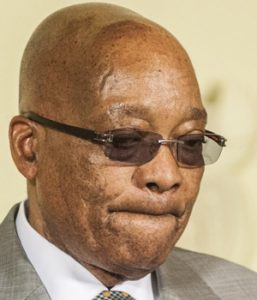 Jacob Zuma sang and danced with a conglomerate of controversial black business groups
Jacob Zuma sang his signature song uMshini wam' on Thursday March 9 2018 as he was attending an awards ceremony by the National Funeral Practitioners Association of South Africa.
Greek storyteller Aesop famously said that a man is known by the company he keeps.
Last week,  Jacob Zuma sang and danced with a conglomerate of controversial black business groups.
The association, experts say, points to a man desperate to be seen as a victim of circumstances and who also wants to be recognised as a champion of radical economic transformation.
That's the view of some political analysts after last week's gala dinner where the former president was feted by the controversial National Funeral Practitioners Association of SA (Nafupa-SA), Durban business forum and Black First Land First movement.
Both organisations have been on the receiving end of legal action for fanning racial flames and threatening violence against white- and Indian-owned businesses.
The gala dinner was hosted under the guise of honouring Zuma for his work on radical economic transformation and of being a trailblazer of the much talked about expropriation of land without compensation.
He was hailed as "the father of radical economic transformation";  "the champion of everything that is a black man";  "the father of free education"; and "Our Father who art on earth."
And in typical Zuma style, the powerful political orator reminisced about how he joined the struggle at a young age because of his "determination" to liberate this country.
"When I spoke about radical economic transformation, I had thought about it for a very long time. Because we were trying to fight poverty and hunger in a bid to change our people's lives, it was clear to me that the problem was that we had not attained the economy as the majority of people because it was held by the minority.
"No matter how we wanted to change people's lives, it was going to take a very long time and maybe God will pity us. But even Christians say God help those who help themselves," he told his attentive audience.
Then he decried the "too many laws" that hinder black people from taking part in the economy in order to progress in their lives.
"And some of them [laws] are promulgated by us in parliament and we're contributing in hindering people from taking part in the economy. When we talk about radical economic transformation we said we need fundamental change in the structure, systems, institutions and patterns of ownership, management and control of the economy in favour of South Africans, especially the poor the majority of whom are African and female as defined by the governing party which makes policy for the democratic government.
"Fundamentally, there has been no change in the economy. The structure of our economy is racially based; that's how it's done. The systems that are being used do not involve African people. We're only known as workers and not as bosses. We're not involved in the management of the economy and its control. It's not in our favour. Now it means that the majority does not participate enough in the economy but only participate by selling their labour."
It was vintage Zuma.
He had the mainly young audience eating from the palm of his hand after the he treated them to the powerful rendition of his trademark Umshin Wam (Bring back my machine gun) song which won him popularity with the rank and file of the ANC.
He thanked his hosts for encouraging him to not stop working for freedom. But he had one parting short for South African economists: "The problem we have with economists is that they don't tell us the whole truth. The truth is we were excluded from playing a major role in the mainstream economy of this country."
But what made him choose to accept the platform offered by the conglomerate of controversial black business bodies?
Nafupa-SA, for example, has been accused of fanning racial prejudice by banning white and Indian business owners from operating in the townships, while Delangokubona is accused of using mafia-style tactics to demand a 30% stake in every construction project in KwaZulu-Natal.
Political analyst Lukhona Mnguni says that Zuma is famous for not choosing his friends on the basis of good integrity. Instead he chooses them for what political capital he can gain by association.
"And I think currently if you check the mood across the country, generally that desires a radical shift in certain policy directions. Therefore he cannot alienate people who are part and parcel of that. He himself used the last few years in the ANC preaching this narrative of a radical policy shift in the ANC.
About Zuma who in the immediate future is possibly going to  face a litany of court challenges. And it remains unclear if the presidency will accede to his request to fund his legal woes. So the people who are most likely to  fund it are those people who still venerate him, who see him as a victim of circumstances. The likelihood is that those people are viewed with suspicious eyes which is the context that I think the former president finds himself in," said Mnguni.
Another political analyst, Zakhele Ndovu, says for someone who has just stepped down as the president of the country, his association with people who undermine the laws of the country is not positive for him.
"It sends a very bad message and that people in higher positions condone this kind of behaviour. So I don't think it was a wise move on his part. But then someone else would say he is no longer president of the  country. At the same time, I am saying Zuma was seen to be close to Indian business people and the people that met with him on Thursday are chasing away Indian and white business from operating in the townships.
"So some people will say that Zuma is trying to have it both ways.  And someone else will say he is simply supporting black business people. So I think let's look at it from  all sides but I think, as someone who has just stepped down and to be seen to be associating with people who are accused of threatening other people, it sends a wrong message."
By: Bongani Mthethwa, Times Live
Enjoyed this post? Share it!