South African motorists and taxi operators are buckling under the strain of record high fuel prices.
The price which the end user pays for fuel has increased for five consecutive months, each time setting a new record high – The price of fuel is largely determined by external factors such as the international price of oil, but local factors like taxes also play a part.
South African motorists, taxi operators, transport companies and pretty much everyone who is reliant on a petrol or diesel fuelled vehicle have been buckling under the ever-increasing strain of a seemingly endless and continuous series of fuel price hikes.
The price which the end-user in South Africa pays for fuel has increased for five consecutive months, each new increase bringing with it a new record-high and a fresh sense of doom and gloom as people spend more to get to where they have to be an have less to spend on food and other basic goods.
Briefly takes a look at how the price of fuel has changed over the last 10 years and what the economic drivers are behind the seemingly endless price hikes.
South Africans are paying on average 339% more for petrol in 2008 according to syllableinthecity. The price in 2008 actually jumped dramatically from R6.54 per litre in 2007 to R8.91 in 2008.
This dramatic price hike did not last very long and by 2009 had dropped back to a more reasonable R7.24 level. Unfortunately, that was the last really good news South African motorists had to celebrate in the ensuing years.
We have included two images which illustrate how petrol and diesel price has changed in the last 10 years. The prices are for each grade of fuel at inland prices as measured in April of each year.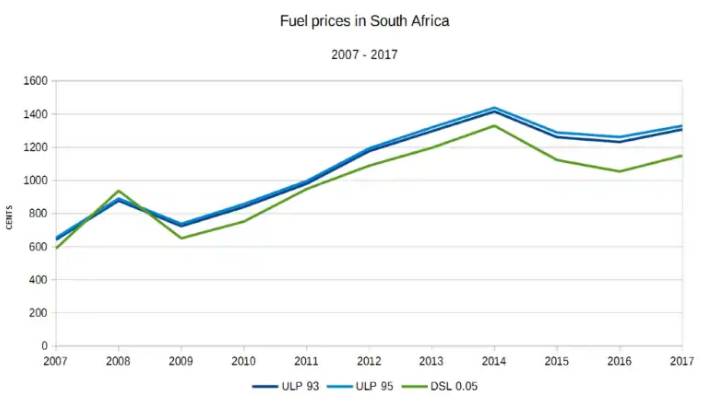 ---
Free signup to our Dating Service
…
just click
Dating Service
now !!
---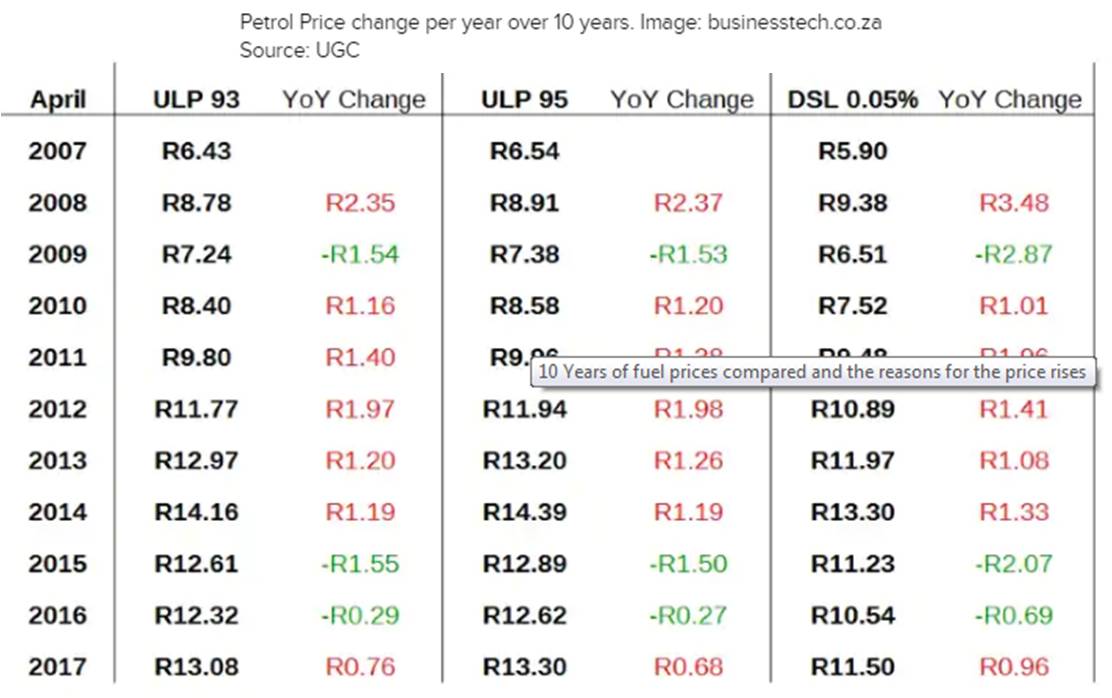 The price of fuel in South Africa is largely determined by external factors, the two main drivers of fuel price increases (or now and again a decrease) are the rand to dollar exchange rate which impacts how much we pay for importing oil, the price of which is based on the dollar and has been rather volatile in recent times.
Local events and economic factors also play a role in the price consumers pay for fuel. The ANC-led government has come in for a lot of criticism from opposition parties for the incredibly high rate of taxes and levy's which are imposed on fuel.
Consumers currently pay 37% in taxes and levy's on each litre of fuel they purchase. This means at a price of R17.08 per litre of fuel R5.73 of that goes straight to the Road Accident Fund and the general fuel levy.
The recent weakening of the rand against the dollar coupled with an increasing international oil price has served to exacerbate higher levies and taxes imposed by the minister of finance in the budget speech. These increases will impact virtually all spheres of South African lives. Increased fuel costs lead to higher input costs for farmers and transport companies.
These costs will inevitably be passed on to the end user which means higher costs for pretty much everything in stores from basic foods to cars.
The government has repeatedly said it would look into ways to soften the blow of an ever-increasing fuel price but warned it could not do much in reality to affect the oil price and the exchange rate.
---
Would you like to advertise on this very popular website ?? Just drop me an e-mail at tersia@v.co.za, and I will tell you how !!
---