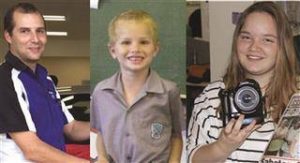 The family was tied up, strangled and then left in the blazing house.
The four people, including a nine-year-old boy and a 16-year-old girl, who was tied up, strangled and then left in a blazing house in Mtwalume, near Hibberdene on Tuesday this week have been formally identified by the police.
They are Jeffery Shaun Julyan (34), Ethan Julyan (9), Kayla McKenna (16), and Peter McKenna (73).
Police have taken a relative of the family in for questioning after four people died when a house caught alight in Mtwalume on Tuesday night.Police spokesperson Lieutenant-Colonel Thulani Zwane said three men and a woman from the same family aged between 9 and 73 died after the house in Cowey Road, Mtwalume, was set alight. Four counts of murder are being investigated by the Hibberdene police station.
The relative and a man, believed to be a neighbor, were treated at the Turton Hospital for smoke inhalation and yesterday taken to the Hibberdene police station where they were interviewed. Both men refused to speak to the Daily News.
Detectives whisked them away in a bakkie when the media approached.
Police were also tight-lipped on their investigation but a source said the neighbor was commended for his valiant effort in trying to pull the four out of the house.
The source also said the relative's brother, brother-in-law and the brother-in-law's two children died in the fire. The relative lived in Port Shepstone and his brother in Mtwalume.
Earlier that Tuesday, they had transported furniture from Port Shepstone to Mtwalume. Police believe the brother-in-law and his children joined them on the trip and stayed behind when the relative went to fetch the second load of furniture from Port Shepstone.
When the relative returned to Mtwalume, he apparently found the house on fire. The source said the neighbour used a fire hose on the property to douse and contain the flames from spreading before firefighters arrived. Police did not release the names of the dead until they were identified by family at the state mortuary.
On Wednesday, police forensic units sifted through the house searching for clues and the possible cause of the fire. It is alleged the four were in the same room when the fire broke out. The fire burnt a room and what looked like a storeroom next to it. The two other bedrooms, kitchen, and lounge were blackened by smoke.
The home is in an isolated spot surrounded by bushes near the Mtwalume Beach. Residents were still coming to grips with the tragedy.
By:  Daily News