AfriForum have got the EFF on strings in court battles. They've just won two cases in a day against the red berets: It's bad news for Malema's legal bills.
It has been a bruising day for the EFF in the North Gauteng High Court on Wednesday. They've been felled by yet another court case against AfriForum, as their attempt to interdict a previous ruling against them was dismissed with costs.
What the EFF owe AfriForum
Last week, the red berets were slapped with a warrant to give up R337 000 worth of their assets. They paid R126 000 of that balance on Tuesday, but an effort to prevent AfriForum claiming the full value of their claim has been curtailed.
Still owing R211 000 to their political nemeses, that total is likely to rise, given that they are now liable for the fees racked up for both sides in this most recent showdown.
It adds to a devastating record for the party in their legal battles with the Afrikaner-rights group: They have now lost five separate cases against AfriForum, including two on Wednesday. Not only was the interdict dismissed, but the court laid a punitive charge against Malema and co for a contempt of court case.
---
Free
Insurance and MVV (Motor Vehicle Accident Insurance)
Quotations
and Funeral Plans Online …. Just send "Home" or "Auto" or "Life" or "Funeral" or "MVV" and your Full Name, Age and Cell Number to:
info@medsure.co.za
, or SMS / WhatsAPP the word with your
full name
,
age
and
email address
to:
062 30 30 314
, or just go to
www.MedSure.co.za
, enter the appropriate form and
we'll call you
.
---
EFF vs AfriForum: Red berets defeated in court
Kallie Kriel is the CEO of AfriForum. His legal team originally flagged Juju for encouraging citizens to grab land for themselves. After he was banned from making these statements in March 2017, he did it again later in the year – and then in 2018, also.
The group issued the following statement after proceedings had wrapped in Gauteng:
"A cost order was made against Malema and the [contempt of court] case was placed on the opposing court roll. In another case heard in the urgent court, Malema and the EFF have applied for the continued seizure of their assets. This follows the warrant AfriForum obtained earlier this week to seize their movable assets to pay an amount of R337 758,68."
"The sheriff has already begun to seize furniture and computers in the EFF office for a safe. However, the auction has been delayed due to the EFF's application today. However, judge Johan Louw deleted the EFF's application and said there was no need for urgency. The auction can now continue."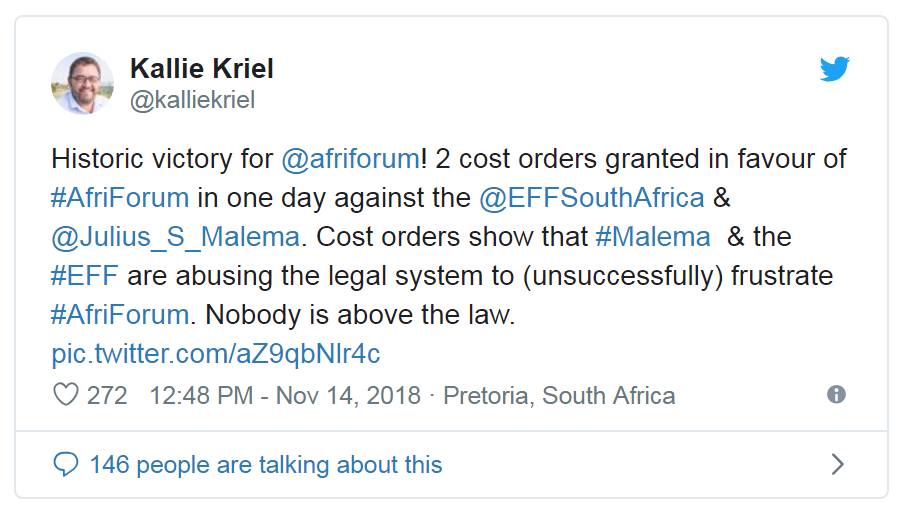 ---
Free signup to our Dating Service
…
just click
Dating Service
now !!
---
Would you like to advertise on this very popular website ?? Just drop me an e-mail at tersia@v.co.za, and I will tell you how !!
---