Malema has said that there is nothing special about white people. Speaking at an EFF press conference, the party leader said that he has no problem with white people but they must not be treated as if they are special.
Malema was speaking about Cyril Ramaphosa's recent comments asking young white people to stay in the country. Malema said that he would not entertain that.
"I see value in all South Africans. I value you and want you to contribute to the value of our economy. There is nothing special about white farmers and white people."
Juju said he made the same comments about Indians and how they are treating black people. He made an example of how an Indian Constitutional judge can make a comment and it's accepted, but he as a black man can't make the same comment.
Social media users had mixed feelings about Malema's comments, with some accusing him of race-baiting, while others agreed whole-heartedly with his sentiment.
-Briefly
But what is this picture then all about Juju … you are a chameleon, changing 'colors' as you see fit.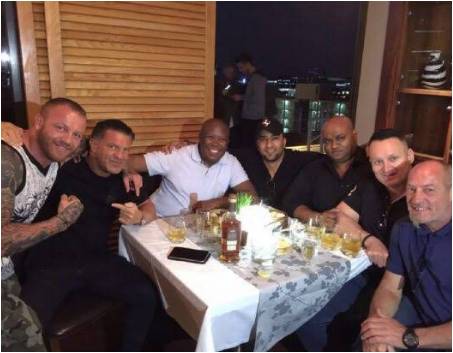 ---
This news release does not necessarily reflect the opinion of SA-news.
---
Free
Insurance and MVV (Motor Vehicle Accident Insurance)
Quotations
and Funeral Plans Online …. Just send "Home" or "Auto" or "Life" or "Funeral" or "MVV" and your Full Name, Age and Cell Number to:
[email protected]
, or SMS / WhatsAPP the word with your
full name
,
age
and
email address
to:
082 738 5586
, or just go to
www.MedSure.co.za
, enter the appropriate form and
we'll call you
.
---
Free signup to our Dating Service
…
just click
Dating Service
now !!
---
Would you like to advertise on this very popular website ?? Just drop me an e-mail at [email protected], and I will tell you how !!
---