Wheeling, Dealing & Stealing? A controversial Free State tenderpreneur's lawyer assaulted a journalist after she asked questions about inflated vehicle tenders to Bloemfontein municipality, including a Nyala Riot Vehicle which the Municipality has no use of, and has no Metro Police to even make use it, with a massive mark-up.
Mothebe Wheels has already sold more than a 100 vehicles to the Metro, each with its own mark up on the original manufacturer's price. David Mothebe had told Netwerk 24 journalist, Marietjie Gericke he will talk with her in the office of his lawyer, Roelie Rossouw, but once the interview started, Rossouw said his client doesn't have to tell the journalist anything. Gericke asked if she can take a photo of Rossouw and Mothebe, and after they did not answer, she took a photo of Rossouw. He then ran around the desk, violently grabbed Gericke by the arm, grabbed her phone and ran away with the phone and went to hide behind a closed door. This is very strange given he has a photo of himself on his website.
The red marks from Rossouw's fingers were visible on Gericke's arm and a colleague took photos of the marks afterwards. David Mothebe approached Gericke outside the building afterwards and wanted to know who her sources are. She asked if she could take a photo of him, but he hid behind a tree. He then left in a brand new Porsche without number plates…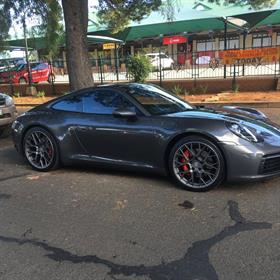 What makes this behavior even stranger, is that Roelie Rossouw is a lawyer with a long history in Bloemfontein. He started the company way back in 1988, as a branch from a Welkom firm. Nowadays they claim on their website to have an "aggressive Affirmative Action policy", even though all their top staff are not BEE. So how does an apartheid era  firm like this get to represent pro black tenderpreneurs with questionable dealings, and how does a lawyer, who DOES know better, resort to violence? Yes, we know many lawyers will do anything or say anything for a "fee" of course. Seems it doesn't matter if it is corrupted money, blood money or stolen money. It is not coincidence there are so many jokes about lawyers, like a "tikkiebox", just throw in money and a man like Roelie Rossouw will talk and talk arrogantly. Reverting to violence reveals the pressure he must be under in the background with these high stakes deals…
An image on their website gives away the ironic Socialist stance behind the firm's ethos:
So this lifelong lawyer has just assaulted a journalist, a woman at that, in his office after the journalist, Marietjie Gericke of Netwerk24 wanted to ask questions to a local tenderpreneur, David Mothebe of Mothebe Wheels, a third party middelman supplier of vehicles and trucks to the Bloemfontein Metro. Mothebe is reportedly a big friend of Ace Magashule, the former Free State Premier who is well known for state capture and cadre deployment policies, that left the Free State in ruins.
Magashule needs no introduction of course, not to any resident of the Free State with its bankrupt municipalities where lack of basic services like water and the stench of raw sewage, that run down the road into streams is commonplace. SA-News reported yesterday that Mothebe as middleman supplier to the Bloemfontein Metro, supplied a Nyala armored truck to the Metro, which has no Metro Police, as well as 10 busses to the Metro. Every vehicle that Mothebe sells to the Metro comes with a huge mark up on the price of the original supplier. For instance Mothebe Wheels asked the Metro R5,8 million for the Nyala, but the supplier in Johannesburg can sell it to anyone direct for R 2 million less. The Nyala has not yet been handed over because Bloemfontein Municipality has no one who can be trained to drive it.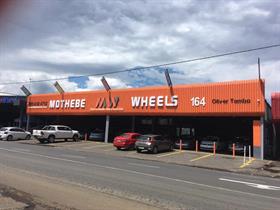 See also: Bloemfontein Now Literally A Pig Sty As Black Farmers Let Their Pigs Eat From The Piles Of Uncollected Refuse Bags in The Suburbs!
---