ARCHITECTS OF APARTHEID: Just when libtards try bestowing the virtues of Africans to you, news comes out of this extremely horrific and serious farm attack which happened on January 15, this year, which was not even reported on by any mainstream media. Names in the report are withheld because 3 small children were raped. As the pic above shows, this kind of horror is openly discussed amongst blacks…
This incident only came to light now via a small community publication, the Kempton Express, to who this horrific story was narrated by a local Kempton Park resident. Why was it not reported on by mainstream media? Did Police deliberately hope to keep it quiet? Understandably the man who narrated the story did not want himself fully identified because then the Primary School girls who were raped, would be identified, because they are all his cousins.
The story as told to the local community publication is that on January 15, a local Security Pros control room operator, *Pieter (21), received a call from his uncle informing him of a horrific farm attack in the early morning hours near Polokwane. Pieter, a Glen Marais resident, said there were  four black male suspects who struck on the farm of his grandfather (69) about 25km from Polokwane.
Peter said that his granddad, grandmother (63), aunt and three young cousins were all on the farm during the time of the attack. The attackers tied up the entire family and all the women were raped. Pieter's cousins are all in primary school. The youngest will turn seven later this year. Pieter said that his  granddad tried going for his gun when one suspect sliced a deep gash in his right side with a panga. They took R1,500 cash and jewelry.
Pieter's grandfather was rushed to hospital where he died on January 24 after suffering a heart attack. Pieter's grandmother and 3 young cousins received trauma care and spent two nights in hospital. The attackers got away and police are still investigating. Pieter's widowed grandmother and other female relatives went to live with family until further arrangement could me made.
This attack shows the brutality of farm attacks in South Africa and the reality of the slow war. There was also another horrific incident on 29 January near Bapsfontein, Gauteng when Timothy Rademeyer (51) and his wife Dirkie Voges were attacked on their farm. The couple was seriously assaulted and Timothy's genitals were mutilated. Dirkie crawled outside where a motorist discovered her in the road. He then called a paramedic.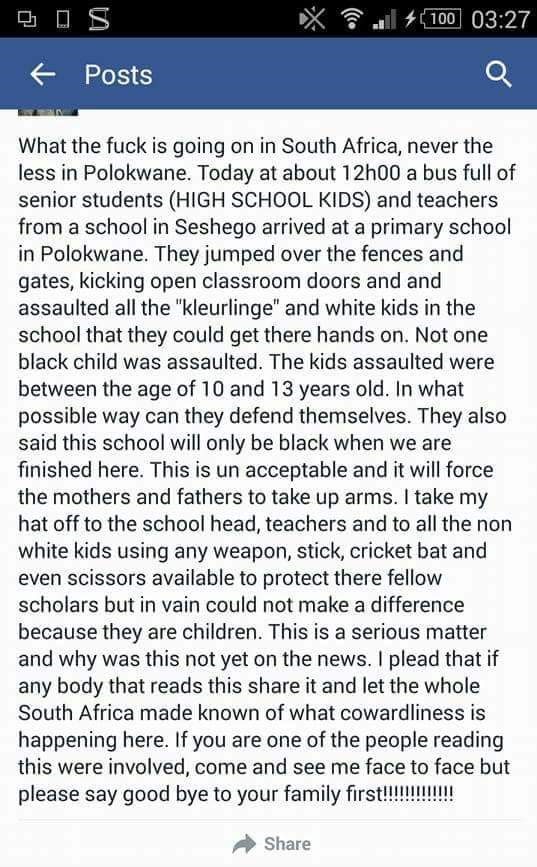 See also: Slaughter on farms continues in SA! Horrific farm attack: Rape, violent assault, kidnapping, robbery in Glendale, KZN
---