The ruling ANC regime has called on all citizens black and white to defend the country's hard earned democracy, yet former South African Communist Party, and current ANC, Secretary General, Gwede Mantashe said the ANC will never ask Zuma to step down despite numerous calls from opposition parties.
"Every opposition says he must go; any advice you get from your enemy is no advice." Huh?
His transparent propaganda included whining about opposition parties continuously disrespecting the ruling party.
Ag siestog, how dare we disrespect them. They who no longer hold ANY right to the moral high ground as evidenced by the USA ambassador mocking Gwede's gripes about political manipulation on University campuses.
Despite promoting draconian censorship laws, enforcing policy through government structures countrywide, and manipulating University violence, the ANC's Jessie Duarte still says South Africans must not let their hard-earned freedom be trampled on…. Huh?
ANC supporters marched to the Union Buildings over racism on 19 February where the oppressive, corrupt, cronyism African National Congress (ANC) regime said South Africa needs to fight against the impression that there is a 'special race' that has 'privileged rights'. Huh?
This from the racist regime that implemented and strengthened racist Black Economic Empowerment and Affirmative Action laws aimed at suppressing a small white minority of less than 10% of the population. Thousands of misled ANC supporters marched through the streets of Pretoria calling for an end to racism and all forms of discrimination. Huh?
The ruling party says racists are not welcome in the country.
When are the ANC leaving then?
"Our country will never be prosperous or free until all our people live in brotherhood enjoying equal rights and opportunities."
Well the country is not prosperous, so guess that proves the ANC is not implementing equality?
Duarte says the party will not accept discrimination against race or gender. (It will only implement it?)
"We committed ourselves to the inalienable rights to equality, justice and human dignity in the bill of rights." (And using taxpayers money to buy votes).
Perhaps someone should explain "Democracy", "Equal Rights", "Justice", "Freedom" and "Human Dignity" to these Genocidal Elitist Communists, the ANC and its supporting cast, EFF and DA and hidden pan Africanist black supremacist agendas.
Don Deon
#SAmustFall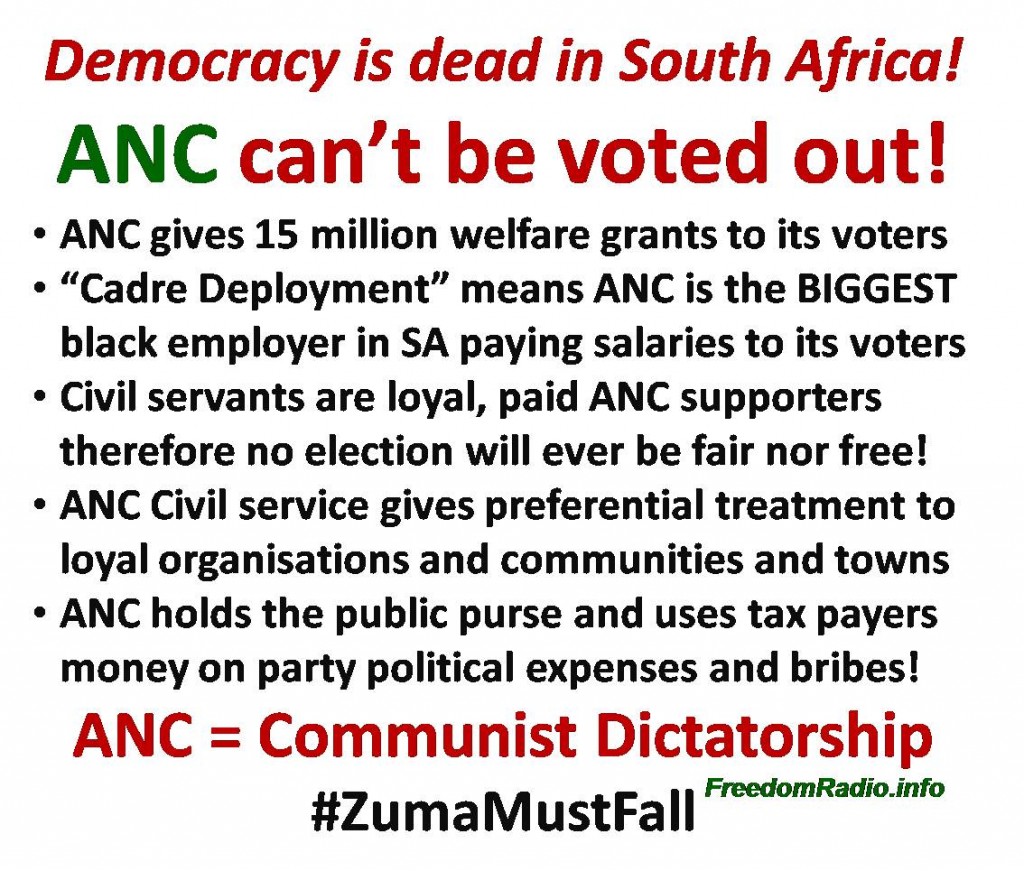 ---