An elderly couple believed to be in their seventies was hacked to death with an axe in their Summerstrand home in Port Elizabeth sometime between Sunday evening and Monday morning.
Police spokesperson Warrant Officer Alwin Labans said the bodies of Andre and Lydia Saaiman were discovered in the Scott Street property by a handyman.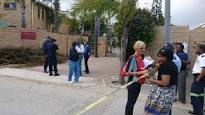 Labans said the man then contacted the couple's daughter, who had arrived at the home with her husband and contacted the police.
"The police kicked down one of the doors and found the husband and wife tied up in the study and with open wounds to the head," Labans said.
 Labans said an axe had been found next to their bodies. The house had also been ransacked.
Labans said the couple had last been seen alive on Saturday afternoon by the students who rented units at the back of the main house.
He said police would be examining CCTV footage of the street outside the home, which could assist in the murder investigation.
By Gareth Wilson/HeraldLIVE