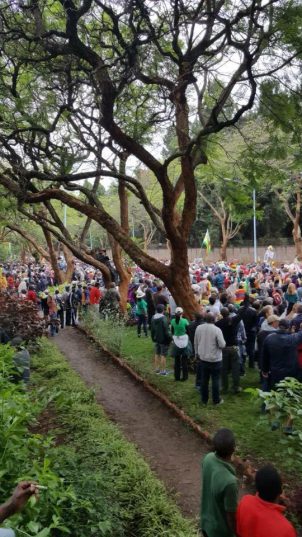 Mugabe's former security aide reportedly said the generals were going to press ahead with prosecuting Grace Mugabe for a number of crimes.
The Zimbabwean media reports that the "former first family is pitifully depressed and lonely" in the aftermath of Robert Mugabe's dethroning from power at their uber-luxurious 'Blue Roof'.
According to ZimEye News, the depression is understood to have been exacerbated by the expulsion of Robert and Grace Mugabe from Zanu-PF as well as the impeachment proceedings in parliament, which were circumvented by the speaker of parliament reading the former president's resignation letter.
The former president is said to be "so depressed he couldn't lift his feet" as he watched his countrymen celebrate his exit from power, according to the Daily Mail. He was said to be confessing his 'sins' to his trusted adviser and friend, Father Mukonori.
Fr. Mukonori, a member of the Catholic order called Society of Jesus (SJ), was reported by Bulawayo24 earlier this week as the mastermind behind the settlement negotiations with Robert Mugabe.
SJ is an elite Catholic order found in almost all countries around the world. Its members are sworn an Oath of Secrecy to serve and protect the Pope, The Catholic Church and members worldwide.
"Father Mukonori and General Chiwenga meeting with top security for final drafting of agreement with Mugabe at Statehouse. The worry to had over the ED has been cleared so Zimbabwe has a settlement now," Zimbabwe Today reported.
ZimEye News said one of the former president's security aides revealed the atmosphere at the Blue Roof, where the family is under house arrest, was sombre: "He is depressed to the extent he is failing to walk. He is dragging his feet."
'Blue Roof' is a reference to the plush and luxurious mansion of the Mugabes in the Borrowdale suburb of Harare. The 25-bedroom house, valued at $10 million (£7.5m), is sprawled across 44-acre grounds fenced off from the public and protected by a multimillion-pound security system, The Zimbabwean reported.
"The First Lady, Grace, has been refusing to go outside into the open air all day as well," he said. "They both know the end has come, and they are deeply depressed. Their greatest worry is what is going to happen to them and their family," ZimEye News quoted the aide.
The aide is reported to have added: "The issue of Grace was a burning one. The generals were going to press ahead with prosecuting her for crimes including money laundering, capturing of state assets and interfering with government business. I don't know what the outcome was, but they were insisting that they might forgive the old man, but not Grace."
Zimbabweans in Botswana Facebook page recently claimed that the military found US$8 billion at the 'Blue Roof' when the military stormed the palatial home to detain the Mugabe's under house arrest last week.
By:  Gosebo Mathope/Citizen