A Belgian chocolate manufacturer in Gauteng was left dumbfounded when he was told by the Department of Labour, that he employs too many black women! In good old Communist tradition, the ANC Employment Police from the Department of Labour, which are trying to enforce the ANC regime's strict national demographic racial quota system (aka representivity), for the workplace, has struck at a family business in Kempton Park which manufactures Belgian chocolate.
The raid has left the owner of the business, Mr Kees Beyers, dumbfounded after the Department of Labour inspector, Thabo Masenya, told him that he employs too many black women. No this is not fake news! This actually happened! Mr Beyers, who was born in Belgium, began the family business making chocolate more than 30 years ago in South Africa. He initially came to work for his sister and liked the country so much that he decided to stay and start his own business.
Today Beyers Chocolate employs more than 400 people, and three quarters of them are black women. One would have thought that that kind of commitment to employing "previously disadvantaged" females would earn him praise, but no, it is with these black women that the ANC's Department of Labour has a problem. Labour inspector Thabo Masenya has warned the business after his recent visit, that the business can only employ a total of 36, 2% of black women, because that is the racial demographics of Gauteng. Mr Beyers has told Rapport that if his business does not comply, the Department has threatened to take him to the Labour Court.
Whether the Labour department's statistics are correct is also questionable, because the ANC and their officials are not known to count too well either, and this is proven by the second problem the inspector had. Yes, there is more! Inspector Masenya has also questioned why Mr. Beyers employs a black Zimbabwean engineer, because, wait for it, he says Department of Labour stats says that the racial demographics shows that there are 0% Zimbabweans and other foreigners in Gauteng. Any Gauteng resident will confirm that this is an outright lie! Where are the liberals and their open borders agenda now?
The problem seems to have started in 2018 when the business had to complete a submission to the Department of Labour, setting out what is the racial make up of their list of employees. Did all businesses in Gauteng have to do this? This led to a meeting with the Department of Labour in November last year. It was in this meeting that the Department of Labour informed the management that they have a problem with the fact that the business employs too many black women. Lize Arnott, the human resource manager of Beyers Chocolates, explained to Rapport that the nature of the work is such that females are better at it. The work entails fine work like the tying of ribbons and men don't apply for the job as much as women do. Arnott says that they then invited Inspector Masenya to come see conditions for himself, but when they invited him to take a walk on the work floor, the snobby Masenya became aggressive and threatened them with the Labour Court.
He also accused Beyers Chocolate of being "non transforming". Can anyone imagine the complications if Beyers Chocolate only employed poor white female workers? Yes, there are more than enough of them around willing to work for even lower wages, thanks to the oppressive BEE laws. This in reality is the crux of the matter though. ANC's racist and sexist BEE laws give most BEE points when you hire black women, so obviously many businesses in SA do just that, artificially creating a Black Female Privileged class. So in essence the ANC has shot itself on the foot here, as communism usually does and they do not like it when a white guy benefits from their own racism… because white guys are at the very bottom of the BEE scale. If this makes you feel uncomfortable, just repeat the lie that we are all the same to yourself…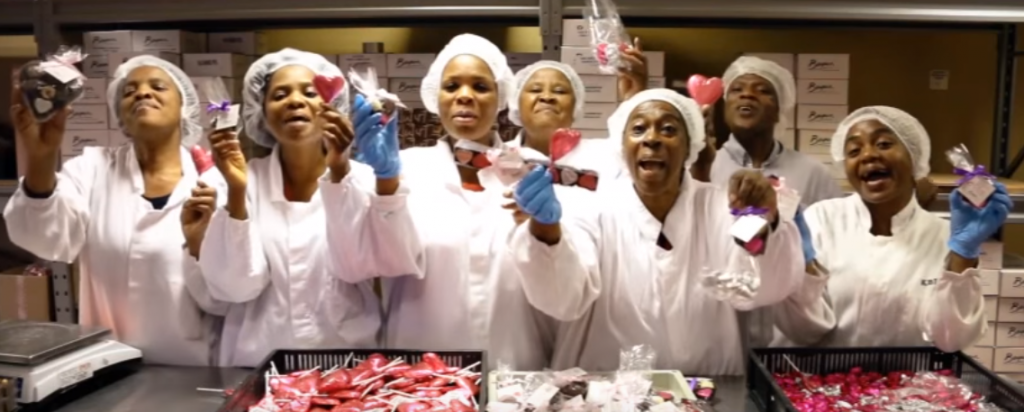 When contacted by Rapport, the chief director of Labour in Gauteng backed up Masenya's actions, saying Beyers Chocolate can "transform" by for instance natural employee turnover. But Arnott says their employees are happy and stay with them for a long time. They don't have high turnover at all. Soon will come the day when a Stasi citizen force will be setup and your neighbour will be rewarded for informing on you, like happened in communist East Germany before the fall of the Communist Iron curtain. One wonders how this little chocolate factory came to the attention of the regime in the first place? Was it really just because they filled in a form? Or does the guy just want a bribe?
For the record, the ANC government is also supposed to be enforcing the same national racial demographic profile "representivity" system in the Western Cape, where the white and brown populations are 70% of the population. Yet, the national government appoints 90% black people there and also expects private businesses to do the same. Solidarity has successfully challenged this practice in the Labour Court in the Department of Correctional Services matter, but the national government is ignoring the Court ruling up to this day, proving their true nature as a black supremacist movement. Totalitarianism 101. "Representivity" is a classic communist scam like "cadre deployment" – even Obama tried to implement it in USA…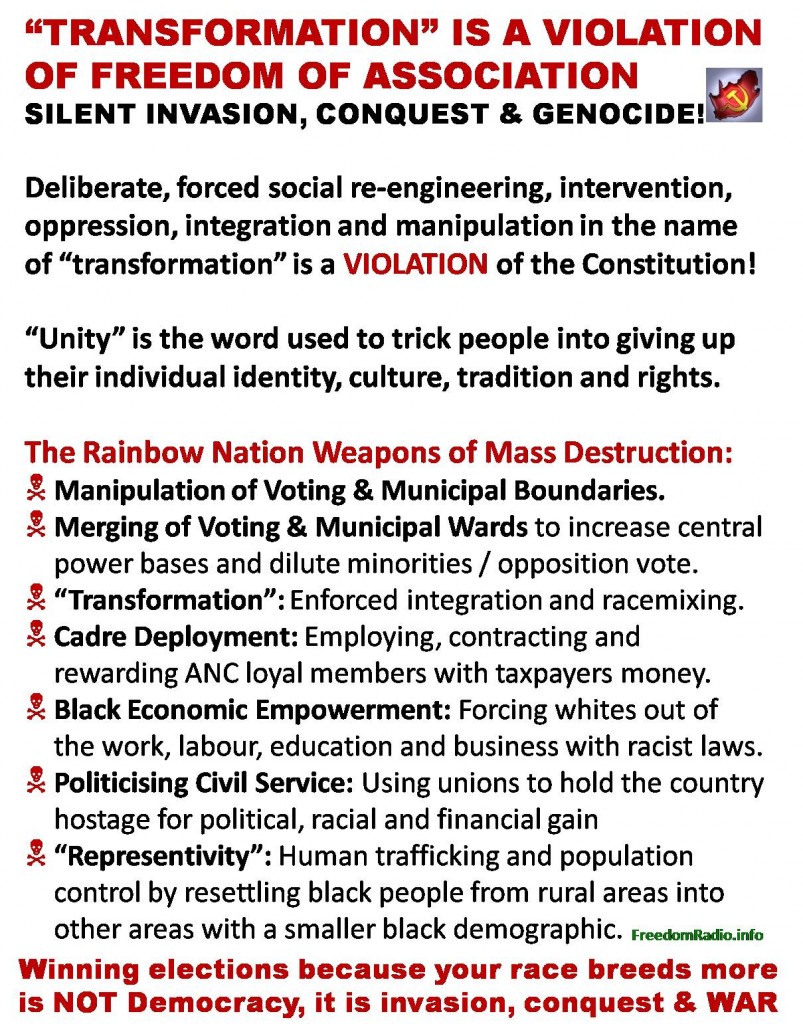 See also: BEE has de-industrialised SA, pushed it backwards in time – The oppressed has become the oppressor, and technological advancement is no longer possible as we enter the New Sanitation Dark Age
---