The ANC regimes intention to expropriate land from white people without compensation, does not seem to be going far enough nor fast enough for some. It seems blacks in South Africa are taking their cue from the racist government and stepping up their anti-white racism and militancy in a country which not only tolerates anti white racism, but in many cases openly encourages it! One group, The Black Centric Forum (BCF) is hosting a Shooting Range Session soon whilst The African National Congress Youth League (ANCYL) said it was preparing for a weekend camp where members would take part in gun handling, military training and guerilla tactics, among other activities.
In a pamphlet advertising the Shooting Range meeting, the BCF has invited BLACKS ONLY to join the Training Session, in the "quest to prepare blacks for the grassroots revolution in the near future.  Slogans won't gain us our land back, so is political propaganda". Clearly they feel the ANC government will not get them land, and ironically, they are not wrong! Firstly it is not their land (if anything it belonged to the nomadic Khoisan) and secondly, the communist ANC regime is taking all land into state ownership and then renting it out to black communities.
One of the main pillars of communism is "To take ownership of the means of food production in order to control the population", so clearly the BCF plan to take land by gun…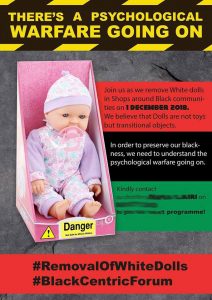 The BCF shooting programme will take Place On The 3rd of August 2019 At an undisclosed Venue at a cost of R400 ($28) per participant which includes hiring of ammunition (sic), 30 rounds, safety induction, ears and eyes protection kit and range hire).
The racist leader of the BCF, Vukulu Sizwe Maphindani, was previously responsible for a controversial campaign to remove all white dolls from retail premises in black areas!
The thinking was: "There is influenced behind every black woman who bleach hair, wear weaves. A Psychological warfare. U were taught to hate yourself, it all started with white dolls, your role models and media so Black dolls are needed in the black communities to help our children embrace who they are, our children when they see and play with white dolls it affects their grooming".
Whilst we agree with the pursuit of true diversity, it only makes sense if they do it in their own country, and SA is NOT their own country, it is shared with 13 other races and tribes!
The African National Congress Youth League (ANCYL) said it was preparing for a weekend camp where members would take part in gun handling, military training and guerilla tactics, among other activities. The league said the camp would take place in August and would be expanded to include members from other parts of the Gauteng province.
ANCYL's Bheki Nkutha, speaking to 702, tried to justify why its members would receive military training at the camp.
"When you are in an organisation, you've got your own training and I believe that as part of that training… we need to understand what happens in the military."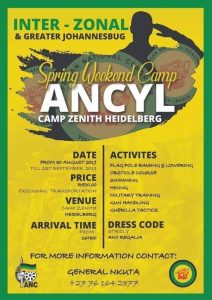 The ANCYL in greater Johannesburg said military training for its members was part of the ANC's internal training programme. Some ANCYL members may be fighting to reclaim and revitalise the soul of the youth movement after it was arguably left irrelevant by its incumbent leaders. Some thought training in military gun handling and guerrilla tactics were also important. With a gun? This is the ANC who had their own private army in Umkhonte we Sizwe during the so called "struggle" for power in SA. Those soldier were absorbed into the then SA Defense Force. Does the ANC want to start another army? To fight who?
Nkutha was asked why the league members needed to receive such training and he said: "Those are internal programmes; in your organisation, you've got your own training."
He said there were people who would be training the young lions.
"The right people who are equipped will be coming to train and tell us what are the requirements you need to handle a gun and when things happens, how do you handle a gun."
He couldn't say what purpose this training was for…
SA-News contacted the camp where the ANCYL was advertising their gun and military training would be held, the Camp Zenith Christian campsite. Their response was:
"It has been brought to our attention that the ANCYL intends on having their military training event our facility.
This first came to our attention last week Thursday when a photo of their poster was sent to us by a member of the local community in Heidelberg who happens to be a member of the ANCYL. We would like to state that an inquiry for this event was never sent to us from ANCYL, therefore allocation of space and the use of the facility never permitted. Upon receipt of the poster we immediately inquired as to the advert we were told that it was released before talking to us in error and would be corrected.
We are not a political organisation nor officially affiliate with any political party. We are simply a venue with a vision to be a catalyst that ignites positive change and promotes development. We are in the community and for the community.
ANCYL never contacted us regarding this event before publishing the event. They never booked our facility and in fact our facility was booked months ago for these dates so had they even inquired, they would not have received even a quote for the event as advertised. Upon being made aware that the intent is to train citizens for warfare is definitely against the values of our peace-loving campsite. We are a Christian campsite and our goal and mission is purely for the good of the people of South Africa, and we have never nor will ever promote violence or hate-speech towards any race in our beautiful land."
Meanwhile, the community protection groups which the white communities had to protect themselves, were banned when the ANC took over…
Don V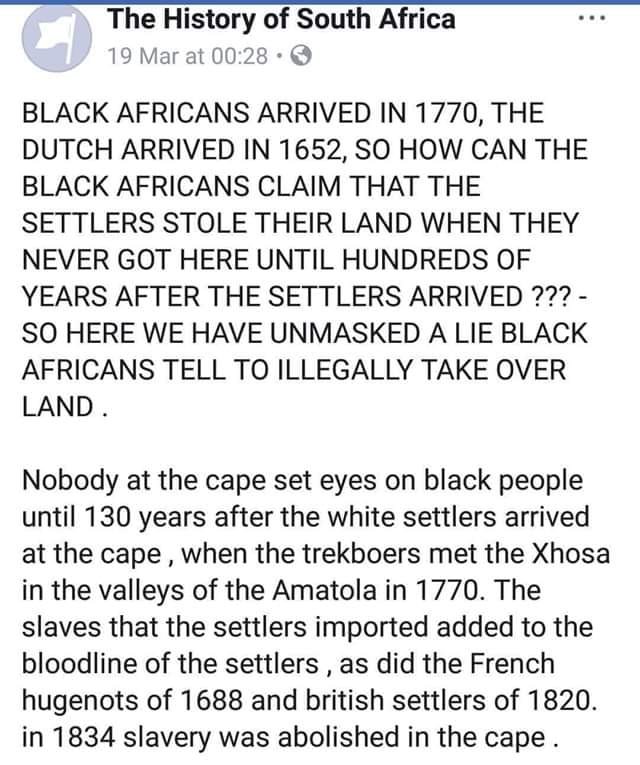 ---
See also: Reverse Racism: More white people have experienced racism than black people since 1994
---