South African National Parks (SANParks) on Thursday confirmed that an elephant, giraffe, and a vulture were electrocuted in the Kruger National Park (KNP).
The incident took place at Shingwedzi section in the north of the KNP. The animals were electrocuted after an Eskom power line collapsed on Tuesday night.
The section ranger was notified of the incident on Wednesday morning, SANParks said in a statement.
SANParks notified Eskom which dispatched a team to attend to the scene.
Power has been switched off to enable rangers to remove tusks for safekeeping and a generator will supply power to the camp until the area has been attended to by both SANParks and Eskom technicians.
SANParks said voting in the area was not affected by the outage.
"An investigation will be established to find the cause of the collapse and an update will be issued in due course," SANParks said.
In January, at least five animals, including a giraffe and a white rhino, were killed in a freak accident after an Eskom pylon collapsed in the Kruger National Park near Skukuza, News24 reported.
The animals were electrocuted when the pylon fell during a heavy storm in the southern part of the park, exposing a live wire.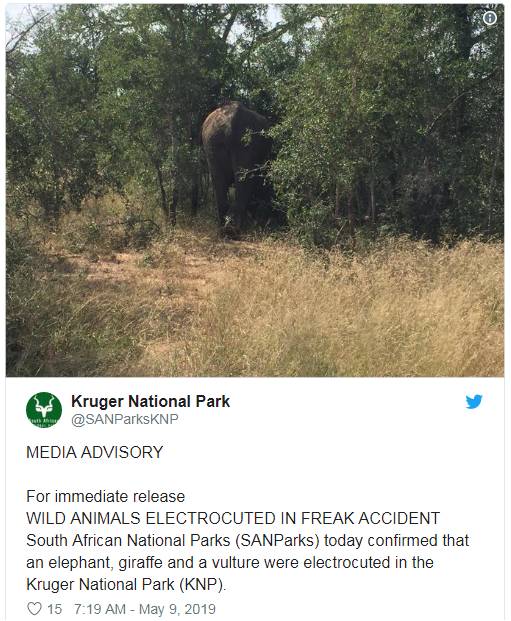 -News24
---
This news release does not necessarily reflect the opinion of SA-news.
---
Free signup to our Dating Service …just click Dating Service now !!
---
Would you like to advertise on this very popular website ?? Just drop me an e-mail at [email protected], and I will tell you how !!
---
Free Insurance and MVV (Motor Vehicle Accident Insurance) Quotations and Funeral Plans Online …. Just send "Home" or "Auto" or "Life" or "Funeral" or "MVV" and your Full Name, Age and Cell Number to: [email protected], or SMS / WhatsAPP the word with your full name, age and email address to: 082 738 5586, or just go to www.MedSure.co.za , enter the appropriate form and we'll call you.
---