Mbuyiseni Ndlozi of the EFF is not surprised by the scandal surrendering an SAA pilot who flew for 20 years with an allegedly fake license.
The Economic Freedom Fighter claims that this is not the first time 'white privilege' worked in the favour of an unqualified 'professional'.
Taking to social media, Mbuyiseni Ndlozi weighed in on the controversy surrounding the 'fake pilot' debacle. According to The Citizen, the EFF spokesperson chalked the incident up to 'white privilege', claiming that this was not the first incident in which a white person had progressed ahead of his black counterparts, despite being unqualified.
Ndlozi took to social media platform, Twitter, to comment on the matter, saying that: "This white man lived a lie for 20 years. Two decades of a fake identity! I see that; but what is more TRAGIC is that many more white people boss over black professionals PROUDLY without ANY qualifications & the job "experience" they often demand from others. #WhitePrivilege"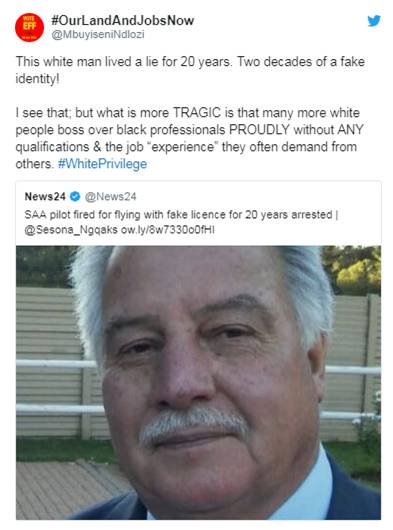 The tweet was met with mixed reactions, some agreeing that the incident had been unacceptable and others coming to the defence of the pilot, who had served South African Airways for 20 years.
-briefly
---
This news release does not necessarily reflect the opinion of SA-news.
---
Free
Insurance and MVV (Motor Vehicle Accident Insurance)
Quotations
and Funeral Plans Online …. Just send "Home" or "Auto" or "Life" or "Funeral" or "MVV" and your Full Name, Age and Cell Number to:
info@medsure.co.za
, or SMS / WhatsAPP the word with your
full name
,
age
and
email address
to:
062 30 30 314
, or just go to
www.MedSure.co.za
, enter the appropriate form and
we'll call you
.
---
Free signup to our Dating Service
…
just click
Dating Service
now !!
---
Would you like to advertise on this very popular website ?? Just drop me an e-mail at tersia@v.co.za, and I will tell you how !!
---