Unacceptable behavior from the red berets. EFF accuses IEC of orchestrating repeat votes with ANC. This video popped up on social media at around the same time the red berets issued a statement condemning the Independent Electoral Commission of South Africa (IEC) for allegedly allowing elderly voters who got the opportunity to cast their special vote on Monday and Tuesday, to do so again on Election Day.
"The EFF has picked a sustained trend where people who voted during the past two days as special voters, are now voting again today.
"For instance, in Meadowlands, Meadowlands Welfare Centre (32870549) ward 45, EFF Party Agents had to stop elderly people who voted during the special voting day, when they entered the station transported by ANC hired taxis," the party claimed in a statement.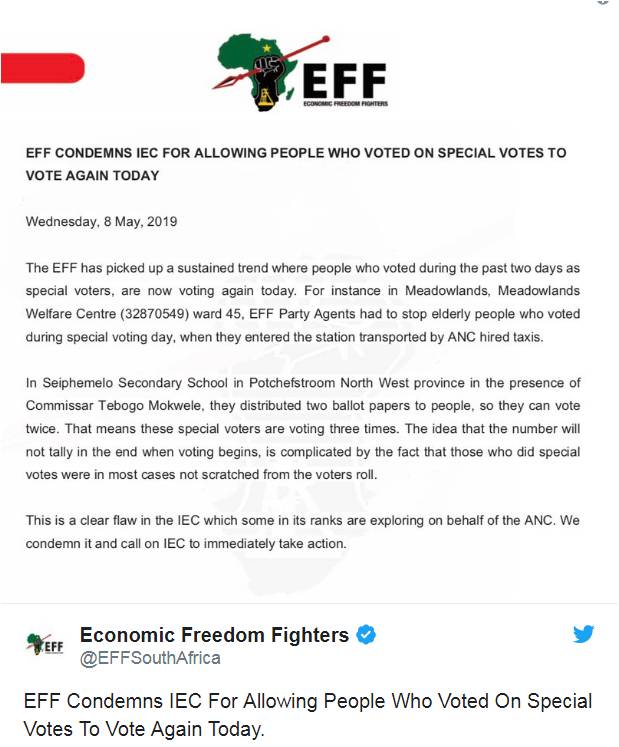 ---
Free signup to our Dating Service
…
just click
Dating Service
now !!
---
The issue of a potential flaw in the IEC's security system has been the talk of the day.
Political parties and observers have been very critical about the indelible ink that can, in fact, be easily removed, allowing the possibility for chance-takers to try and vote at others polling stations
This issue has caused alarm since people have been granted the ability to cast their ballot at any voting station in the country.
IEC categorically denies flaws in security systems
The electoral body has vehemently implored people to remain calm, as the ink is one of three safety measures the IEC uses to ensure that people are not able to cast their vote more than once.
"The commission wishes to remind all voters that any attempt to undermine the integrity of the electoral process, including attempting to remove the indelible ink constitute an electoral offense, which is punishable upon conviction by sentence of 10-years in jail," IEC chief executive, Sy Mamabolo warned.
The red berets, however, have lambasted the electoral body for hosting an election that is riddled with flaws.
"This is a clear flaw in the IEC which some in its ranks are exploring on behalf of the ANC. We condemn it and call on IEC to immediately take action," the party said.
-thesouthafrican
Watch: Red Berets heckle elderly woman
---
This news release does not necessarily reflect the opinion of SA-news.
---
Free signup to our Dating Service
…
just click
Dating Service
now !!
---
Free
Insurance and MVV (Motor Vehicle Accident Insurance)
Quotations
and Funeral Plans Online …. Just send "Home" or "Auto" or "Life" or "Funeral" or "MVV" and your Full Name, Age and Cell Number to:
[email protected]
, or SMS / WhatsAPP the word with your
full name
,
age
and
email address
to:
082 738 5586
, or just go to
www.MedSure.co.za
, enter the appropriate form and
we'll call you
.
---
Would you like to advertise on this very popular website ?? Just drop me an e-mail at [email protected], and I will tell you how !!
---