An EFF entourage that travelled to Cape Town for SONA and the subsequent parliamentary debates booked into a four-bedroom luxury Camps Bay villa priced at between R7,100 and R25,000 a night. When the Fighters checked out at 10am on Thursday 27 June 2019 they had run up a bill of about R60,000 for eight nights, most of which will be pocketed by the foreign owner. They also left their trash out in the street. So we went through it.
The booking for the fighters at the Camps Bay villa with its panoramic sea views had been made for 2pm on June 19, a day before President Cyril Ramaphosa's State of the Nation Address. The reservation was made by Larry Mavunda, CIC Julius Malema's bodyguard. Mavunda seldom leaves the CIC's side.
And while the EFF manifesto may call for "The Illegalisation of Alcohol Advertisement Bill, which will end the celebration and promotion of alcohol consumption in South Africa" the fighters spent at least R25,000, at a conservative estimate, much of it on the French champagne brands Veuve Clicquot, Veuve Clicquot Rich and Moët et Chandon.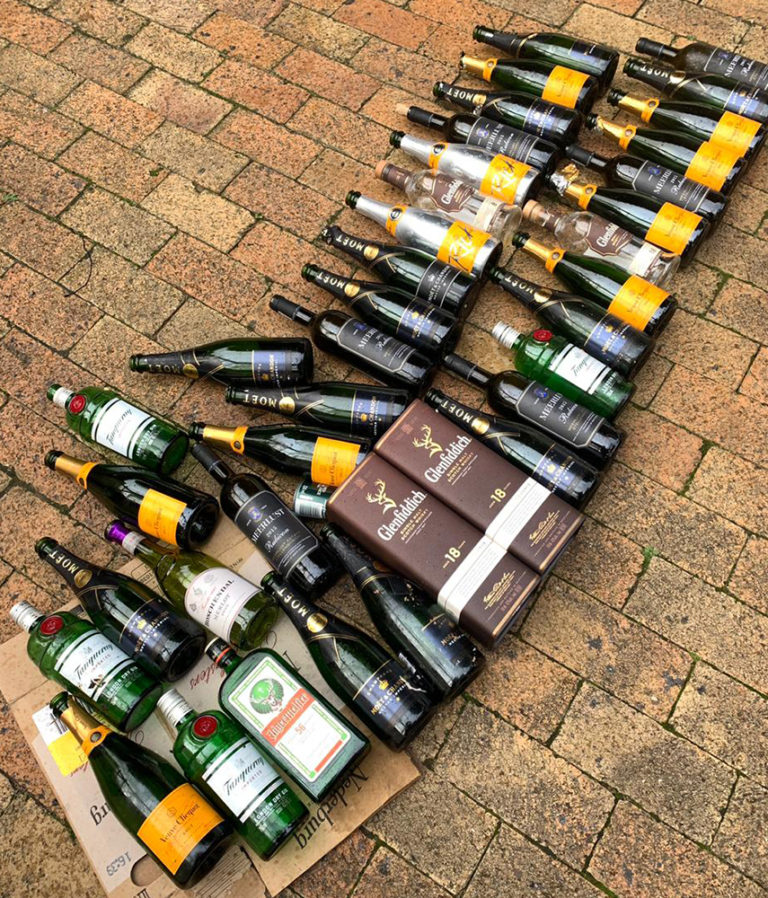 (A bottle of Veuve Clicquot sells for about R600 and the silver Veuve Clicquot Rich goes for R900. Moët Nectar Imperial will set you back around R700.)
Among the 37 bottles retrieved from seven out of at least 14 bags of trash the fighters left behind and that had been put out in the street, were empty bottles of Meerlust Rubicon (R425 a bottle), Glenfiddich whisky (special edition at R1,500 a bottle) and Tanqueray gin which retails at around R289 a bottle.
Long, long ago when this hack first trained as a journalist, one of the rules in Journalism 101 was "always go through the trash", especially if you are conducting an investigation.
The rule for Politics 101, of course, is never put out the trash unless you have scoured it of all possibly incriminating evidence.
And so it came to pass that I found myself on the morning of Friday 29 June elbow-deep in uneaten food, used condoms, boxes of discarded unused condoms, discarded deposit slips with bank account numbers, slips of paper from purchases from H&M (yes, the store the fighters trashed), Zara as well as slips and packaging from other fast-food restaurants. The city council was due to collect the bags that morning.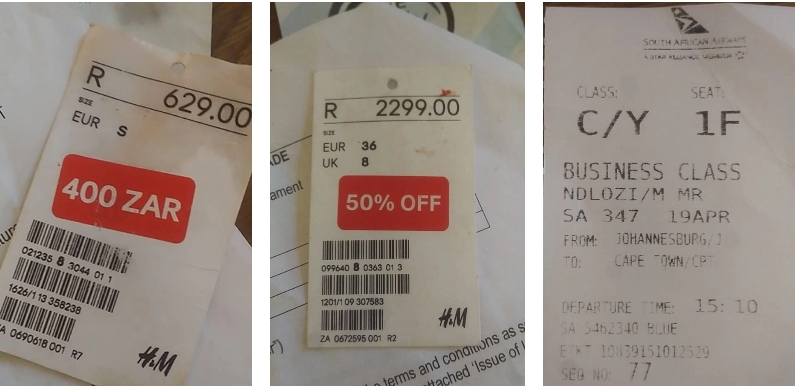 After picking through it and laying it out we found more in the trash. Enough to directly place at least one EFF leader at the house.
So, why go through the Fighters' trash? Surely this is stooping to tabloid journalism of the lowest degree?
These are indeed low times, compatriots… it is a post-ideological age, while politicians would have us believe in their particular ideologies.
You are policing black wealth, I hear some accuse.
ALL wealth should be policed in these sad, bad times where the financial sector, lawyers and consultants have, globally, aided and abetted the theft of taxpayers' money by a professional and elite class of economic looters and predators.
The EFF are public servants. Those who voted for the party did so based on the principles they claim to stand for and the promises made in exchange for trust and an X on the ballot paper.
So, sometimes, going through Revolutionary Trash is about policing hypocrisy.
Because if these Economic Freedom Fighters want to create special economic zones in South Africa to stimulate local economies, then there are any number of "township" bed and breakfasts that could have done with the recirculation of the R60,000 they spent on their own luxury accommodation. Restaurants too in Langa and Khayelitsha could have benefited from the clearly healthy appetites and thirst of the young revolutionaries.
If the EFF wants to ban foreign ownership they should not support a foreign-owned business in South Africa. If they did not know the villa was foreign-owned they could have asked. Camps Bay is crawling with wealthy Europeans cashing in on our weak rand.
If the EFF wants to limit alcohol consumption they should set the example. This is not a way to do it.
If you don't mind, and support capitalism and foreign ownership, if you like to overindulge, there is no law stopping you. If you like to shop at H&M, go ahead, this is a free country. Many died for you to be able to shop, eat and drink. There is no crime in that.
But, if you would like to project yourselves as revolutionaries, as guardians of the poor and the marginalised, then you should also walk the talk.
EFF leader, Julius Malema, responded to Daily Maverick's query with "I don't comment on rubbish".
-Daily Maverick
This report does not necessarily reflect the opinion of SA news.
---