Even though South Africa is still seen as the "continent's most developed economy", and has a more diversified economic base than the Egyptian economy… its fall from first and now second place amongst the continent's giants is of great concern," KPMG Financial Risk Manager Christie Viljoen said, adding "especially as this development is largely attributed to weakness in the rand that, in turn, has largely been as a result of domestic issues".
"South Africa has been known as the continent's second-largest economy since Nigeria overtook it in early 2014. However, the IMF World Economic Outlook (WEO) released in mid-April provided more sobering GDP statistics for South Africa. Not only did the multilateral organisation suggest that the South African economy would grow by a mere 0.6% this year, but also that the country is now only the third-largest economy on the continent behind Nigeria and new silver medalist Egypt," Viljoen said.
"Nigeria's rebasing exercise some two years ago revealed that the oil-dependent economy was almost twice as big as previously thought. The country's National Bureau of Statistics (NBS) ensured greater measurement of the informal sector, the inclusion of 46 industries from a previous 33, as well as methodological changes to measuring service sector activity with the rebasing."
"Backward adjustments to GDP indicated that Nigerian GDP in US dollar terms surpassed its South African equivalent in 2011. By the end of 2015, Nigeria's GDP was measured at $490 billion compared to South Africa's estimate of $313 billion," Viljoen added.
South Africa breathed a huge sigh of relief on Monday when credit ratings agency Moody's MCO +0.41% left the country's rating unchanged at Baa2 – but with a negative outlook – after months of fears it would be downgraded to junk status.
This followed the unexpected firing of finance minister Nhlanhla Nene on 9 December 2015, which saw more than R100 billion ($6,6 billion) wiped off government pensions as revealed this week by Daniel Matjila, the CEO of state's pension investment arm the Public Investment Corporation (PIC), in response to questions in Parliament.
South Africa's Jacob Zuma's fired Nene, who he replaced with a little-known backbencher Des van Rooyen for three days before reappointing Nene's highly-respected predecessor Pravin Gordhan.
South Africa's economy has been sluggish as foreign investment has dried up amidst concerns about corruption in the administration of Zuma, who himself has recently found to have breached the country's constitution over his handling of a $16 million upgrade to his personal home in Nkandla, in the eastern KwaZulu-Natal province.
A High Court in Pretoria, the country's capital, found last month that the decision to drop 783 corruption charges against Zuma in 2009 before he became president was "irrational".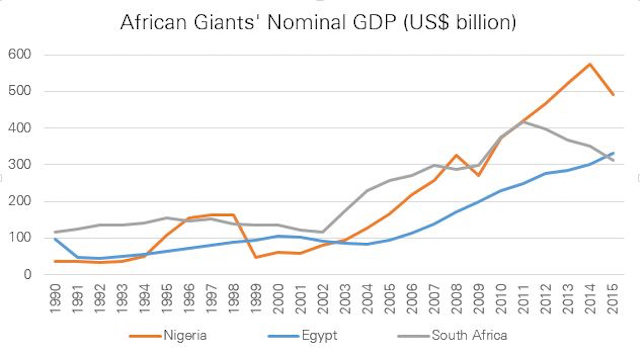 Moody's said "the country is at a turning point after several years of falling growth" and expect that Gordhan's budget and fiscal plan "will likely stabalise and eventually reduce the general government debt metrics".
But figures released by Statistics South Africa showed that unemployment rose to 26.7 percent in the first quarter of 2016 – from 24.5 percent in the fourth quarter of 2015.
This is the highest level since the state's statistic agency's labour force survey began in 2008.
KPMG said "South Africa recorded a decline in the US dollar value of its economy during 2012-15 because of slowing real growth (in local currency terms) as well as a depreciation in the value of the rand. The South African currency weakened from an average of R8.20/$ during 2012 to an average of R12.74/$ in 2015 – that is a depreciation of more than 50%. As a result, the nominal US dollar value of South Africa's GDP declined by an average of almost 7% p.a. over the past four years."
Meanwhile, "Egypt's nominal US dollar GDP expanded by an average of 7.5% p.a. during 2012-15. The Egyptian pound's depreciation during 2012-15 was at a notably slower pace compared to that of the rand. Since early in 2011, the Central Bank of Egypt (CBE) has tightly managed the pound, resulting in a milder depreciation compared to the free-floating South African currency. This contributed to Egyptian GDP eclipsing its South African counterpart during 2015. Were it not for the rand's slump, South Africa would not have surrendered its second place during 2015."
Forbes
---