The so-called mainstream media, with Media 24 at the forefront, again await people who use the so-called k-word in a moment of extreme frustration.
However, it is the social media that must uncover unrestrained racial hatred against whites and over which mainstream media keep silence.
In Vanderbijlpark there is a complaint of crimen injuria against Mr. Ruan Meintjes made after saying to social media: "Now your municipality stops at Rand Water. It seems to me it is the only way what a k……. understand. The comment follows after the mayor of Emfuleni has blocked certain roads.
In Edgemead, Cape Town, a man frustrated, his neighbors also uttering the k-word after the children of their neighbors apparently started a fight with his children. He later apologized, but it was not accepted and he was charged with the Equality Court and the police.
On the other hand, one Makhwela Lefty Monyela responded to social media on the death of the farm worker shot dead at Fochville when he wanted to steal a tractor. He says stealing a tractor is nothing. Whites stole the ground and therefore all of them must be cut off, with their children and their descendants.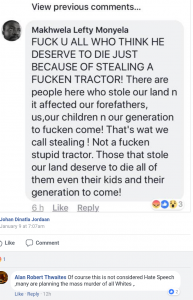 Mainstream media is silent about racial hatred towards whites
So far it is not known whether any complaint has been made against him.
The original article can be found in Afrikaans at Die Vryburger
---