Never before has there been as big a fraud perpetrated upon hardworking taxpayers than that which the majority black population has perpetrated upon South Africa. Imagine you know someone high up at a state owned utility, and because you are black, (and probably an ANC member too), you can add a 10% markup to the SOE's services or product price and then have that 10% paid into your bank account. You then sit back and the money rolls in. By selling your blackness, to the utility to give it affirmative action credibility, you become a billionaire… you don't work, you just steal. 
This nationwide fraud is institutional, structural and even official and is akin to legalised plunder! Like making something legal that was previously illegal, like marijuana was, defrauding the state has become legal in ALL its departments and State Owned Enterprises. It has become the norm, not the exception. Despite the fact that last year Cyril Ramaphosa, pirate in chief, declared the state coffers are empty – that there is nothing left to plunder, they have not stopped plundering.
The thing is they have the perfect cover – just say the magic word "apartheid" to any one who dares question what you are doing! Why do you think Malema and Ramaphosa went to such great lengths at SONA to distract everyone's attention away from their crimes with ancient, revisionist  apartheid history?
As the well in the treasury dried up years ago, bailouts started becoming the norm to feed this wholesale defrauding of the state and its helpless captured taxpayers.
This is how the Selling goods for less than marked-up "cost" price scam works: 
SAA for instance will pay black middleman "suppliers" R90 for a bottle of water that can be bought in the store for R10. But the same bottle of water is sold to SAA customers for a reduced price of maybe R40. How can this be you ask? Simple. As we all know, SAA runs at a loss and we the taxpayers bear the loss. They are literally stealing direct from us by deliberately running at a loss.
So the actual purchase price + markup for black middleman 1 + markup for black middleman 2 + markup for kickback for insider = SAA final purchase price. Which is then sold at an artificially manufactured loss!
Several black "BEE" companies siphon off or skim off their bounty, WITHOUT doing anything or adding any value at all. Mostly, the black middlemen companies do not even have premises. Everything is just book entries as they spend and spend, while their bank accounts grow without lifting a finger.
The reason is not BEE or affirmative action or even transformation, that is just the excuse and cover. It is plain simple greed and criminality.
In fact this was clearly laid out, as we reported in the case of SAA buyer Nontsasa Memela: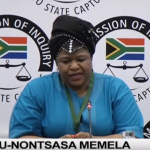 As there aren't any pure black companies that have the technical knowledge and ability to manufacture and supply spare parts for aircraft, (or whatever other thing are required in other State Owned Enterprises), spare parts can only be bought from a place like America for instance. But a so called lack of "transformation" is the flimsy excuse used by black people like Nontsasa Memela, to implement their African style of fraud and shenanigans, setting up and employing third party black middleman companies, who are then attached to the real supplier in America, in a joint venture. So they can then claim the supplier is a black owned company, when in fact it is still the whitey in USA or wherever. Remember state owned enterprises are not allowed to do business with white men. Could this be the reason the law was brought in despite its obvious racism?
The third party black middleman is just a shell and does not have to have real experience or manufacture anything or even have premises. They are the black cover or figleaf who can skim money off transactions and give kick backs to SAA or SOE executives. And this is exactly how it was. SAAT in 2016 awarded a contract to JM Aviation – the black figleaf – and AAR – the actual American supplier – to supply aircraft parts for 5 years. JM Aviation through its director, Vuyisile Ndzeku, then contributed R2, 5 million towards the building of Memela's new house in Bedfordview (the kickback). Ndzeku is also the owner of Swissport, who had another 2 tenders with SAAT. Shalk Human, who also worked at SAAT, testified before the Zondo commission that this Swissport was appointed by SAA and SAAT to supply ground management services.
Until 2016 there was no contract signed. In 2016 a contract was signed with Swissport but there was no tender process followed. There was one particular very funny and corrupt transaction about which Human testified, he was not the one who implemented it, Memela and her fellow black executives did. SAA bought power units worth R 9 million from Swissport who then sold the same parts at half the price to JM Aviation.
Both companies of course had the same owner – Ndzeku, who was Memela' s partner in BEE crime. JM Aviation then sold the power units back to Swissport who then rented it to the SAA. The guy in charge of SAAT at the time was Yakhe Kwinana. Another witness before the Zondo commission testified that Kwinana wanted bribe money paid to him in exchange for a tender worth R100 million for aircraft parts.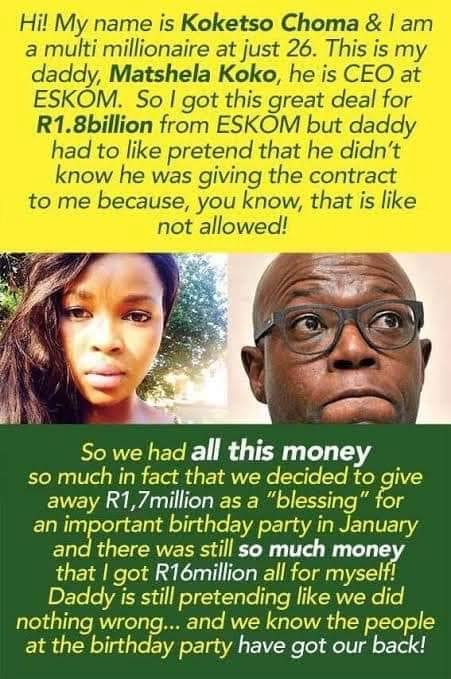 Another example is Bloemfontein municipality buying an Armored Riot Vehicle which they did not need, and had no staff for, with 2 Million added on to the price by the black middleman.
Or there is the case of paying 28 times more for a piece of undeveloped land, so as to plunder a Pension Fund
So now the bailouts are drying up and even banks are refusing to lend money to the corrupt bankrupt plunderers of the state. The African locusts are moving on and have this deluded communist idea that somehow stealing the property of white people, without compensation, is going to allow their fleecing party on the gravy train to hell to continue. Sadly, no one will be buying this land and like Comrade Lenin discovered to his peril, you cannot feed land to people, so they are in for a terrible shock. But SA soon becoming an international humanitarian crisis is another story.
In fact it is so bad even the banksters have been caught out by the African locust feeding frenzy (and their own greed for interest), and they are now proposing we plunder the pensions of citizens to try rescue the now bad loans THEY made to State Owned Enterprises and banks. Who knows, like China they too might soon take over over assets and property in lieu of the debt.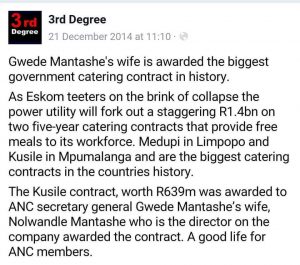 The globalist elites, especially amongst the far left white commies, will try tell you this is creating a wealthy and middle class amongst the "previously disadvantaged" black population, but they underestimated the avarice of the African. Africans will burn through money and consume like a wildfire on the plains in gale force winds. They do not save or invest or build. Just consume. The Bantu have consumed the entire sub- Saharan Africa! This is why globalist industrialists and multinationals love black people – they are the perfect consumer, who love brand names, do not complain about quality and spend most of their money on disposable goods – the perfect golom with which to create eternal profit. Blacks also breed more consumers much faster than whites. Oh yes, and when they do actually work, the wages are low too…
South Africa is not a failed state – it is a plundered state. Until there are investigations into every single state supplier and whether they actually add value, nothing will change.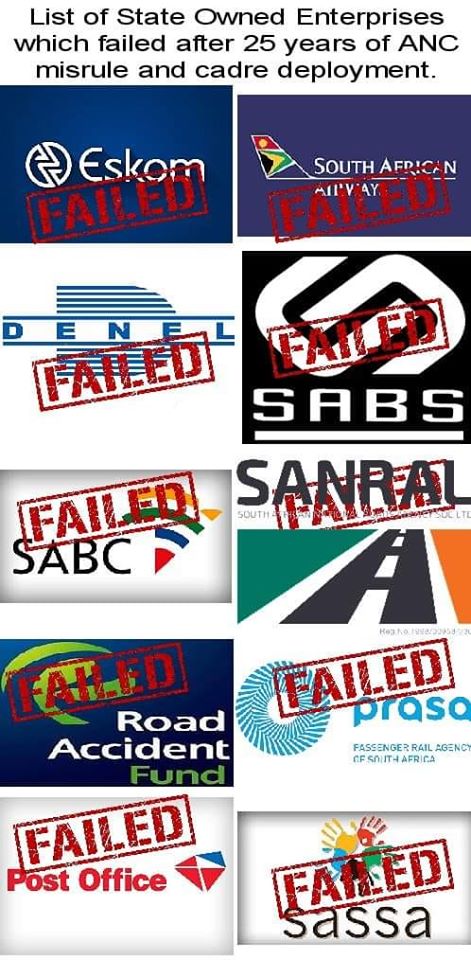 See also: https://sa-news.com/future-of-sa-is-bleak-after-anc-regime-ruled-a-once-model-state-into-junk-status-and-shthole/
---