In an election that was much anticipated by concerned patriots and watched by the international press, as a benchmark to gauge the strength of the Patriotic Spring, which was started last year by BRexit and Trump, it appears the forces of overt political correctness with their mainstream media cronies, as well as a slice of cold Turkey, have allegedly won the day for the World Supremacists, but not in reality.
Despite many glaring contradictions the Establishment was still able to declare a false victory against what they have arrogantly labelled a "Populist" uprising. Given that their entire support is mostly driven by people's fear of being falsely labelled a racist, these fear mongers hope the populist label will have the same effect.
In a panic not to vote for mass media lambasted and cold shouldered Geert Wilders and PVV (and falsely get labelled a racist) and not to vote for the Socialists who have all but destroyed Europe, the voters were left trying to pick amongst many single issue parties. Indeed these small parties were the big winners on the night. Everything from Party for Animals, to 50Plus (Seniors), to the GreenLeft for idealistic millennials, and even two new first time parties called "Denk" (Think), and "Forum for Democracy", all surprisingly gained seats, in a time were the turbulence of what is occurring in Europe, should marginalise these single issues.
Then there is the cold Turkey…
While Rutte, the pro EU clown, claims victory, his party did in fact lose 8 seats, a loss which would have been far greater, and which might have afforded Wilders a complete victory, had there not been a diplomatic spat with Turkey, the week before Dutch elections in which Rutte apparently showed a strong hand, to prevent the Turks from campaigning in Holland for their own upcoming referendum.
Given that Rutte, Merkel and Erdogan had previously made a secret deal on migrants, without informing other EU leaders, one has to wonder just how fortuitous this diplomatic spat was, and will it now die down…  …the fact that the crisis between Turkey and the Netherlands had been provoked by Dutch domestic politics, was voiced by Turkish Prime Minister Binali Yildirim who said.
"It seems the Netherlands has internal issues. General elections will be held on March 15. We think what we have been through today because of this election is based on internal politics," he told local broadcaster TV24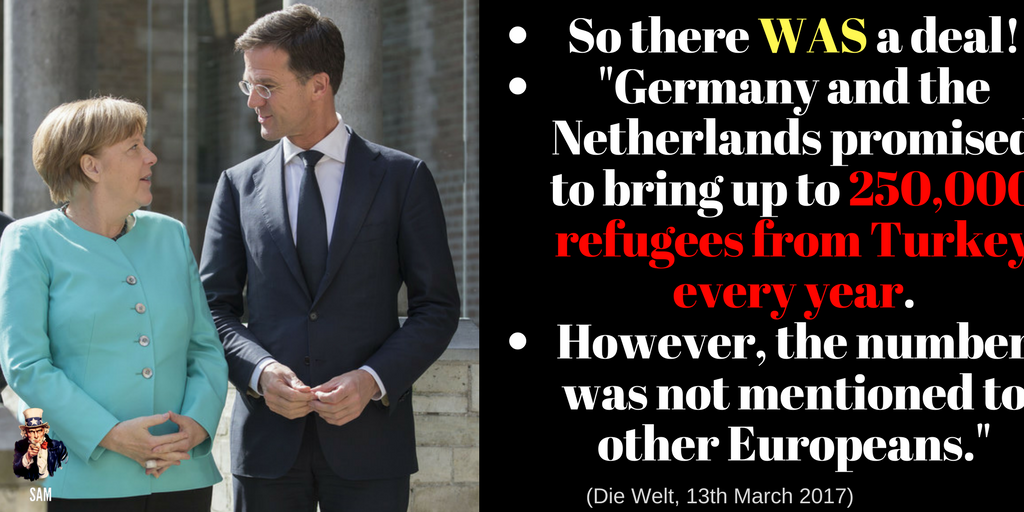 Traditional labour has been totally decimated and clearly the entire country swung away from the far left and socialist movements, a swing to the right essentially, but shhhh, they prefer not to admit it that way.
The biggest contradiction here being that although "jobs" was the big sales pitch for Mark Rutte and other pro EU and pro Islam parties, the PvdA (Labour), which was the second biggest party by far and is the traditional champion of workers and jobs and unions, has been completely destroyed with only 9 of a previous 41 seats left. This echoes the similar destruction of traditional Labour in UK (Tony Blair) and Ireland. Who needs Unions when you have European Union…
With the glaring lack of any meaningful alternative media in an already liberal country like Netherlands, the result is still a remarkable result for Geert Wilder's PVV who is now the second biggest party in the country. Certainly Wilders would have fared much better had he not been so principled, and pitched to a wider audience like Trump, but these are Dutch people after all. That being the very reason why there are so many parties in The Netherlands as opposed to the two party subscription system in the US.
Le Pen who does appeal to a wider audience will certainly win the first round in France next month, but here again the system is against her and all the PC forces are already ganging up against her and castigating any patriotic would be Front National voter with slurs. Sadly European leaders do not have the resources Trump had to take on the Establishment.
Current Public Health Minister Edith Schippers (VVD) has now been appointed to explore the coalition possibilities for the Netherlands' new cabinet on Thursday afternoon. Schippers will start working as soon as possible and is expected to have a progress report ready by March 21st, so that the new parliament can debate it on Thursday.
It is customary for the biggest party to take the lead and all elected party leaders were present in the meeting where all elected party leaders agreed to inform King Willem-Alexander about Schippers' appointment, and also made their early wishes known regarding a cabinet formation, promising not to give any information about the cabinet formation to the press.
With over 99 percent of the municipalities reporting completed vote counts in the 2017 Dutch parliamentary election, the VVD is still the biggest party with 33 parliamentary seats, having lost 8.
Geert Wilders' PVV is in second place with 20 seats, and is followed by the CDA (Christian Democrats) and D66 (Liberal Democrats) with 19 each. GroenLinks (GreenLeft – millenials) is expected to take 14 seats, matching the Socialist Party who  could just barely edge out GroenLinks in vote total to become the biggest left-wing party in the Netherlands.
The official results will be announced on March 21st by the election commission Kiesraad.
Almost all the votes have been counted. Only votes by post, votes in the Caribbean Netherlands and the votes of a handful of small municipalities are still outstanding.
Voting turnout was high with the national average of around 81 percent, according to ANP figures. The island of Schiermonnikoog had the highest turnout at 130 percent. That is due to many vacationers voting on the island.
VVD has the biggest following in Laren,  and is also the biggest party in Rotterdam and The Hague while PVV took Maastricht and most municipalities bordering Germany. GroenLinks is largest in Amsterdam and the D66 took the most votes in Utrecht.
DUTCH ELECTION RESULTS, BY PARTY
Projections based on newswire ANP reporting, with over 99 percent of municipalities reporting unofficial totals. Ballots from overseas territories, embassies and consulates were not fully tallied as of noon on March 16, 2017. Official results to be certified on March 21, 2017.
•    VVD: 33 seats (-8)
•    PVV: 20 seats (+5)
•    D66: 19 seats (+6)
•    CDA: 19 seats (+7)
•    GroenLinks: 14 seats (+10)
•    SP: 14 seats (-1)
•    PvdA: 9 seats (-29)
•    ChristenUnie: 5 seats (0)
•    Partij voor de Dieren: 5 seats (+3)
•    50Plus: 4 seats (+2)
•    SGP: 3 seats (0)
•    Denk: 3 seats (+3)
•    Forum voor Democratie: 2 seats (+2)
* Several other political parties including Artikel 1, Piraten Partij, Nieuwe Wegen and VNL won votes, but are not projected to have enough support to earn a seat in Parliament
Don Deon
---